Discussion Starter
·
#1
·
This morning I was doing my usual cruiser through the new Elgin listings on The Swamp, when I saw one that made me scratch my head.
230704738052
Those of you who have watched my collection grow over the last year or so may think it looks kinda familiar. It is. The case is a dead ringer for this one: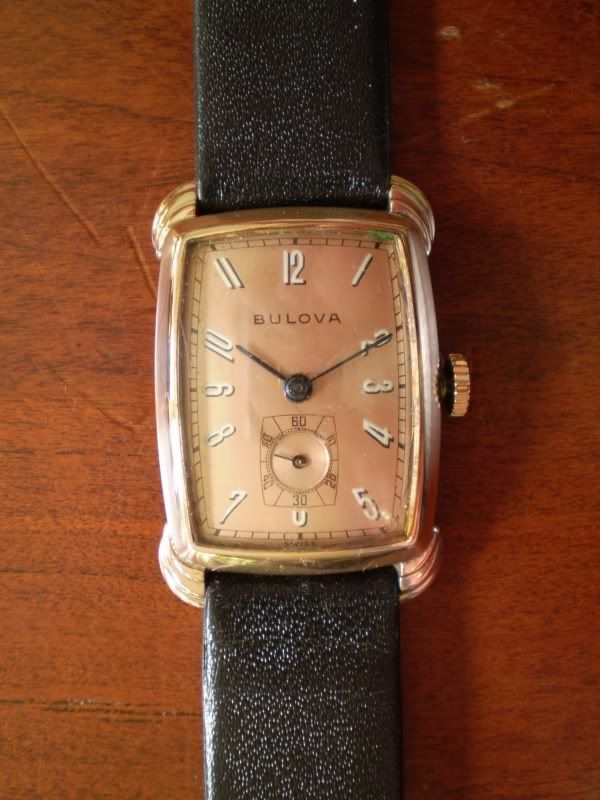 That's a Bulova 'Senator', a model they sold from 1940 till 1949. It came with at least 4 different dials, in yellow and rose RGP and yellow 14k solid. It carried a variety of movements, both US and Swiss made.
But never an Elgin movement!
I note that the caseback is cut to fit one of Elgin's 18/0 movements - those funky little rectangular jobs that preceded the 15/0s. The serial number on the movement dates it to 1929, 11 years before the introduction of the 'Senator'.
Here's what I think happened. I think it was actually originally a Bulova, and somewhere along the line, somebody did a Cross-brand Franken. They milled out the back from one that carried a smaller Bulova movement, adapted or printed an Elgin dial, and put the whole thing together. The dial, looked at closely, is not an exact fit to the opening in the bezel, and AFAIK Elgin didn't start selling RGP cases until the 50s.
It's an interesting little watch, but I think clearly a Franken.