Vintage Spot - The Difference between Scarce and Rare . . .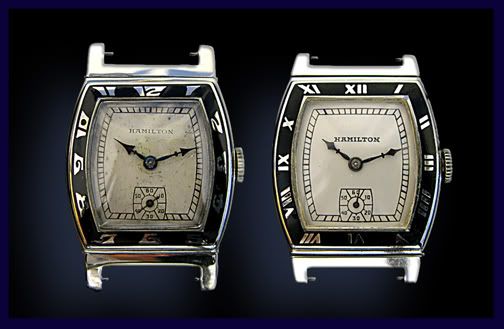 The Difference between Scarce and Rare . . .
I am often asked if a particular Hamilton is "rare" or "scarce" and surprisingly, that question often gives me reason to ponder - exactly what is the difference between "scarce" and "rare," or for that matter, "rare and "ultra rare?" The question is further complicated by "scarce" Hamilton's that have "rare" dials, or a Hamilton that is "rare" in yellow gold, but "ultra rare" in white gold.
That question will likely never be answered in a clear and concise manner and it brings to mind Supreme Court Justice Potter's colloquial expression when describing the indescribable - "I can't describe it, but I know it when I see it." With watch collectors, a better expression when describing the differences between "scarce" and "rare" would be "I can't describe it, but I know it when I
don't
see it." Simply put, "rarity" has a direct correlation to "surviving examples." When was the last time you saw a Hamilton Oakley - the fact that few people have ever seen one, or even seen a picture of one is proof positive that it is a "rare" watch - correction, an "ultra rare" watch.
Let's use the Hamilton Coronado as an example to exemplify a point. No one can deny that the Coronado is "scarce" though some might say it's "rare." There were 2,407 made in 14K white gold between 1930 and 1932. But the question is - does the production of 2,407 examples qualify as "rare?" I've certainly seen enough E-Bay titles heralding "Rare Hamilton Coronado for Sale!" But as we all know, just because E-Bay says it is, doesn't mean it's so.
But in this case, I think E-Bay might be right. 2,407 watches is not a lot of watches - especially by today's standards, therefore, the white Coronado, in my opinion, would qualify as "scarce." However, over the course of the last seventy-nine years, a major depression, numerous recessions and gold reaching highs regularly, my guess is that there are significantly less white Coronado's today than there was in 1930. How many less, no one knows for sure, but I would bet it's at least fifty percent less as I am confident that at least that many have been melted down or accidentally destroyed. Subsequently, I would say that the Coronado, though originally "scarce," can now be confirmed as "rare."
But what about "rare" and "ultra rare?" A quick glance of the picture above, one might not immediately notice a difference between the two Coronado's, but let's use this picture as an example defining the differences between "rare" and "ultra rare." We know from our discussion that the white Coronado on the left is "rare." But, the Coronado on the right is one of only twenty-five examples made (If you notice, it has a Roman numeral bezel as opposed to the far more typical Coronado which sported an Arabic numeral bezel (on left)).
The Coronado was the last of the three enamel Hamilton's made between 1928 and 1929 - The Piping Rock was introduced first, followed by the Spur and then, the white Coronado, which was issued in May of 1930 (yellow examples were released late 1929). It's interesting to note that both the earlier Piping Rock and Spur utilized an enamel Roman numeral bezel just like the Coronado on the right. In keeping with conformity, one would naturally think that the Roman Numeral bezel was issued before the Arabic Numeral due to its similarity to its earlier siblings; but that's simply not so. The first Coronado's had Arabic numerals, not Roman numerals. It was not until June 11th 1930 that the Roman numeral example was made – almost a month after the original Arabic numeral variation. Were the Roman numeral versions special orders? Were they issued by mistake? Did Hamilton think that they might offer both examples to their customer base? I think most would agree that the Arabic numeral is the more beautiful Art Deco design, so why would Hamilton make the Roman numeral example and why make so few of them?
These are questions that we'll likely never know the answer to, just like we're likely to continue our discussions defining the differences between terms "scarce," "rare," and "ultra rare." But these Coronado examples do serve one purpose – we can now plainly and without question discern the difference between "rare" and "ultra rare" - at least for this example. :001_smile: