What Started it all.....
I have a Grand Diver, Signature, SW200, with a
Plain Mineral Crystal.
Also have a Grand Diver, Limited Edition Tritium Tube, SW200,
Flame Fusion Crystal.
Almost all Pro & Grand Divers, come with Plain Mineral Crystals.
Allot of people, ASSume they come with Flame Fusion, not the case. :scared:
A look at the Case Back, will usually tell you right a way.
That said, these come with Mineral Glass, Hardened or Flame Fusion, it's doesn't matter, it's not what I want to put in.
I had tried the usual places, but the thickness at 3mm, seems to be an issue.
Esslinger, Otto Frei, Jules Borel, and others have said it is unavailable.
Offered to sell me a larger Sapphire Crystal & have it re-ground, $220.

Otto Frei offers a:
ZTMG3.0, - 3.0 mm Thick Mineral Glass Crystal 34.0 mm, for $ 3.50.
Again, not what I'm looking for.
I sent a cad dwg, out for quote, HK, CN, SUI.
HK- Hong Kong, CN-China, SUI- Switzerland.
Forget the other two.
Stettler Sapphire, Lyss-Switzerland,
Quoted a 1:1 Corundum Sapphire, With Double-Sided Anti-Reflective Coating, for $14. USD @ Piece.
Total, not including Shipping would be $2800.
MOQ is 200 pcs, which is better than the 500pcs, at a cheaper price, by the HK, CN, and others.
The guys at Stettler said they have stock of 35.x3.5mm blanks they make for another watch manufacturer, which they would use for this order.
I don't need to make a buck on these, and I'm sure I could get rid of them for cost, over the next 20 years.
I'm going to keep 20pcs, for my self.
Which is why, I needed opinions on the AR-Coating.
Single Sided coating(Inside), and they are $13. @ piece, or $2600.
tim
ADDING CRYSTAL INFO.
Ok, I'm adding some Crystal Info at this point.
You need a basic tool kit.
Here is a good starter, recommended to me by
CometHunter, ( Bill)
$34. from FleaBay, with free shipping.
Basic tools fleabay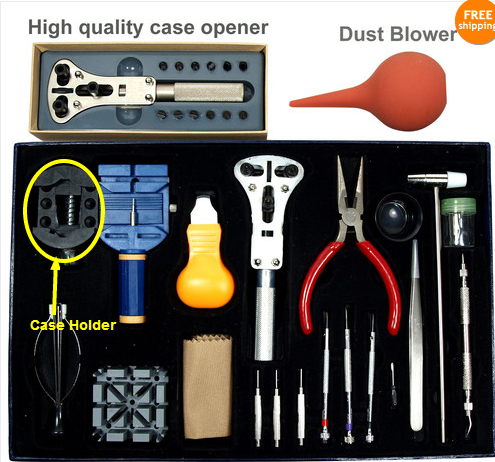 The crystal on the GD, is 34x3mm.
Made of Mineral Glass, no matter what you gift wrap it in.
3mm thick, makes for a tough crystal, shattering isn't an issue for most.
Invicta will charge you 32.70 + 28 = $ 60.70
Check out Esslinger Jewelry Supplies.
The Crystals on the Grand Diver, are Mineral Glass.
The Face Crystal is 34mm X 3mm.
The Back Crystal is 25mm X 3mm.
Both are Press Fit, with a I - Gasket.
Esslinger sells the Front Crystal, : ITEM NUMBER: 20130034 : COST $ 2.95.
Esslinger sells the Rear Crystal, : ITEM NUMBER: 20130025 : COST $ 2.95.
A new I - Gasket, : ITEM NUMBER: 84.042 : COST $ 5.95.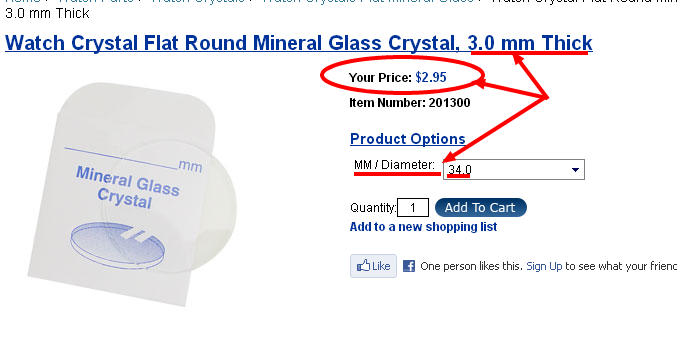 Take it to a jeweler with a press, and have him do it.
Or
1-small pot of boiling water, oven-mitts, freezer, prescription pill bottle- a little bigger than the crystal( Brown with white cap).
Put crystal in the freezer for 15-20 minutes.
Drop the case or case back, in a small pot of boiling water for 1 minute.
Wearing oven-mitts, press the crystal, with your thumbs from the inside out, not too hard, comes out really easy.
Remove old gasket, clean STST Back case really well.
Re-boil case-back for 1-minute, dry and place on clean, sturdy, level surface.
Put new gasket in, take crystal out of freezer, set in place, turn pill bottle upside down and press evenly, down.
It will glide into place, and bottom out.
This works for the Case or the Case Back.
Others will have a better way, I'm sure.
But this has worked for me, and I have had no issues.
Tim
Please Feel Free to Leave: Questions, Comments, Feedback, Opinions, Criticism.
Tangine:
"Cross over children. All are welcome. All welcome. Go into the Light. There is peace and serenity in the Light. "