Had just enough Ostrich shin leather left to make Timbo a strap for his V7 hybrid.
I had two main goals for this strap: 1) Make it a lighter weight. 2) Add some padding up by the lugs.
I'm thinking that the proper way to add padding is to use a synthetic upholstery batting, but I don't have any. So, I substituted some 2oz leather that I had split, earlier, from black cowhide. This will either work, or it won't. :scared:
If you look at the first image, you can see where I've made the two strap stocks, short section and long section, and I've glued small, pointed pieces of leather to the upper, lug end of each strap stock. The purpose of these small leather pieces is to add weight -- a "padded section" -- to the underside of the ostrich cover. This image shows them glued to the strap stocks, but not yet contoured with the Dremmel sanding drum.
Image #2 shows the two strap stocks with their padding glued in place and their ostrich covers nearby.
Image #3 shows me sculpting the edges, sides and top of the padding leather in order to transition smoothly from the edge of the strap and create a gently mounded profile.
Image #4 shows what the sculpted padding looks like before it's been glued and covered by its ostrich cover
Image #5 shows the long strap stock flipped over and about to have its layer of kangaroo glued to its underside.
Image #6 shows the long strap stock with it's 'roo glued on and about to receive its ostrich cover. After the ostrich is glued on, the completed sandwich (outer layer of ostrich, 2-inner layers of cowhide, inner layer of kangaroo) will have my plastic template laid on top of it for cutting to final shape. The template and an X-acto knife produce the notches that will fit Timbo's case, perfectly, plus ensure a gentle taper to his 22mm Lum-tec deployant clasp.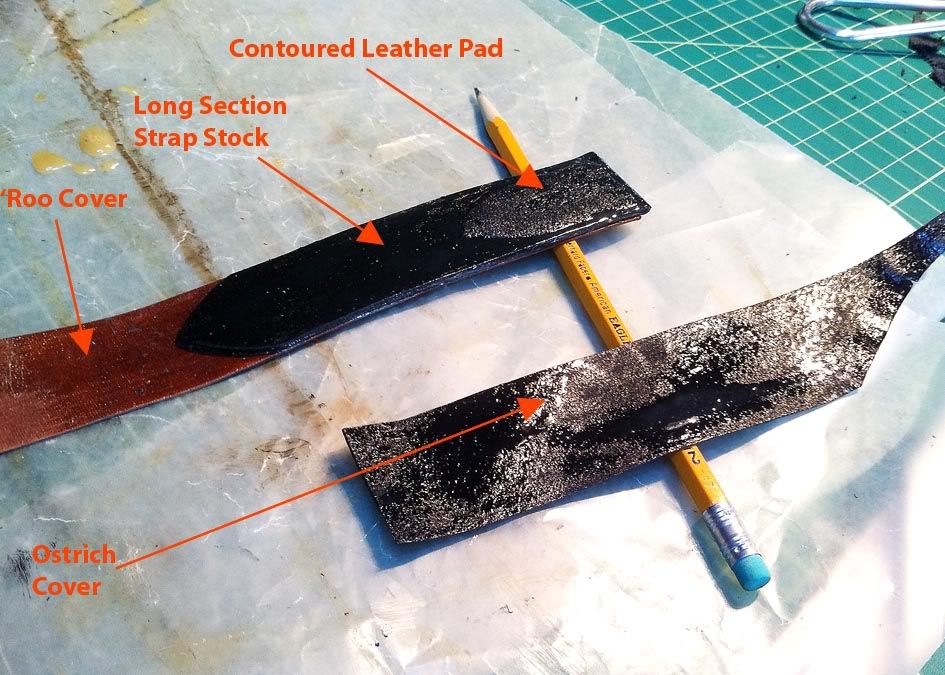 Image #7 shows the glued up strap with its edges sanded, stained, but not yet burnished. The strap is sitting inside the lugs of my case, but not yet mounted on the watch. You can sort of see the nicely contoured upper section of the strap, but it will need to be stitched in order to maintain that contour, indefinitely. Timbo has chosen black thread, and I think we're going to be doing a similar perimeter stitch to the first one I did...
Long way to go on this strap, but, "So far, no fatalities!" :biggrin: