Discussion Starter
·
#1
·
Today I received this SWI. (photo borrowed from the shopping channel)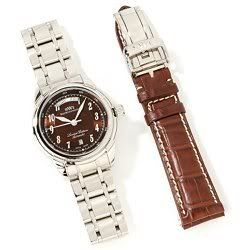 This was an OTV and the price doubled when the event was over. It came with a free alligator strap and a free watch winder. Here are my first impressions.
The dial, hands, and case are beautiful. Excellent F & F.
The bracelet, while great looking has 2 problems. 1. Some of the links are a little sticky so they get kinked and have to be forcibly straightened. 2. The deployant clasp is hard to snap closed and has a cheap sounding click when it does.
The (free) alligator strap is very cheap looking. I have some leather straps with alligator print or embossing that look better than this one. It feels better than it looks.
The (free) watch winder is mostly white with S-W-I in huge letters on the front. Not exactly designed to blend in with most furniture. I haven't plugged it in yet.
But, I think I'm going to keep it.
More to follow after I size it and wear it. And see how accurate it is.