I just received this Invicta 3262 at a good price and thought it would make a good beater for work. Below the picture I will describe my two dealings with forum sponsors and my one (and now only) dealing with Shop***:cursing::cursing: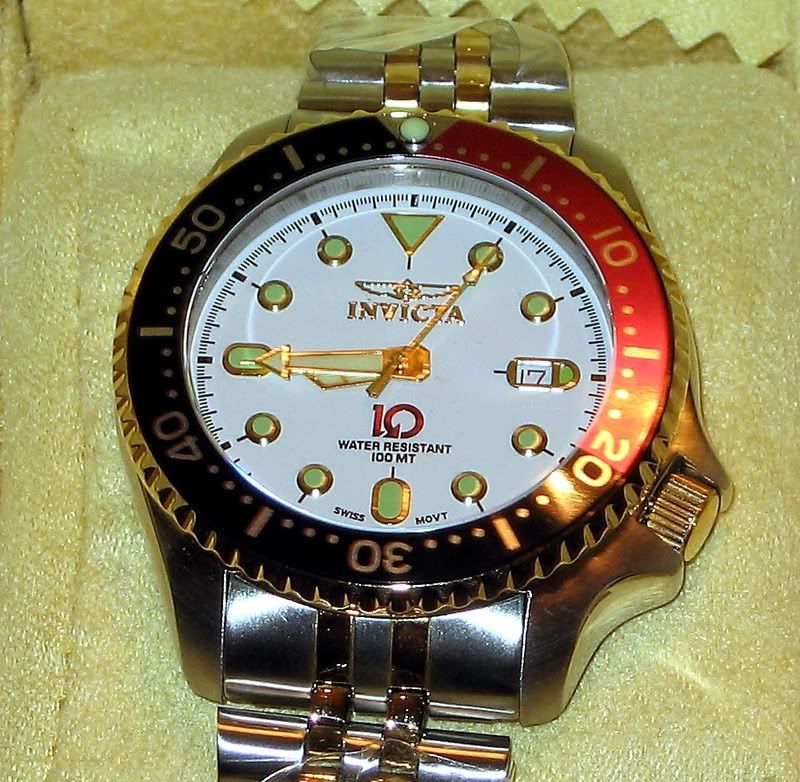 A couple months ago I was in the market for a new watch and decided to give one of our sponsors a shot. After all, they do support this forum we so dearly love.:001_wub: On a weekend night I PM'd Larry at Tritons and asked if he had a specific model Invicta. I did not really expect a reply until Monday. I got one that night!:thumbup1: Larry told me he showed one in inventory but he would have to double check Monday morning. He also quoted a price that was VERY competitive with Shop and Amazon. Early Monday he PM'd me back and said he had the watch. I payed and I am sure he shipped that day because by Wednesday or Thursday, can't remember now which day) I had the watch. New in the box and untouched.:thumbup1:
Great service and delivery Larry!:thumbup::thumbup:
Two weeks ago I was looking at another item being offered by Thomas Carey of Fine-Time. Again, I PM'd him and again in the same day I got a reply.:thumbup1: I made the order and 3 days later I had the item. Of course most of you know how hard Thomas has worked at putting together a very nice watch for those of us in the WTF that wanted something relating to this great forum! Great service and delivery Thomas!:thumbup::thumbup:
Now to my experience with Shop***.
In the wee hours of the morning on 12/26 I saw the above watch as a "close out" item at a very good price so I decided, I'll give them a try.:blushing:
The next day it was in the "processing" stage. OK, no big deal. After all it was the holidays.:001_rolleyes: About a week later I sent an email through their site and a few days later a second email as it was still, "in processing".
I never got a response!:cursing: So then, I called them and was told, the item is on, "back order"!:cursing: How can this be? Does not clearance mean you HAVE stuff that you are trying to CLEAR OUT?:confused1::confused1:
I guess, not at Shop***!:cursing::cursing::cursing: On January 15 I did receive the watch. After 20 days, two ignored emails and then being told my "clearance item" was on back order! Terrible service and delivery Shop***!:cursing::cursing::cursing::cursing: I have read several post where members have received watches from them and the packaging, tags, etc., had clear evidence that it was a return item. To be fair, in this case my watch had all appearances of being brand new and not a return.
For me, it is a no brainer and shop is off my list. Well actually I put it on a different list!:001_tt2::001_tt2:
My advice, give the sponsors a shot first. If they don't have what you are looking for that is one thing unless they can get it. In which case they can most likely beat the 20 days it took for me to get my watch.
For me, even if that is the only place I can find an item (shop) after this deal, I will just go without before letting them have any of my cash!:001_tt2: