Discussion Starter
·
#1
·
This was originally posted in the General Forum by Shive.
I thought I would give just a little review of the VOSTOK ARKTIKA which I received about 4 days ago. When I received the package I was rather surprised because I really liked the packaging it was more along what you would get with a high end Citizen or Bulova. I had read that Vostok Europe (V.E.) was rather plain in their packaging it's not a wooden or fancy box… but then again I'm not buying a watch box am I. Hopefully I'm not paying for it either! If the packaging is ordinary just lift the lid and that's when an extraordinary experience begins!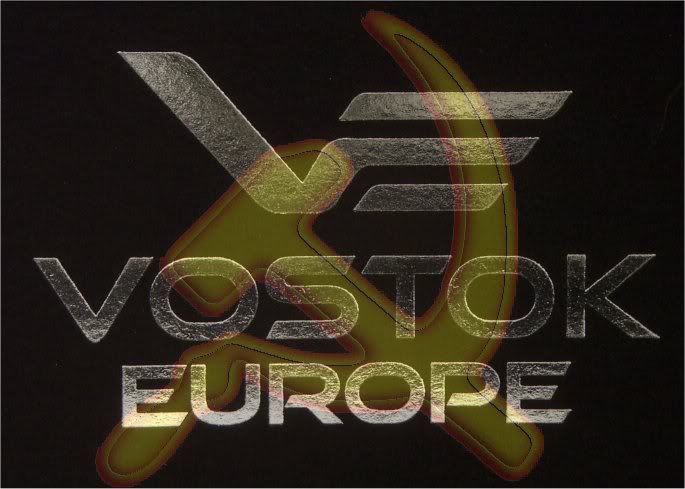 Before I go any further I should explain a little about myself…I'm a middle class family guy with 2 boys and 2 dogs and 2 wives…just kidding about the wife thing! I have been married for 25 years. My oldest is in college at 24 grand a year with everything as it is today my grail watch is not a Patek or Parmagiani it's more like a Timex or G-Shock. So if I seem to be a little enamored with the ARKTIKA well forgive me at 169.98 this a bit of a special event for me. Well enough of the disclaimers let's move on.
One last thing I applogize for the photo quality. As i did these on my home computer and I don't have a flat screen at home and its calibrated differently so I thought they were fine until I looked at them at work and they were not as good as I thought!
The watch comes wrapped around a pillow the case is covered in plastic on both sides remove the plastic and you have a very unique time piece. It's a TANK style design and looks like a Rose Gold ingot on a strap. This is not a "Thin and Sophisticated" design the Artika creates a very Substantial and Elegant appearance. But as you start to study the dial a little closer this watch presents its military heritage, the 24 hour and the Day/Night Complication's smack of submariner functionality. It's kind of like Submariner meets Ballroom Dancer… substantial yet nimble, savvy yet elegant.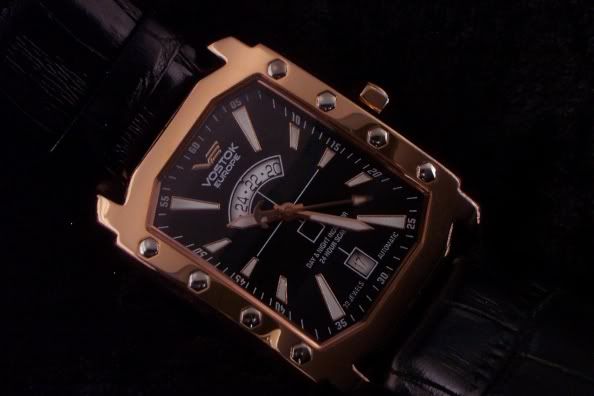 This watch has a curved case front and back which allows it to fit nicely on the wrist. It has a mineral crystal on both sides creating a nice exhibition window displaying its in house movement. The back of the case is nicely engraved… Since all of V.E. production runs are limited the run numbers are also etched into the case back. I don't think it has a lot of relevance but it is pretty cool!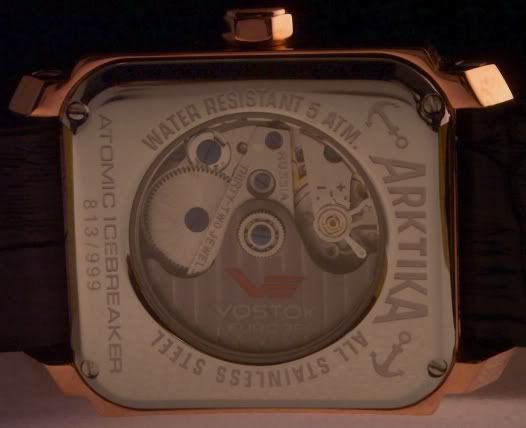 The theme of this piece seems to lie in the pentagonal studs in the case front that theme carry's over into the strap posts and even the crown. The case and studs have a high luster polish and are beautiful.
The strap is really pretty nice a black Croco stamped leather with a matching gold buckle.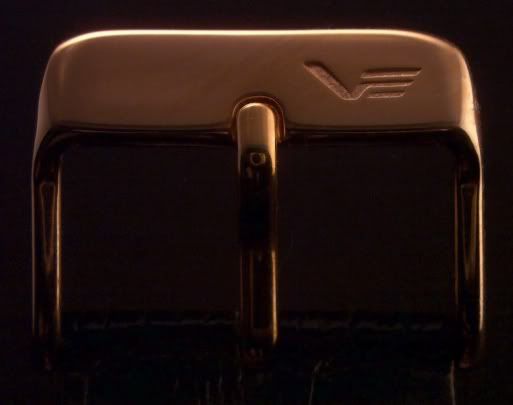 At the present based on my observation using the Atomic Clock and eyeballing it this watch seems to gain 6 seconds a day… not bad for an automatic! That being said your mileage may vary as each movement is different some better some worse.
Some of the little things I liked about the Arktika are the 24 hour indicator and the Night and Day indicator. A cool thing about the Day and Night indicator is that in the morning and twilight the indicator actually shows as split black and red and vice versa. I think the case back is really nice. I have other exhibition back watches but I think it's the engraving that makes it especially nice. The watch itself is stunning I personally love Rose Gold and Black dials even though their tough to photograph.
Things that could be improved…as much as I like this watch there are some things that could be improved. Starting off with the Date Wheel the numbers need to be a little bolder. While the crown design had the pentagonal theme and looks very cool its also very hard to turn…couple that with the fact that there is no quick set function for the date and "very cool" is not so cool any longer. You can advance the date by moving back and forth between the 8:00 and 12:00 hours. The last thing is that the strap is a 23mm and the lugs are a true 23mm so good luck finding a replacement strap. But that's bout all I can think of.
In a nutshell here is a time piece that has awesome fit and finish… Automatic In House Movement…great design and functionality for under 200.00. Don't get me wrong it's NOT Parmigiani but it may be as close as I'll ever get…and I'm good with that!
Shive