Discussion Starter
•
#1
•
REVIEW: Two Value Priced Leather Straps From Panatime>>>>>>>>>>>>>>>
Two Value Priced Leather Straps From Panatime
By: John B. Holbrook, II
1/17/2012​
WATCH TALK FORUMS sponsor Panatime recently sent me several different samples from their various lines of 24mm watch straps. The two are a marvelous black leather strap which comes in either red or blue stitching. Here's a photo of the red stitched version on my Lum-Tec M51: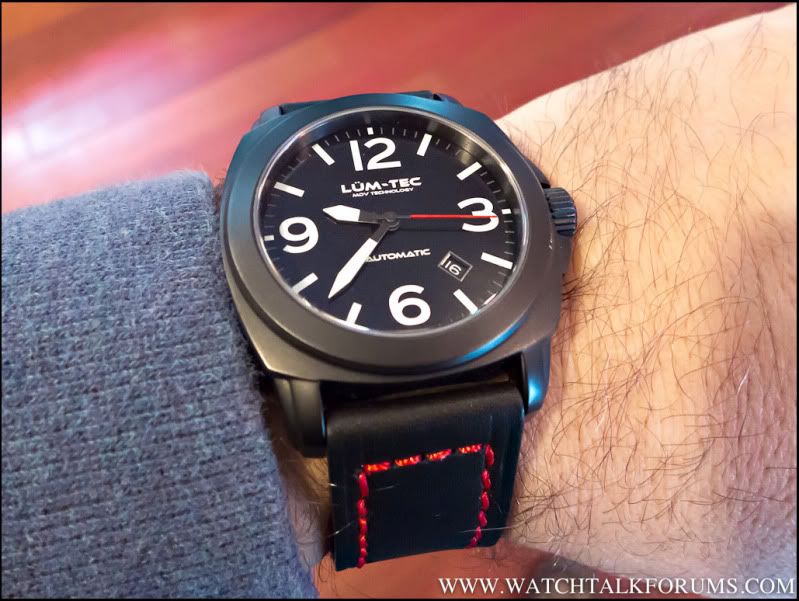 To see my review of both of these two leather straps, just watch the below video on the WATCH TALK FORUMS YouTube Channel. It's recorded in High Definition and can be run in full-screen mode:
Both versions are available from
Panatime.com
for just $39.99
. The purchase the
red stitched version, click here
. To purchase the
blue stitched version, click here
. Panatime also offers an assortment of Pre-V buckles which would look great with these straps -
just click here to see their inventory
.
Look for me watch strap reviews from Panatime coming later this week!
**Photos & Text Copyright 2012 WATCH TALK FORUMS INC. No part of this report can be reproduced outside of WATCH TALK FORUMS without the expressed permission of John B. Holbrook, II.