Discussion Starter
·
#1
·
Review of The RedSea Holystone Dive Watch
By: John B. Holbrook, II
8/4/2011​
If you've never heard of RedSea Watches, that's understandable - they're a brand new watch company, and their debut Holystone dive watch just shipped last week. You might be wondering what separates young new brand from others like it on the market. I think RedSea Watches partners Troy and Josh tell the story best with regard to what RedSea Watches is all about:

So why RedSea? For us, nothing told the story of who we are and what we're trying to do better than RedSea. We are strong Christians that draw inspiration from both faith and interests. No doubt Red Sea has numerous biblical references, but it also has an interesting history around pirates and is an amazing dive location. Also, we have an intense passion for watches; both functionally and as a form of personal expression.

Because our first project is building a watch that blends the old school world of pirates and ocean exploration/diving, the Red Sea became a very clear common ground.

So what's in a name? For us, RedSea captured it all!
When I first heard about RedSea, I got really excited that a couple of regular guys like myself were following their dreams and starting a watch company. As both a Christian, and a watch enthusiast, I felt an immediate desire to get behind their efforts 110%. After many months of development and anticipation from their growing fan base, RedSea has released the Holystone: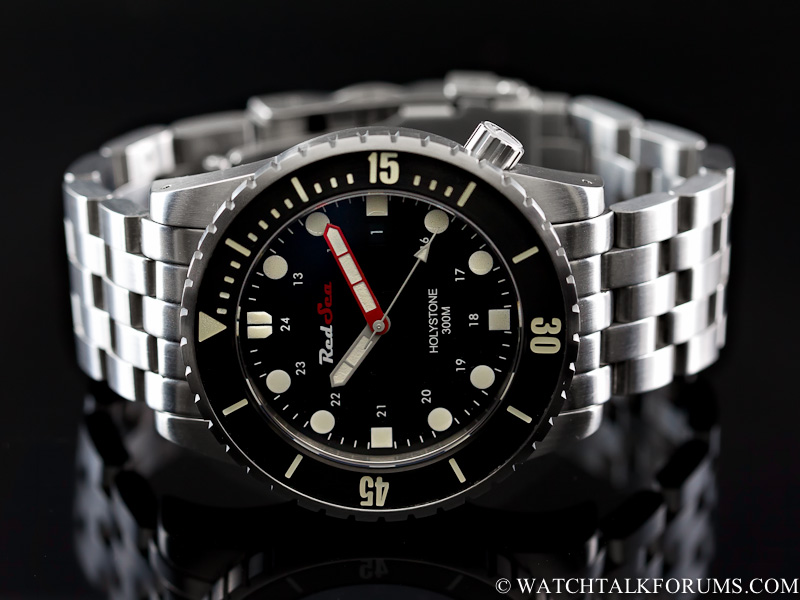 If I had to pick one word which describes my feelings about the Holystone, that word would be "surprised." Being completely honest, before seeing the Holystone in my hands, I was bracing myself to see a watch that looked it came from a couple of industry freshmen. What I received with the Holystone was a watch that exceeded my wildest expectations of what RedSea Watches could produce with their very first watch.
The Holystone comes in two difference versions - stainless steel, and black PVD. The all-stainless model was the first to ship out to those who pre-ordered, and was my chosen version. The case is 44mm of 316L stainless steel, and water resistant to an impressive 300 meters, and a chunky height of 14mm: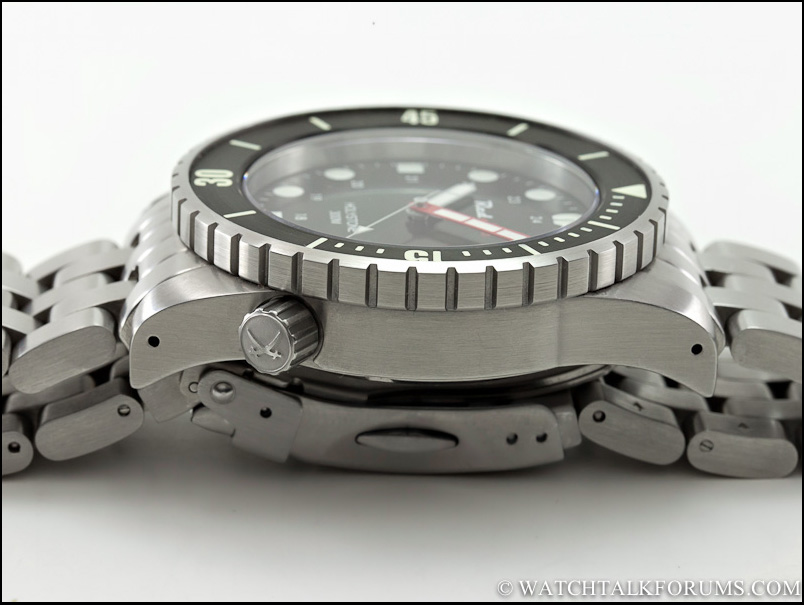 ​
In most cases, over 40mm watches just don't look great on me and my 5'7" frame, instead looking obnoxious and disproportionate. So surprise #1 for me was slipping this watch on my wrist and thinking how great it looked on. Here's a wrist shot I took at my neighborhood pool (what better place to test a dive watch?):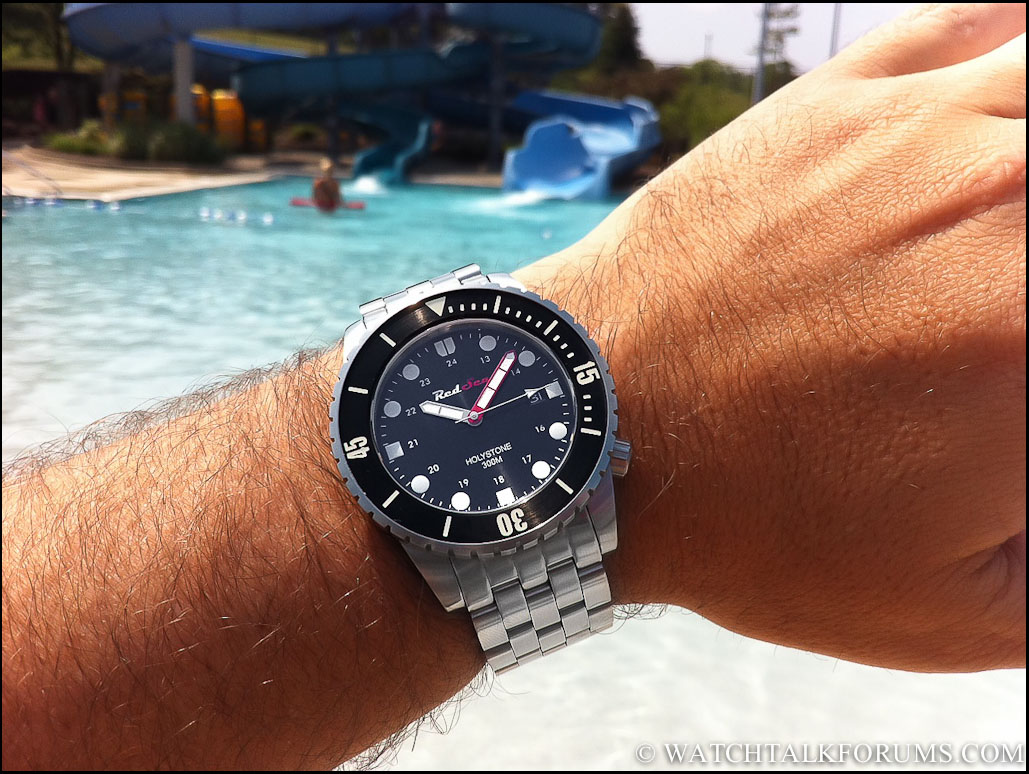 ​
Sitting atop the case is a scalloped dive bezel that is a joy to grip and turn - easily done with gloved hands too (a necessity for a true dive watch).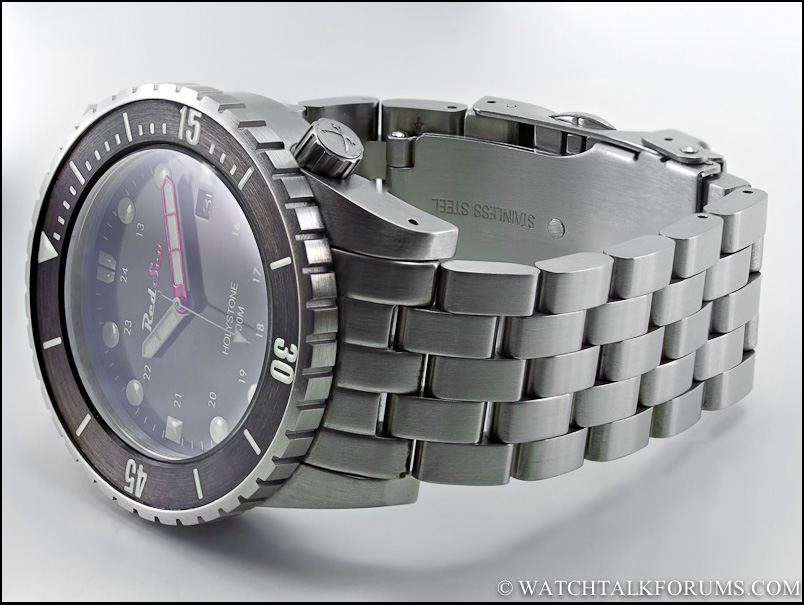 ​
Attached to the 22mm lugs of the Holystone is a 316L stainless steel bracelet, featuring solid link construction throughout, and fastened together with Seiko-like two-button clasp. I have seen many and much worse bracelets from companies with far more watch manufacturing experience than RedSea. I like this bracelet a great deal, and it looks great on the watch, but I do have two minor quibbles. Firstly, I'm not a fan of adjustable links held in place with friction pins (which are used on the Holystone bracelet) - I much prefer screws. Secondly, a true dive watch bracelet really should have a dive suit extension built into the clasp - a feature notably absent here. It should be noted that many true divers will opt to use the included rubber strap for diving, which to a large degree renders the absence of the dive suit extension a moot point. Being a "desk top" diver at best, I'm fine with the bracelet as-is.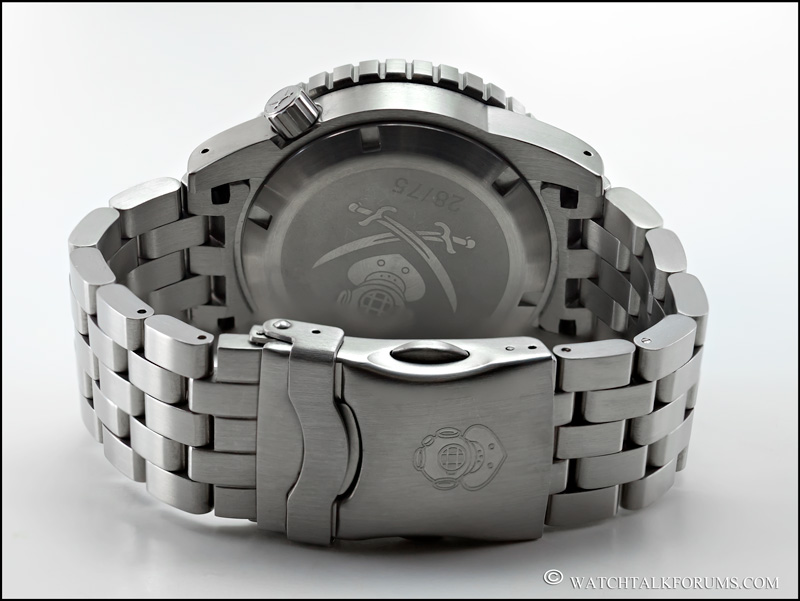 ​
The 44mm dial of the Holystone is remarkably unique and to my eye extremely attractive. Black background, white hour markers...the classic combination for maximum contrast and visibility. The red RedSea logo, and red minute hand add to the legibility and aesthetic appeal. Thank goodness RedSea was able to source dial matching black background date wheels for the Holystone - there was some doubt that this would happen at one point on the road to delivering the finished product. It's just one of the many details RedSea worked hard to get right on this watch.
Low light visibility comes from 8 layers of Lum-Tec "MDV Technology" blue lume. Anyone who knows anything about Lum-Tec knows that their proprietary lume technology is the current king of non-radioactive applied luminous coatings. Apparently Chris Wiegand, President of Lum-Tech (nice guy that he is) helped RedSea quite a bit in the development of their watches - they couldn't have picked a better "mentor." Personally, I'm very excited by the innovation and success of US based companies like Lum-Tec and RedSea in the mechanical watch industry. Here's a lume photo of the RedSea Holystone's dial: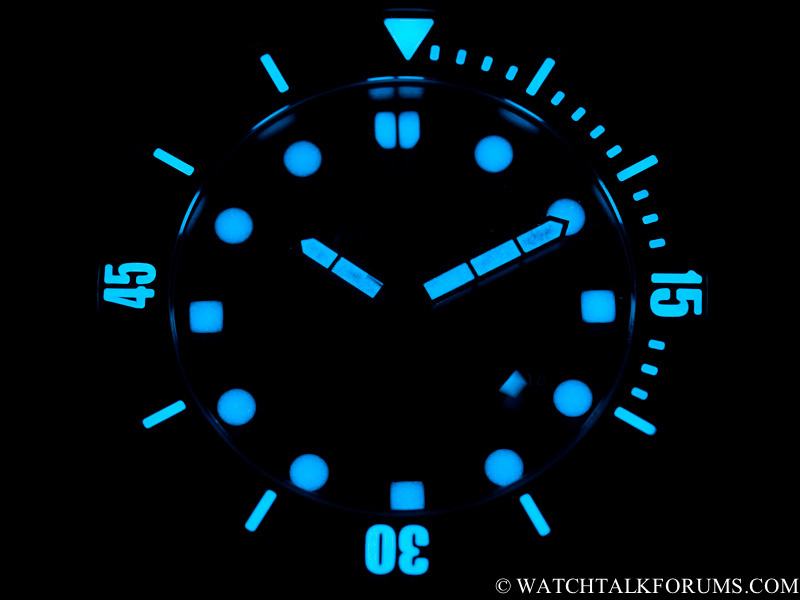 ​
In my experience, a pigmented lume (color added) isn't quite as bright as a non-pigmented luminous coating, and this blue lume Holystone isn't quite as bright as my non-pigmented Lum-Tec M27...but it's close. The loss in luminous output is more than compensated by the cool blue color - nice job!
Inside the RedSea Holystone is the relatively new (introduced in 2009) high-beat Japanese automatic Miyota caliber 9015 with 24 jewels, 28,800 vph and a power reserve of over 42 hours. I've had lots of personal experience with the Miyota 8215 21 jewel unidirectional winding automatic movement (used in the Invicta 8926) but this was my first experience with the newer Miyota 9015. Like the older 8215, the new 9015 employs a unidirectional winding rotor - but that's where the similarities end. In addition to the greater jewel count and higher beat speed, the 9015 "hacks" when the winding stem is fully extended (the second hand stops) - a feature most Swiss mechanical movements have and long wanted in a Miyota movement from mechanical watch fans. I removed the case back on the Holystone and was shocked at the improvement in decoration and finishing in the 9015. Being perfectly honest, the Miyota 8215 was an ugly duckly, but this Miyota 9015 is quite aesthetically pleasing: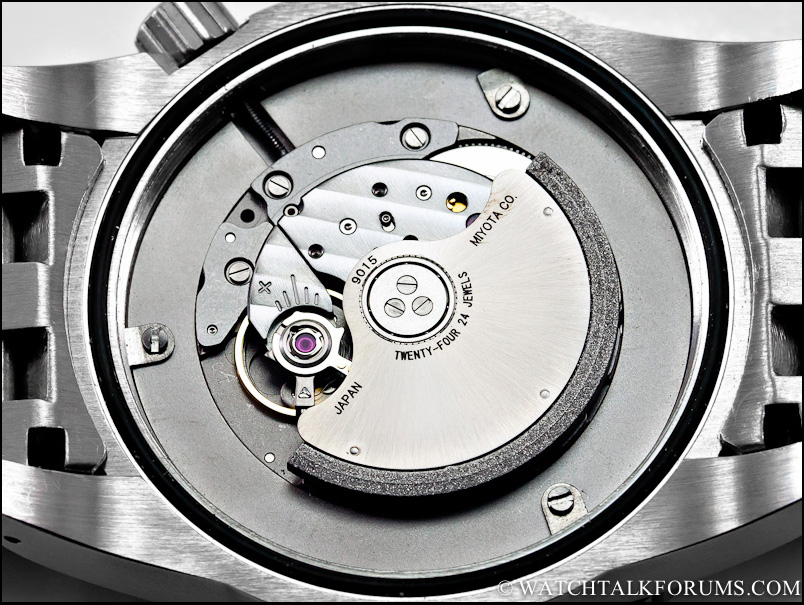 ​
Miyota rates the 9015 accuracy as being between -10 and +30 seconds a day (remember folks, this isn't a chronometer grade movement). My RedSea Holystone ran about +13 seconds per day according to my Orbita Timing Machine: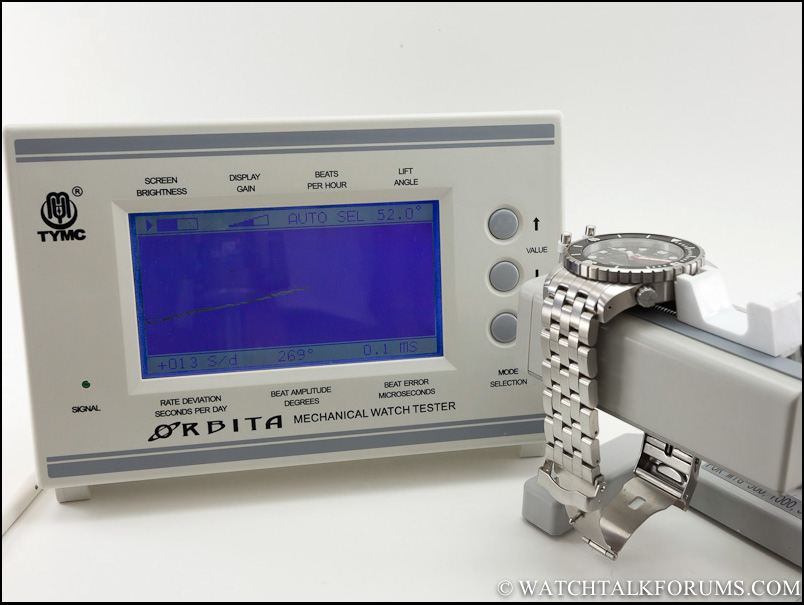 ​
In addition to the written photo review, I've recorded a video segment on the RedSea Holystone:
The video is in HD, and can be run full-screen.
By any measure, the RedSea Holystone is very desirable watch in the always hot dive watch segment. But it's particularly admirable for a first effort from a fledgling brand. With only 75 examples in stainless steel, and another 75 in black PVD, a quick sell out of the available stock is likely. The Holystone is $695.00 US, and can be o
rdered from the RedSea website by clicking here.

**Photos & Text Copyright 2011 WATCH TALK FORUMS INC. No part of this report can be reproduced outside of WATCH TALK FORUMS without the expressed permission of John B. Holbrook, II.