Discussion Starter
·
#1
·
by mtech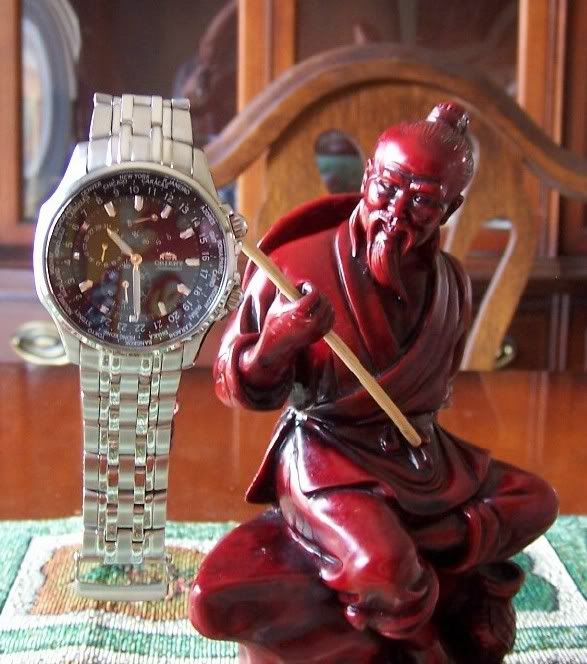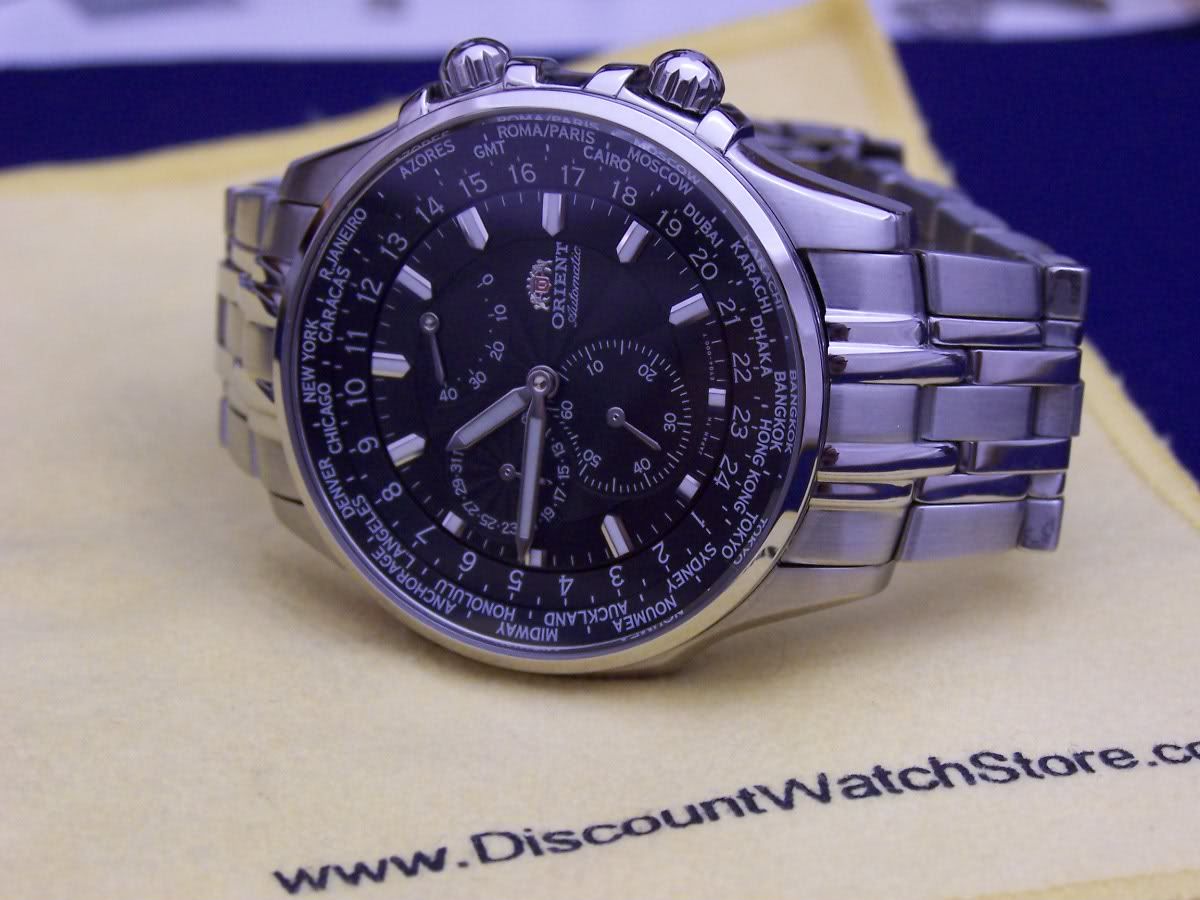 Orient # CEY04001B GMT World Timer, 23 Jewel, 21,600 Hz Calibre 46H
Physical Characteristics:
Case width: 42mm
Lug to lug: 48mm
Lug width: 22mm
Thickness: 12.5mm
Crystal diameter: 38mm Sapphire front, I suspect the 26mm diameter display back is mineral glass, not sapphire.
Bracelet thickness: 4.5mm with no thinning to clasp.
Bracelet width: 22mm tapers to 20mm at clasp, solid end links.
Bracelet construction: Stainless, multiple rectangular elements nested together, removable links are retained by regular pushpins.
Clasp: signed, dual button single fold with safety lock, 3 holes for micro adjustments.
Total Weight: 184 grams with one link removed.
My 100 % Subjective Categories for Rating:10 best, 1 worst.
Dial legibility: 9
Case construction, finish: 9
Bracelet construction, finish: 10
Clasp: 7
Comfort: 8.5
Lume: 8
Time keeping: 8
Owners manual:5
Ease of setting: 7
Sales Transaction Experience: 10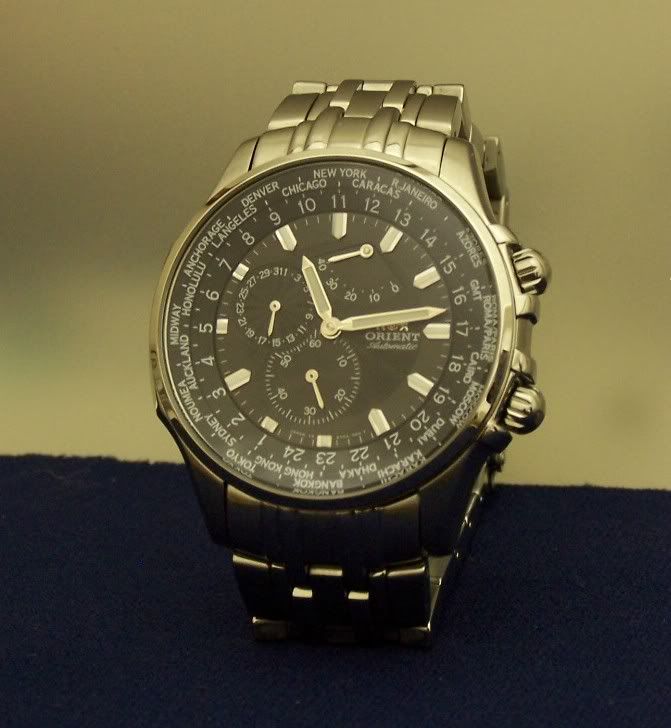 Dial Legibility: 9
This is a relatively complicated watch, however the integration of the subdials is excellent, the only sub dials you read frequently are the seconds and date - the power reserve builds fast to 40 hours and stays there in my experience. In a complicated dial, I prefer having the seconds display as a subdial, it helps overall legibility and avoids distraction. All the GMT functions are on the outside periphery of the main dial, if you aren't using the 24 hour display, it doesn't interfere with the reading of the time & date.
Case construction, finish: 9
This is my 3rd Orient watch, this particular model being about 5 x the price paid for either of my other Orients. I learn that Orient pays a good deal of attention to details regardless of price point. The backside of watch, in particular the underside of the bracelet lugs are rounded and removing the bracelet shows a fully polished case. This gives the option of use of a leather strap without concerns of sharp lug edges abrading the leather. The shape of the case is symmetrically balanced with the crowns and the strong shoulder on the left hand side. I take away 1 point for laser etched script on case back and crown logos, these look cheap compared to traditional engraving. 100 metres water resistance with the crown at 3:30 screwed down tight.
Bracelet construction, finish: 10
This is a very substantial bracelet, thick but with no real sharp edges. Mixture of polished & satin finish, it will be subject to scratches - but what can you do? The generic satin Oyster is easier to maintain, but this watch is not copying any brand that I know? Each link is made up of 7 individual rectangular elements, this one would be expensive to make versus a simpler stamping with separate finishes on a lesser watch. I only had to remove 1 link for my 7 5/8" wrist, it seems to suggest that really big wristed buyers need beware !
Clasp: 7
Stamped stainless steel with embossed Orient Logo. This is an area that suggests the spirited designer of the watch & bracelet had to make a cost compromise for the use of a generic Orient clasp, perhaps if this was an Orient Star this area would have been done better? I take points away primarily because the leading and trailing edges of the clasp stamping where they abut the bracelet, leave marks on the satin finish of the bracelet. If more attention was made to these areas, such as polishing the sharp edges of the clasp, the rubbing against the bracelet may not cause damage so quickly. The smooth silky feel of the bracelet as you trace your finger down to the clasp hits a jarring frost heave at this juncture - improvements could be made.
Comfort: 8.5
This is a heavy watch at 184 grams, but very nicely balanced visually and physically. I find it exceptionally comfortable and it stays put on my wrist - no sliding around.
If this watch was made in a scratch resistant Titanium….yup - I'd buy it too!
Lume: 8
A Seiko OM/BM is a 10, this Orient is quite good and my ever patient wife approves. I wear a watch to bed, my wife complains about the my OM or my other watches with SuperLuminova as being too bright for sleeping, but we have to give them something to complain about? The hands on the Orient have a very slight taper to the end, this is easiest to see at night. I like the look as it's more interesting than typical straight stick hands.
Time keeping: 8
It's too early to assess this watch for timekeeping, but my other 2 far less expensive Orients have demonstrated excellent timekeeping usually not more than +4 secs in 24 hours, ironically the Orients all have better timekeeping and reserve than a Seiko 7s26/36 movements. Positional sensitivity allows me to place crown(s) up while on bedside table to slow it down overnight. Orients do not allow manual winding, they use a version of the Seiko magic finger system and are very efficient winders. 2 minutes of shaking got me 10 hours of power, a 20 minute walk with the dog got me to 35 hours, inside of 3 hours on the wrist and I maxed out the PR scale. I'm a English speaking Canadian, we don't gesture with our hands while talking, so your trip to full PR may be faster?
Owners manual: 5
Multi language, very brief details on the GMT functions. I'm a Virgo, and a Mechanical Technologist. We read manuals and I crave info !!! Give me a full schematic for the watch and I'll pay the extra cost. You say you're offering a interactive CD for service & maintenance? Sign me up !!
Ease of setting: 7
The crown at 2:30 is for rotation of the world cities it goes in both directions, this crown doesn't screw down, but it's small enough with shoulders that prevent turning inadvertently. The small size of the lower crown is fussy in getting unscrewed - I don't have fat fingers, but it would be a problem for those who do.
Orients do not hack, but if you apply a slight reverse torque to the setting stem they will stop and allow synchronization to a time signal. The first stage of unscrewing the lower crown allows setting the date or GMT hour - you turn CW for one, CCW for the other. The GMT hour ring moves in distinct 1/2 hour steps. As the watch runs the hands move CW and the GMT ring moves CCW. Neat ! And easy to read. Full extension of the crown allows setting the time.
Sales Transaction Experience: 10+
In case you couldn't tell, I dealt with one of our sponsors - Discount Watch Store. I originally placed the order elsewhere, but the particular model I wanted was on backorder. I did some checking around and contacted Carmen at DWS who explained that they had the exact watch in stock. Carmen was wonderful to deal with, a bit of a nuisance with her vigilance to protect me against credit card fraud, but overall a smooth transaction.
I should explain why Carmen and DWS were so fussy about my CC security. I am a Canadian, and I hate paying duties & taxes. I also have many relatives in USA, including some that were coming to Canada for Easter Weekend. Naturally this gets the wheels turning for this cheap canuck...I wanted to buy the watch online and have it delivered to my relative in New Jersey. Simple!
Wrong ! :'( as a measure to prevent CC fraud, a non USA citizen can't have a purchase made online and shipped to a third party address other than the same address listed on the CC account.
This is especially true for purchases made from Canada and not shipped to Canada. Carmen and DSW were 100% correct in making absolutely certain that I was going to do this transaction in a completely safe manner. I ended up using my paypal account and then the sale went through fine. The whole time this was taking to process ( I needed to get my pp account verified too !!) Carmen was always there for me to ensure that every detail was perfect.
So many people forget how exposed we can be to cc fraud, but I felt completely safe and certain that Discount Watch Sales was
protecting my best interests. At the time it seemed a pita, but I would hope all other vendors would refuse a sale rather than cut corners.
Thanks for reading this far, hope you like my review!