Discussion Starter
·
#1
·
Here's a test of the Ghost by boscoe. Click for slideshow of my photos.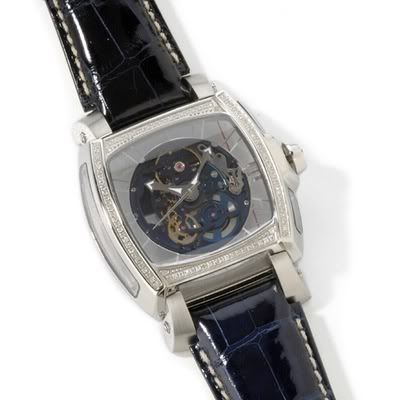 http://s44.photobucket.com/albums/f4/boscoe49/?action=view&current=1174767540.pbw
Invicta's signature Sapphire Ghost is a restless spirit trapped between two worlds: it's too big to be truly elegant and too sophisticated to be truly sporty. And yet the Ghost manages to pull off double duty with surprising aplomb.
Make no mistake about it, this is a big watch – officially it's 45 mm, but I make it 47 mm. It hogs – and hugs – my wrist. It's extremely comfortable in spite of its size, which presents a problem in certain dress-up situations.
The Ghost is no ectoplasm-thin specter. It's thick and chunky – similar to older Valjoux 7750 Chronographs. It doesn't slide easily under most long-sleeve shirts, so checking the time can be a proper pain.
But my particular version – a diamond bezel model – carries off full-dress duties rather well. It's certainly at home with a sport jacket and just elegant enough to add a jaunty air to a blue pin-strip Italian silk double-breasted suit. Normally, I'm very fussy and conservative about such things. The Ghost and I surprised each other since we fit well together in formal situations.
Amazingly, the Ghost works well with polos, shorts and sandals, too. The white leather stitching on the big-grain crocodile band (24 mm with dual deployment clasp) lends the watch a sporty flair. The massive lugs and pure beefiness of the entire timepiece make it suitable for just about any outdoor or casual occasion.
I don't even mind the diamonds, which don't quite push this version of the Ghost into the realm of a Bling Thing. There's another version with more diamonds that also cover the lugs. In this case (no pun intended), the diamonds actually help ease the starkness of the design and make the watch more approachable, less cold.
For a big bruiser, it doesn't actually look incredibly gigantic on your wrist – which is a big plus for me. This is due to the optical illusion created by the entirely –see through case. The front, back and both sides are sapphire crystal. The skeletonized, modified and plated ETA 2824 movement (all work done by Valjoux!) is visible from every angle and seems to float in the case.
This is a wonderful effect that was unique to this watch. An accomplishment Eyal Lalo and Invicta are justifiably proud of. Since the Sapphire Ghost was introduced in 2005, other companies have come out with similar designs. It is one of the rare examples of other watch companies knocking off an Invicta design instead of the other way around.
My Sapphire Ghost is flawless in fit and finish. It is what you would expect in a high-end Swiss Made watch. The Ghost has a suggested $3900 retail last I checked. That's a wad of cash – and so is the prevailing $1300 to $1800 street price for non-diamond versions.
Since my friend Mtech has taught me how to squeeze a Canadian nickel (relatively speaking, of course), I didn't pay close to that. My final cost was $750 NIB from our favorite TV shopping channel, It was an offer I couldn't refuse – especially since the company is great about returning unwanted products.
The Ghost is worth every dime of $750. I can't say I'd spring for it at $1200 or more since there are plenty of uber-brand vintage Swiss tick tocks out there in that price range.
But it's close to the same money I paid for my used Omega Secret Agent Seamaster and Tudor Submariner.. Both are wonderful watches, but, let's face it, relatively common. Especially the Omega.
By comparison, the Invicta is unique. Which makes it a true collector's treasure.
Is the Sapphire Ghost perfect? Of course not, though this particular example arrived blemish free and represents the best quality I have seen from the company. If the new Reserve Collection meets this standard – and I suspect it may even exceed it – then Invicta is well on the road to becoming a top tier company.
I can't talk about accuracy except in a general way. The ETA 2824 is stone-ax reliable – and this gussied up version seems no different. I don't do the atomic clock thing anymore since I change watches so often it's moot.
However, I wore this buddy for 10 days straight – in all conditions – as a test for this report. Over that time, the Ghost did not deviate from the digital clock I used to set the time when I first slapped it on my wrist.
Many collectors aren't fond of skeleton movements. They can be hard to read. The Ghost is an exception to this general rule. The silvered hands stand out well against the black IP plated movement (a first from Valjoux, according to Invicta) and the sapphire movement holder has slight crystal hash marks to note the hours. But don't try to read the time in the dark. The Tritanite lume is hopeless. You won't stand a ghost of a chance!
By the way, a new version of the Ghost (introduced just three weeks ago) does not have the hour hash marks on the holder. I can't say which I prefer since I've only seen the "old" version in person.
And you have to see the Ghost in the flesh (??) to truly appreciate how different and magnificent it really is. I am not fond of big timepieces, but I'm drawn to this thing. I keep pulling it from my collection, ignoring old favorites.
That's not because it's still new. Frankly, I have other watches that I've had longer – but would qualify as newer since they haven't gotten as many wrist rides as the ghost.
It's truly a haunting beauty (for those who like the style) and a must-have for any dyed-in-the-wool Invicta collector.
The Specs:
Band: Genuine alligator strap with ivory contrast stitching
Movement: Swiss Exhibition 25 jewel automatic movement
Crystal: Sapphire crystal
Crown: Push and pull crown
Clasp: Deployant clasp
Band Measurements: 9-3/4"L x 20mm
Case Measurements: 44mm x 45mm
Model Number: IN2910 (Goldtone); In 2866 (Black) IN2865 Blue