Discussion Starter
·
#1
·
by boscoe
INVICTA RESERVE PRO DIVER

For years, Eyal Lalo has been telling us Invicta dive watches are as good as brands like Rolex and Omega that sell five or 10 times more than his offerings. But despite his enthusiasim – and Invicta fans' own self-delusion – his Pro Divers ain't all that.
Sure they're good values – customer service issues aside – and solid timepieces. At their price point, Invictas offer exceptional fit and finish and attention to detail. But let's be honest, it's
relative
fit and finish and attention to detail. It was only exceptional compared to other watches in the same price category.
Even in The Lalo's wildest dreams, Invicta's Japanese Pro Divers or the upgraded 99xx Swiss Movement line never came close to meeting the standards set by luxury pieces. Even the new Swiss Made Pro Divers fell well short of that mark.
Until the Reserve Collection was created.
The Reserve Pro Divers are the timepiece The Lalo insists he's been building since he launched the company a bit more than a decade ago. Finally, Invicta watches offer Superluminova, luxury class Swiss fit and finish, screw-fastened bracelets and an honest air of quality – not just wishful thinking.
The Watch
Model 4827 Meteorite Dial Pro Diver, Swiss Made; 44 mm case; sapphire crystal front and back; 3x magnifier Cyclops lens; individually screwed in case back; 500 meter water resistance; screw down crown; push-button dual deployant bracelet held together with screws; COSC certified Sellita SW-200 (ETA 2824-2 clone) with date at 3 o'clock.

The Review
After five solid days riding my wrist, I've come to appreciate the Reserve Pro Diver line.
The watch is accurate (still hasn't lost or gained an entire minute) and comfortable - for a massive chunk of steel.
At 44 mm, it doesn't eat my wrist or even feel that way. But over the course of time, I have noticed its extreme weight. Seriously heavy! Much, much heavier than, say, a 9937 Swiss Movement Pro Diver. The bracelet is thicker and wider, so is the case.
The size isn't exactly annoying (remember I prefer much smaller watches), but it limits its use. Twice this week, I had to leave the button on my dress shirt open because it was too big to fit under the cuff. If I wasn't testing the watch, it would've been exiled to the watch case, pronto.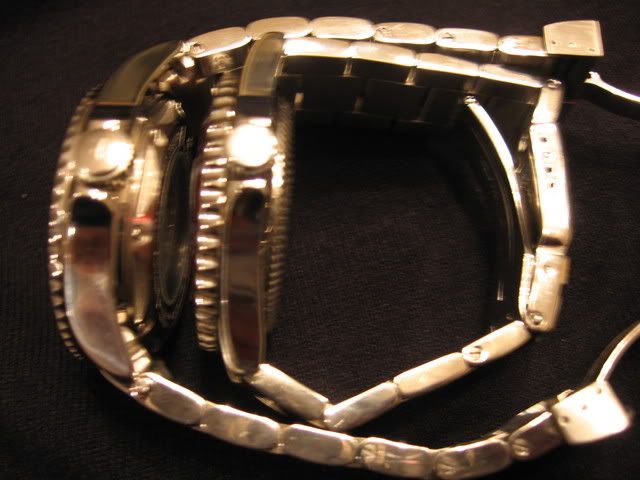 Reserve Diver outside - Grovana diver inside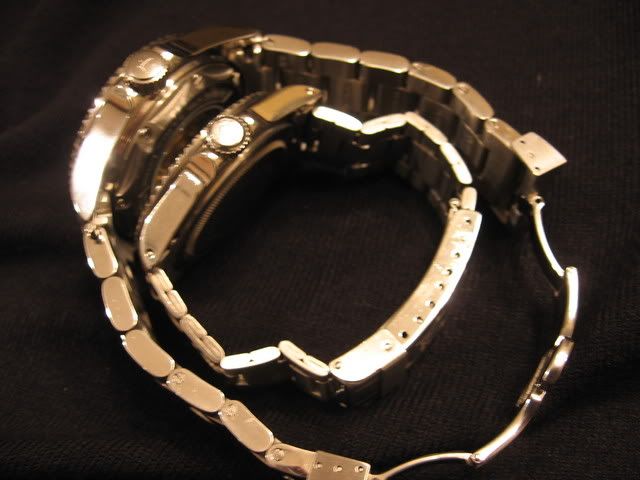 Reserve Diver outside - Tudor Submariner inside

So while the Meteorite Dial Pro Diver is more dressy than a standard offering, it is a tool watch with Uptown Pretensions. The high polish finish is very well done, the bezel is lacquered to give it a finished look. The Coin Edge is crisp. The numbers perfect.
And the dial itself is perfection, too, and easy to read at a glance. I'm a sucker for meteorite, which has a rich, exotic look. All the hour markers are hand applied. The logos are perfectly centered (the fact that this is even an issue on a $1,000 watch speaks volumes about Invicta's quality control woes). The lume is white and bright, though still not in Seiko's class. Or Omega's for that matter. But the lume is far superior to other Invicta offerings – and my Grovana diver.
Surprisingly, I don't consider this particular Invicta diver a Rolex Submariner homage. While it sports classic Mercedes hands (as do most in this category), the minute hand and hour indexes are different enough to set the Reserve Diver apart. But what really separates it from Rolex (or Tudor), it the massive open face of the watch – and it's sheer size. There is no way you'd ever look at this Hulk and mistake it for a Sub. Even a Sub on steroids. That's a big plus for me.
In terms of fit and finish, this is the nicest Invicta I've ever owned – and I've had four dozen or more at all different price ranges. It is light years beyond my Swiss Made 2014 Invicta Dress Diver. It makes the 2014 look exactly like what it is – a very nice $300 watch.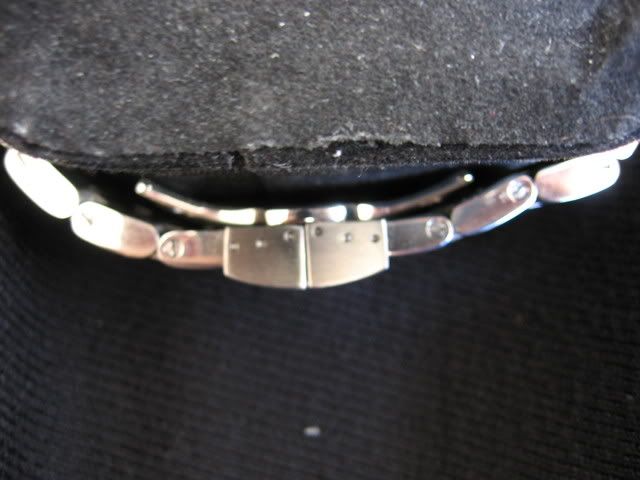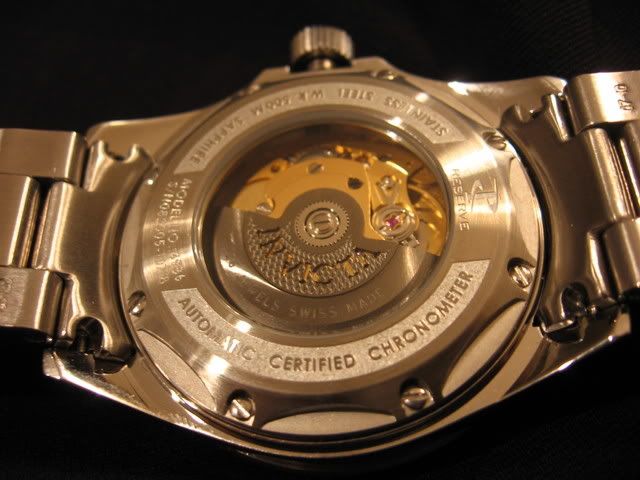 The Reserve rivals my Tudor Submariner and, frankly, may even surpass it. Though the Tudor is nearly 20 years old and that should be expected. The Omega Bond Seamaster holds a very slight edge in quality of construction. Which is saying a mouthful for any Invicta product. But both the Tudor and the Omega have a seamless quality which makes the Reserve seem like a parts-bin watch, which I suspect it is – at least to some respect.
Note the "sharp" lugs on the 2006 Watch of the Year

The case seems nearly identical to the 2006 Swiss Made Diamond Dial Pro Diver voted the Invicta Forum's 2006 Watch of the Year. The "sharp" lugs are very similar. I prefer a smoother finish – like on the Omega. I have rejected TAGs and other watches because the lugs are too "sharp" or "edgy."
Both the Tudor and the Omega have case backs with better finishing. But the Invicta is very nicely done, with crisp, deep engraving, an individual watch serial number and a solid, rugged I-can-take-anything-you-dish-out feel. I'm most impressed since this case back seems to have evolved from some of the better limited edition non-display backs offered on earlier models. A particular Carbon Fiber dial offering leaps to mind.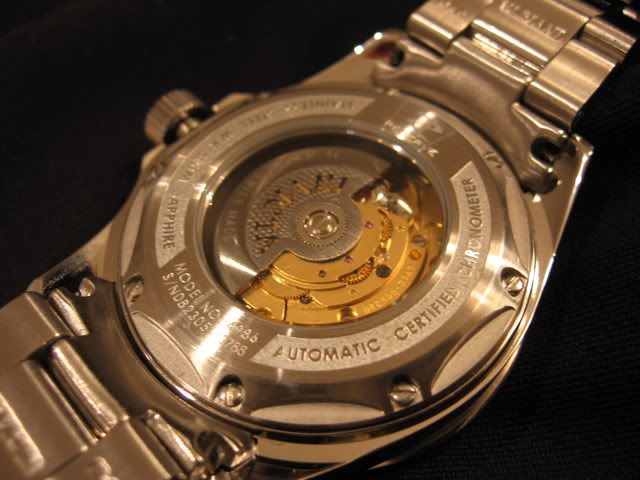 The movement is finished in a gold tone offset by a a gunmetal rotor with Invicta cut out of the metal. It's very handsome. I have some concerns about the reliability of the SW-200 movement, since Invicta has been plagued with crown issues. I also have some concerns about the bracelet, which is very nicely made and highly detailed. I've already had to tighten two screws, which were backing out – including the screw that attaches the bracelet to the case. (Again, this is a recurring Invicta issue. The 9937 was notorious for losing case screws).
CONCLUSIONS
The Reserve Collection Pro Diver is a serious and significant step up from Invicta's regular Pro Diver line. The watch shown here was slightly less than $1,000. Non-meteorite dial versions can be had under $700. It's too steep a premium for the meteorite dial! But I love it. And am willing to pay. Even though it's stupid.
At $700 , Invicta's Reserve Diver finally provides an viable alternative to a used Omega Seamaster Professional or Tudor Submariner, both of which sell for $1,000 or more. Since I own them all – and wouldn't part with any of them (yet) – I can't suggest which offers the best value. But for the first time ever, I can say you
could
choose Invicta – and not be nuts.