Hey everyone,
This is a re-post of the refinishing thread posted in the General Forum. On Rusty's recommendation, thought I'd add it to our forum since it's on one of our favorite watches, the Crosswind Special Limited (Ok, at least one of
my
favorites) ;D
--------------------------------
Hey everyone,
Had my watch tools out today changing a battery on the in-laws watch, so decided to try my hand at a refinish.. The Breitling Crosswind Special LE I picked up last month is in great shape, but has some "everyday wear" on it.. The case, bracelet & bezel have scratches, so thought I'd try to remove them & make it as new-looking as possible….
So first, a disclaimer. I didn't mean to start this as a posted lesson / tutorial, but to polish my watch. As such, I didn't get all the before shot I probably should have. And second, I only have so much room on the desk, so I didn't have room for the extra lights, so some of the shots may be darker than I'd like.. Sorry…
OK, on to the refinishing!!
First thing I did was take the exterior parts apart. Removed the bracelet & bezel. I got to say, the Breitling bezel is the easiest & hardest bezel I've ever removed. Easy because all you do is remove the 12 screws around the bezel. Hard because you have to remove, and not lose, the 12 screws around the bezel. After the bezel, screws & rider tabs are removed, the bezel ring is removed.. Here she is, stripped to the parts.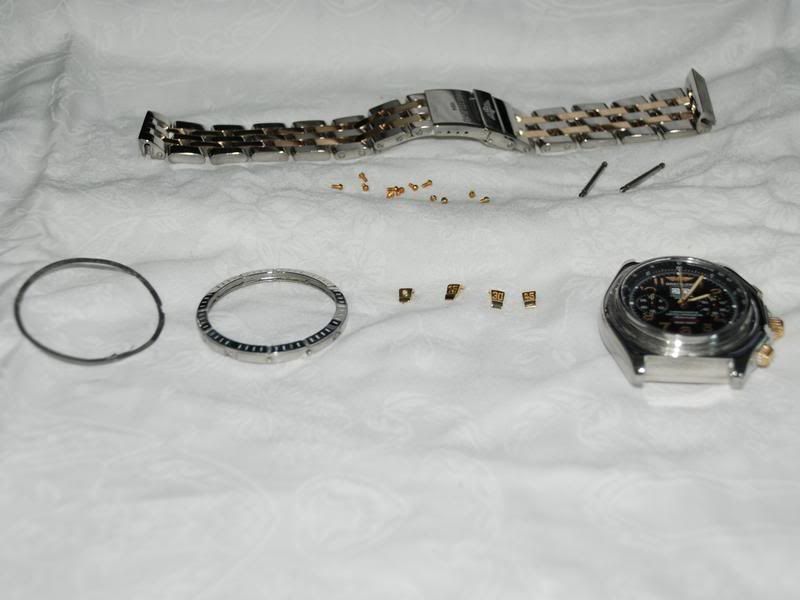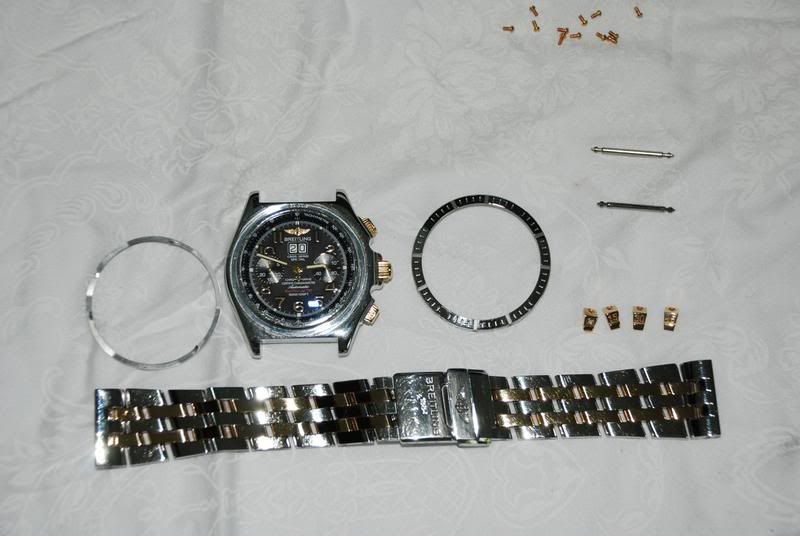 Shot of the case (yuck!)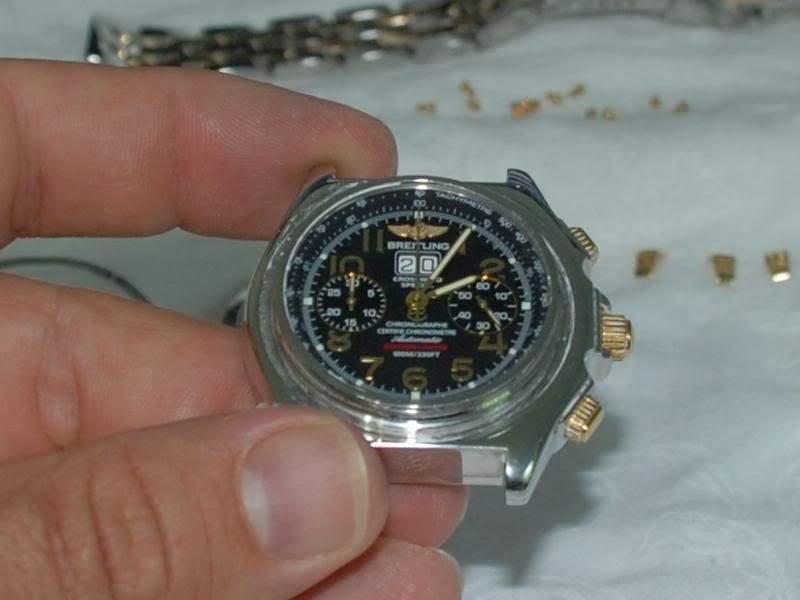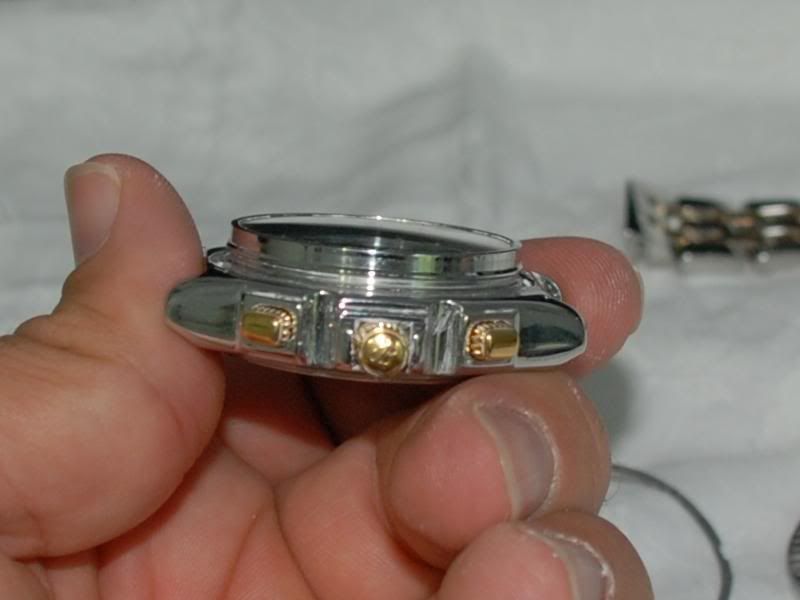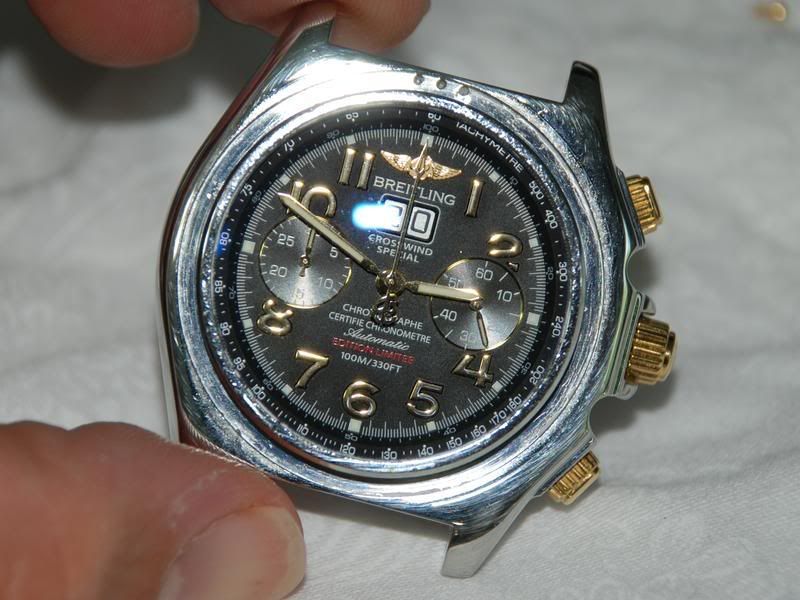 And the bezel (lots of gunk in the grooves)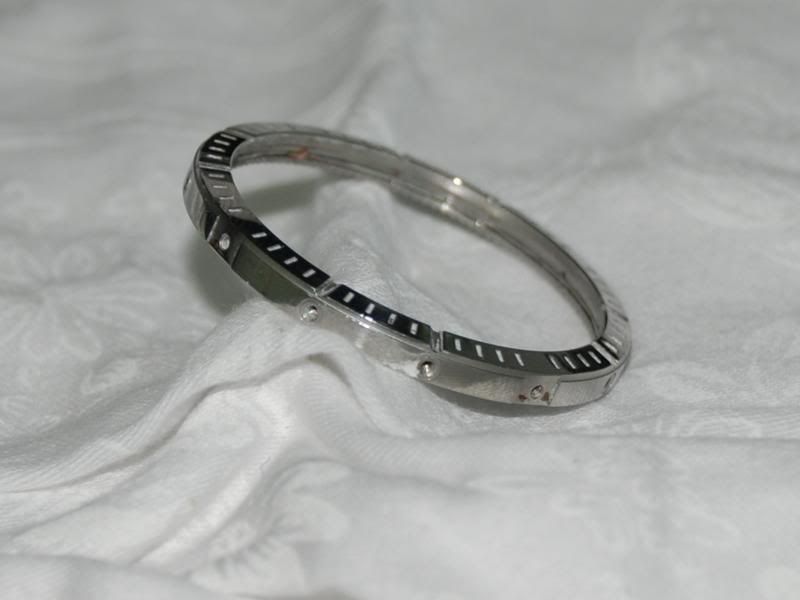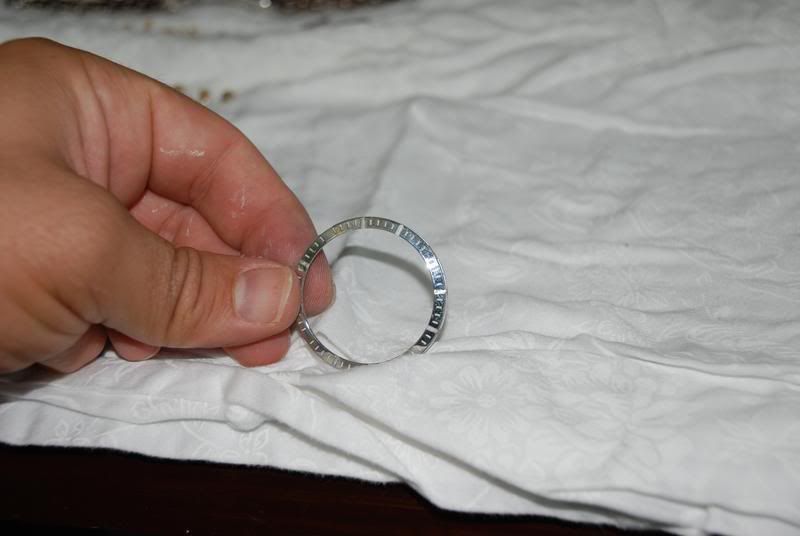 Case & bezel
OK, let's get started….. The tools…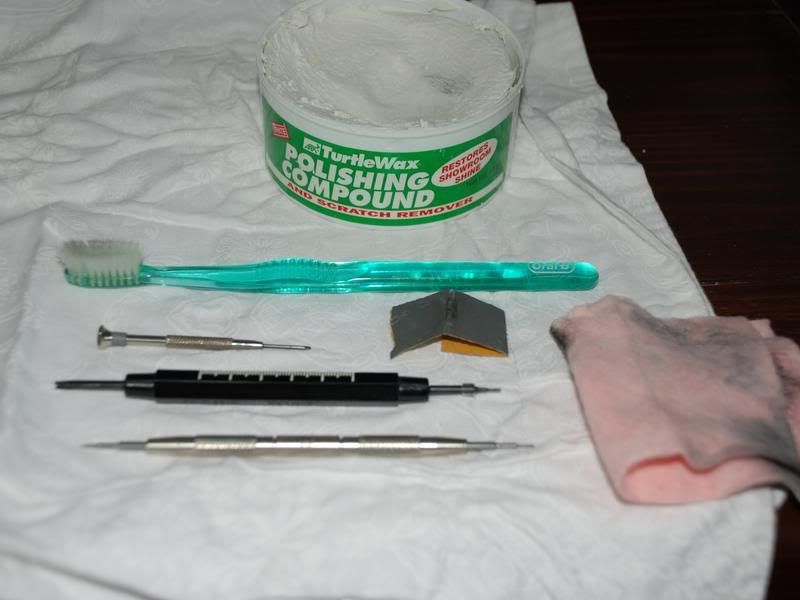 OK, so I only have 2 hands, so couldn't take any pictures while I worked.
Started out with 2000 grit sandpaper & sanded all the surfaces. One good thing about this Breitling is all surfaces are polished. So I sanded all surfaces until smooth, case, bezel & SS portions of the bracelet. I was unable to find any 3000 grit sandpaper, so next I used rubbing compound, like for a car, next. This was the time consuming part. Using a soft, lint-free cotton cloth (cloth baby diapers work great) I rubbed the compound into the surfaces of everything, case, bracelet, rider tabs, bezel & even the bezel screws. This part easily took the longest, patience & slow-steady strokes wins this game…
OK, so after I treated all the surfaces with the rubbing compound, I did it again, just to get it as smooth as possible. BTW, this worked great!
Next, off to be washed. Using a soft toothbrush & mild liquid soap, all parts got washed & lightly scrubbed to remove all rubbing compound residue. Next they're rinsed & dried.
Once dry, a Cape Cod polishing cloth puts on the final polishing & luster. Not all parts came as polished as I would have liked, so back tot eh sandpaper & rubbing compound.
Once all parts are polished, it's time to reassemble the watch.
Here's the polished parts:
Case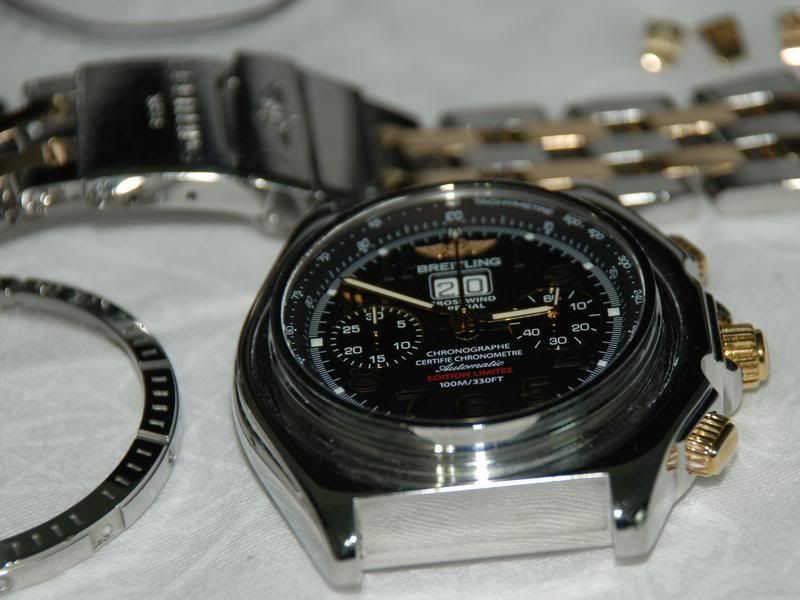 Case & Bezel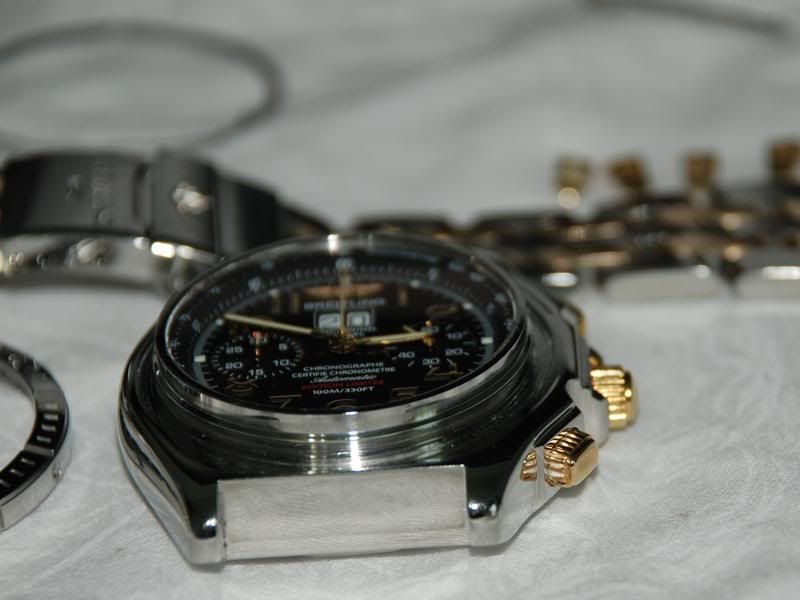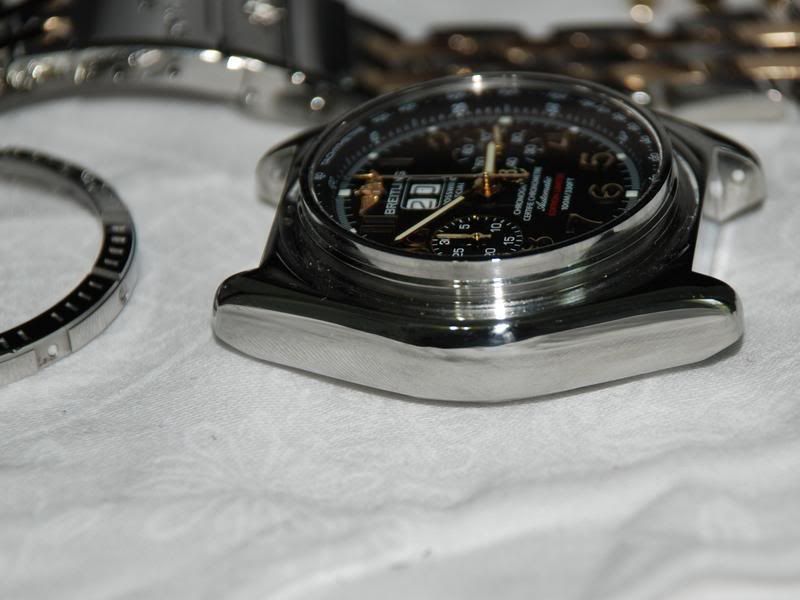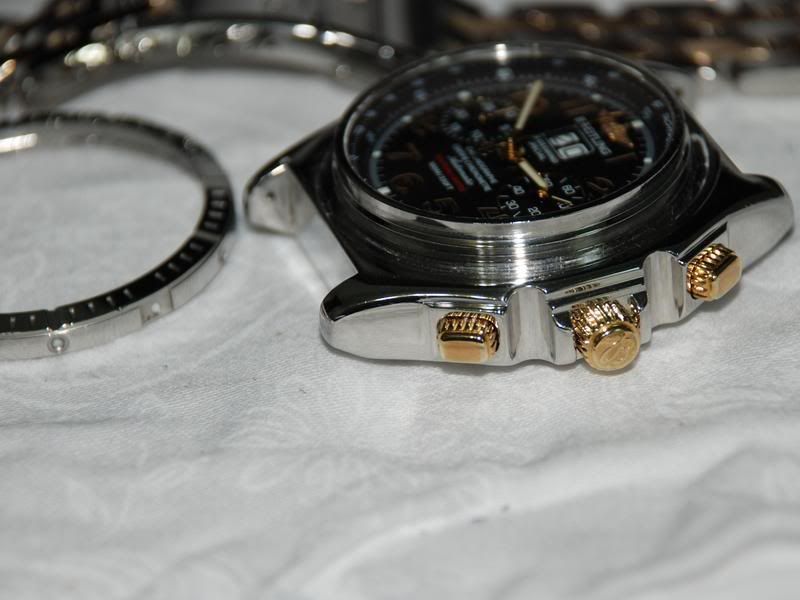 I wish I'd used a plain white cloth under the parts as this one has a pattern you can probably see. The effect is the "smudge" marks you see on the case are actually reflections off the cloth. The metal of the case is completely scratch free & highly polished. The picture just doesn't do it justice!
Rider tabs & bracelet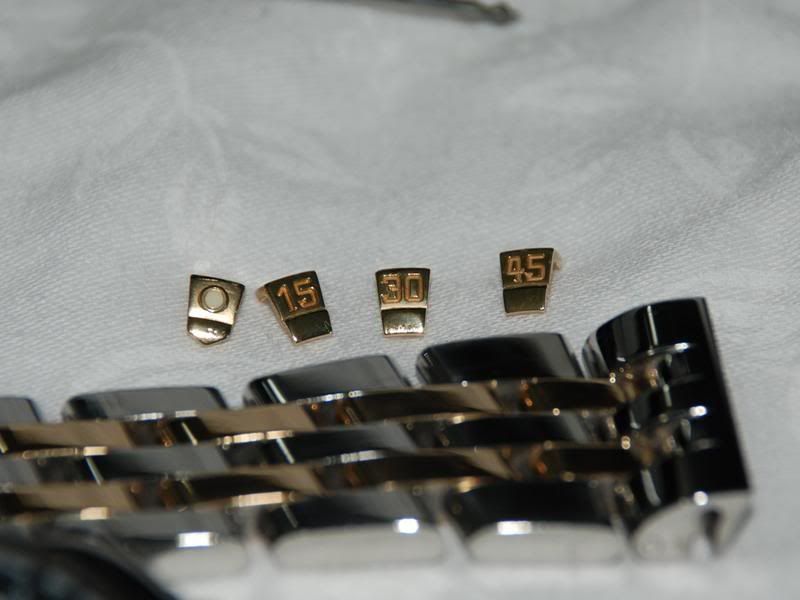 Ok, so time to put the bezel back together to get ready for installation.. Put the 12 itsy-bitsy screws back on the bezel…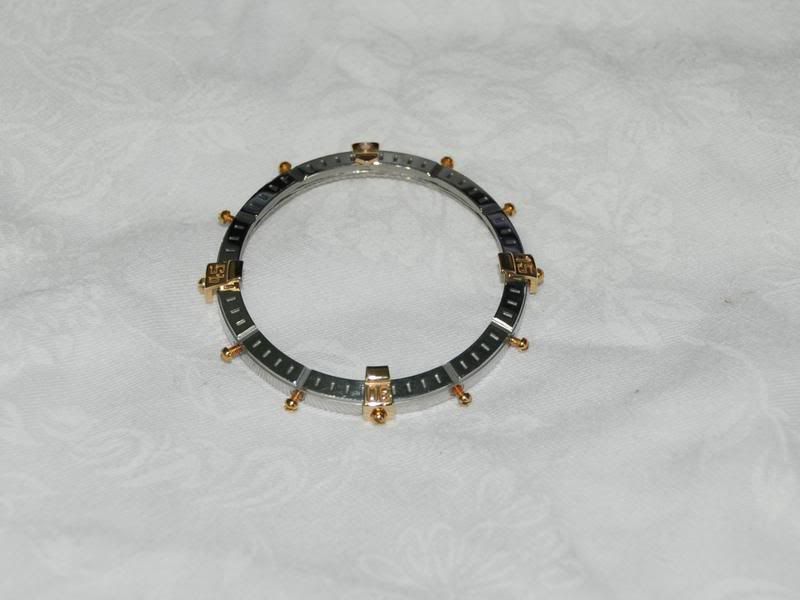 Whew, ok so that's done, line it back up on the case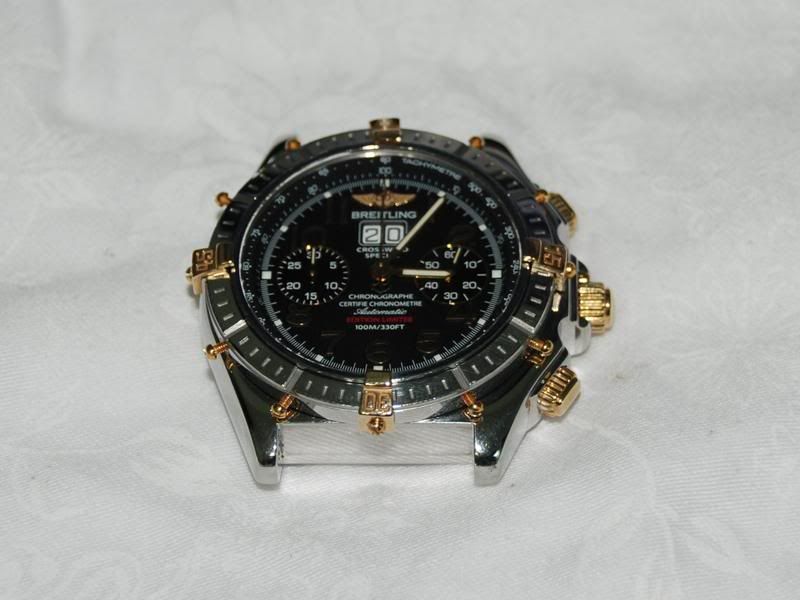 And tighten the screws. Done!
All that's left is to put the bracelet back on
And she's done!!!!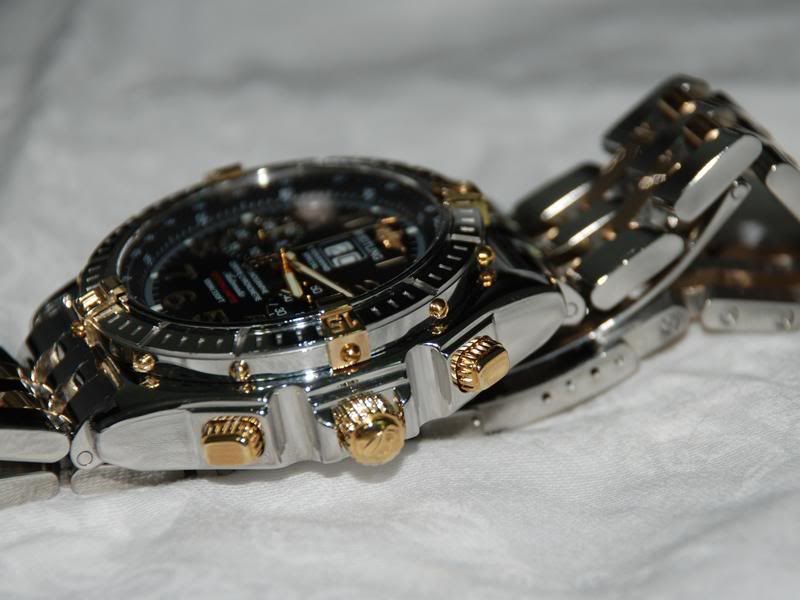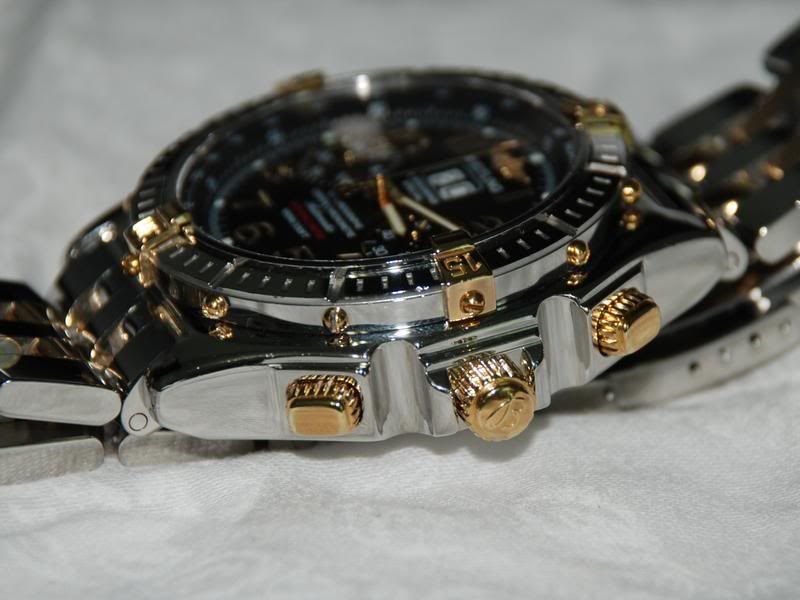 Just look at that Breitling detail!! Love it!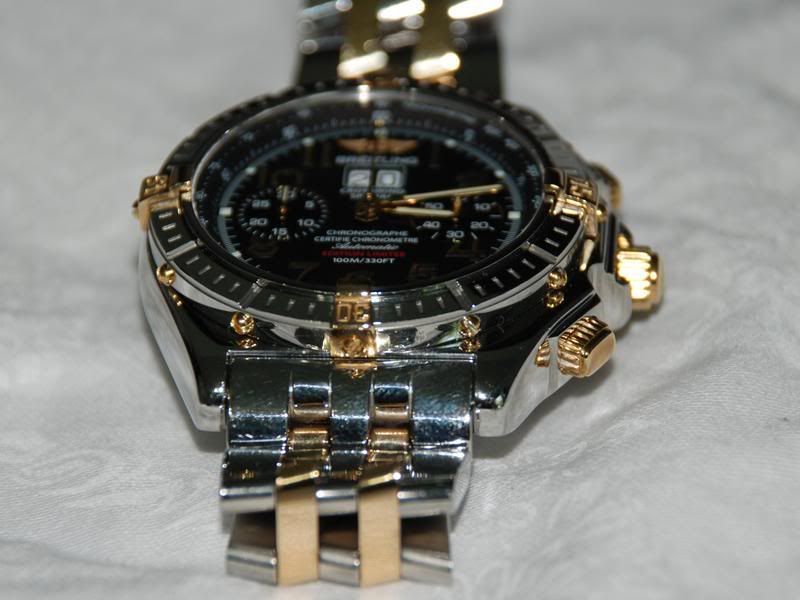 Unfortunately, the pictures really don't do it justice. Before, you could see the scratches on the side of the case, bezel & bracelet from 5 feet away. Now, there are no scratches on the case or bezel, they both look brand new. The bracelet still has some scratches, but they are very light and you have to really look to see them. Given the gold on the bracelet, I didn't want to rub too hard & decided to live with some light swirls instead of removing too much gold.
I hope you enjoyed it.. I sure did… Now, my CWS-LE really shines, as a watch of its stature should!
Also, I'd like to give thanks & blame to Aaron, of the Rancho-Shoe Free Down-Udder Watch Refinishing Center.... I never would have tried this without his great refinishing pictures & tutorial he did on his Omega, and without some extra "prodding" by Aaron. I'm glad I did though. It really was pretty easy, you just gotta go slow & have patience.... Now that it's done, I'd have no problems refinishing any watch that got scratched, which may actually lead me to wear some of my more "protected" watches more, which is a good thing!