Discussion Starter
•
#1
•
PRESS RELEASE
For More Information Contact:
John B. Holbrook, II


[email protected]
FOR IMMEDIATE RELEASE​
The First Book Macro Watch Photography Near Completion
Dayton Ohio USA, February 2008
– John B. Holbrook, II, freelance writer & photographer in the luxury watch industry announced today that he is near completion on the first instructional book to ever be written about the macro watch photography. The working title of the book is,
MACRO WATCH PHOTOGRAPHY FOR BEGINNERS
.
"I've always wanted to write a book to help watch enthusiasts as well as those who sell watches online take better watch photographs." "I've been taking watch photos for a long time, but when I first started out, I struggled for a long time with camera settings, lighting, and photo editing." "Hopefully no one will have to struggle again after reading this book."
John Holbrook's name is well-known in the luxury watch community. Not only has he written about and photographed watches for nearly every luxury watch trade publication in the US including IW Magazine, WATCHTIME, HR: Watches, WATCH & JEWELRY REVIEW, and CHRONOS, but he also owns the watch enthusiast online discussion forum WATCH TALK FORUMS (
www.watchtalkforums.info
) and the ROLEX REFERENCE PAGE (
www.rolexreferencepage.com
). John is a member of the National Association of Photoshop Professionals (NAPP), as well as having been accepted for four years running in Canon Professional Services (CPS).
The book is the first in a series of two instructional books about macro watch photography. As the title suggests, MACRO WATCH PHOTOGRAPHY FOR BEGINNERS targets those who are just starting out in watch photograph, and will cover such fundamental topics as basic equipment needs, proper lighting, and post-photo editing software. The second volume will cover more advanced topics for those looking to take their watch photography to a more advanced, professional level.
MACRO WATCH PHOTOGRAPHY FOR BEGINNERS
is projected to be over 150 pgs. in length, and is targeted for a March 2008 release as an eBook in .PDF format for a retail price of $30.00.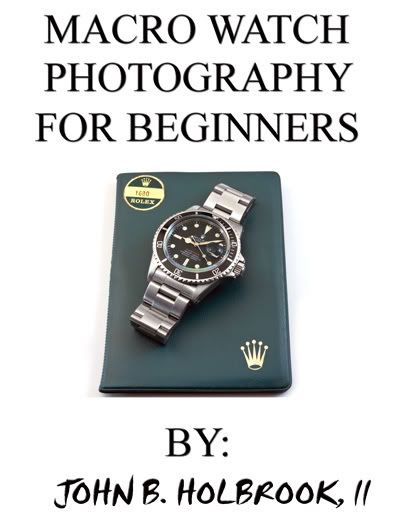 Cover art for
MACRO WATCH PHOTOGRAPHY FOR BEGINNERS
​