I really like the whole group of watch nuts I talk to on a regular basis, whether they're part of the NYC gang, local Joizey WISs, or members of the VΩBT (vintage Omega brain trust) that live too far to visit. However, I feel bad for them when they grab a watch that
should be
in
my collection
instead of theirs. They'll be incessently pestered, harangued, persuaded, and begged to sell it to me. I'm as relentless as the change of season..... and it worked again.
hmy::T
Can't really blame the seller of this watch for needing the funds though because he's snagged some incredible Omegas recently - two or three that even the most experienced collectors were in envy of. But that made it necessary for him to part with something I bugged him about nearly every phone conversation we had since he grabbed it out from under my nose (and made sure to publicly tell me
HERE
). So I'm stealing one of the original seller's pictures for this thread until I can shoot a few of my own when it arrives: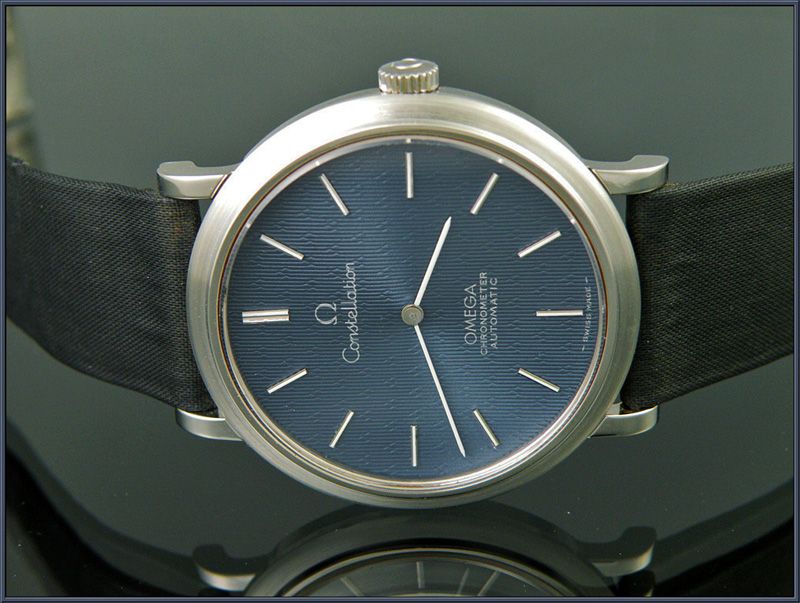 This works for me on several levels - it's an ultra-thin I needed, an Omega caliber I didn't have, a blue dial which I'm a sucker for, a transition Constellation with the OMEGA below the pinion and
Constellation
above it instead of the usual pre-1970 opposite way, and a dress watch I can wear to work without worrying about it fitting easily under my cuff.
There's one problem: it might ring the death knell for the IWC Portofino. :001_unsure: We'll see about that though.