Panerai Factory Tour Photo Report>>>>>>>>>>>>>>>>>>
A TOUR OF THE PANERAI FACTORY & VAL FLEUIER MANUFACTURING FACILITY

By: John B. Holbrook, II
May 4th, 2009​
Copyright 2009 – All Rights Reserved​
In May of 2009, I was invited by Panerai to visit beautiful Neuchâtel Switzerland to have a look at their new P. 9000 family of movements, and to visit and tour Panerai's main factory, as well as the Richemont Val Fleuier movement manufacturing facility. I obtained permission to photograph inside these facilities and produce a photo tour exclusively for
WATCH TALK FORUMS
.
Panerai is a fascinating watch company to study as they've come such a long way in a very short time from a horological perspective. In 1997, the Richemont Group acquired Officine Panerai - an Italian watch company a very modest but extremely devoted following. By the year 2000, and interest in luxury mechanical wrist watches began growing worldwide - particularly interest in oversized sport watches. Panerai was in the right place at the right time, and their following grew. . However, because Panerai relied exclusively on outsourced ETA movements for their watches, some in the world of haute horology had trouble accepting Panerai among the world's truly elite watch brands. Panerai and their parent company Richemont took two major steps to transform Panerai into a true manufacturer. The first was the acquisition and remodeling of an old police station in a desirable location in Neuchâtel Switzerland, which would become Panerai's manufacturing and assembly facility (Panerai's headquarters is in Milan, Italy). The second step taken by Richemont was the creation of an advanced movement design and manufacturing facility (the foundation of which started with the acquisition of the Piaget movement manufacturing center) known as Val Fleurier. Our photo tour begins with the Neuchâtel facility - primarily used for assembly, testing, and quality assurance. Movement parts come from either ETA or Val Fleurier, as well as cases, dials, hands, and straps (all produced by outside vendors) - all come together into a final finished product in Neuchâtel. Here's a photo of the converted police station which is now the in Neuchâtel Panerai factory: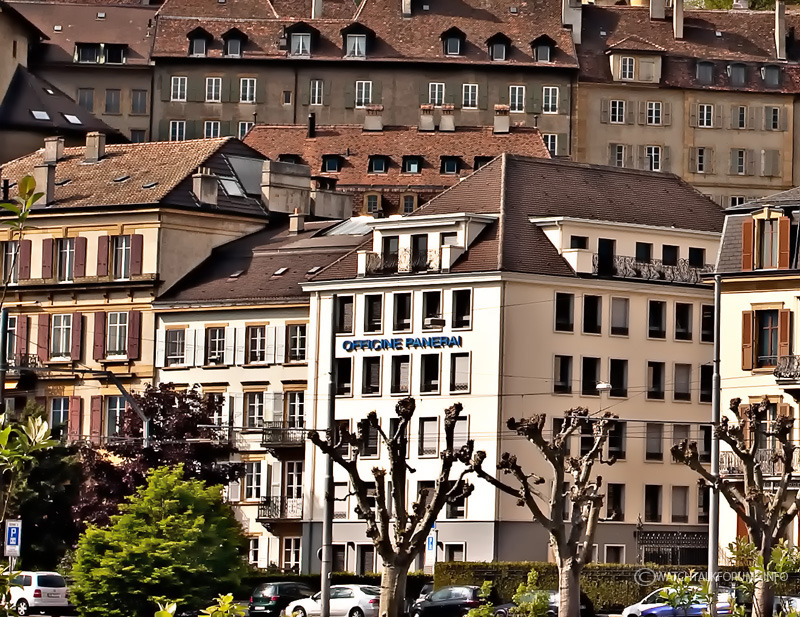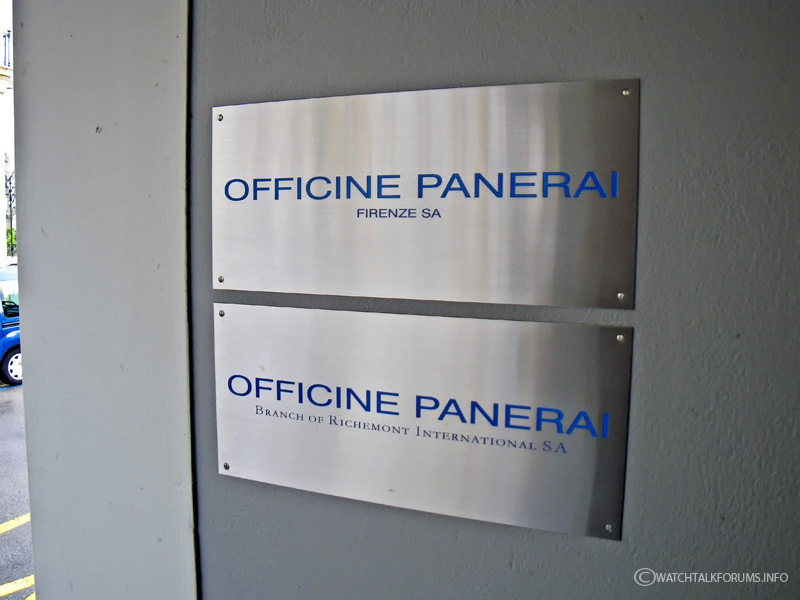 The lobby entrance: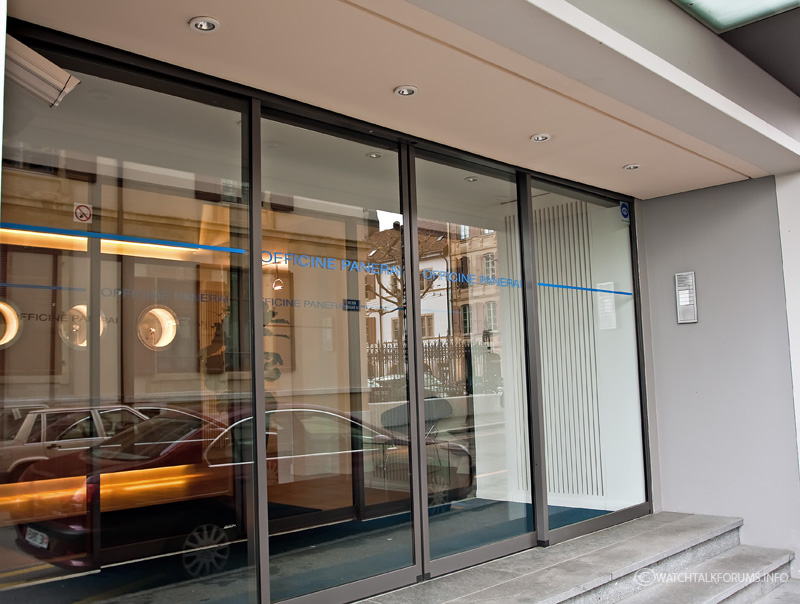 The small lobby and reception desk: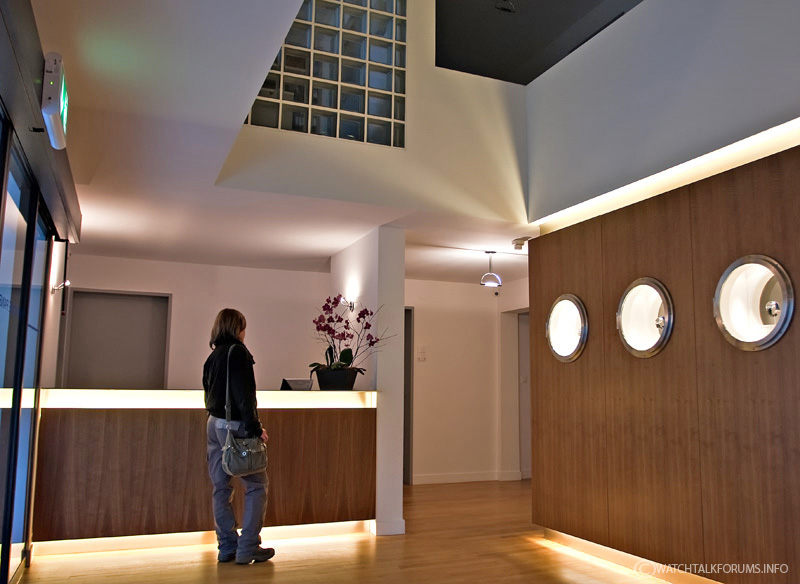 Upon my arrival, I met with , Mr. Jean-Robert Martinet who is in charge of the Panerai factory in Neuchâtel. Our tour began with his showing me the finished product - a batch of Panerai officially certified chronometers with their COSC certificates ready to be shipped out to a dealer case near you:​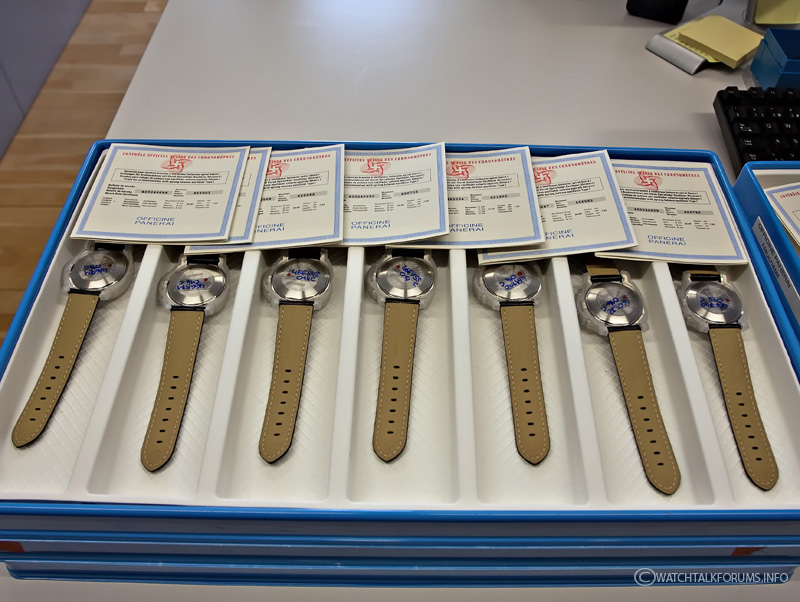 Mr. Martinet can be seen in this photo on the right:​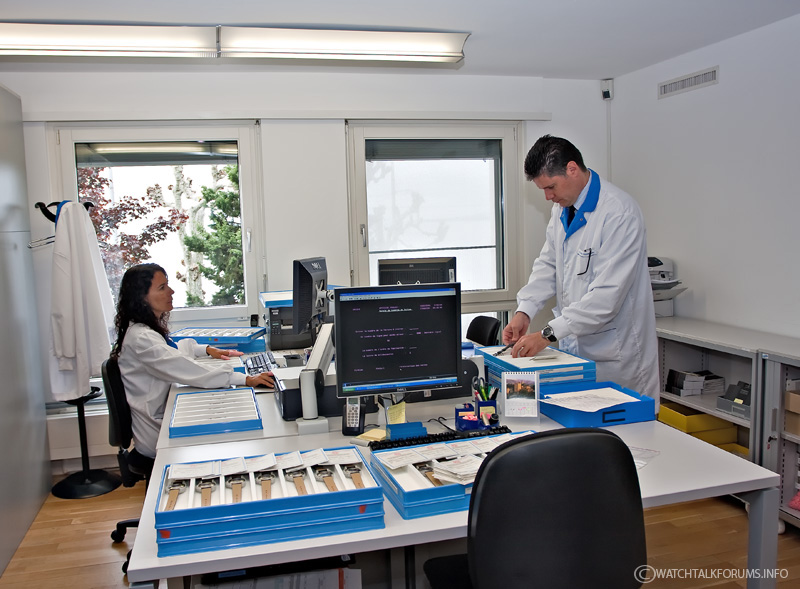 At this quality control work station, watch dials are being inspected:​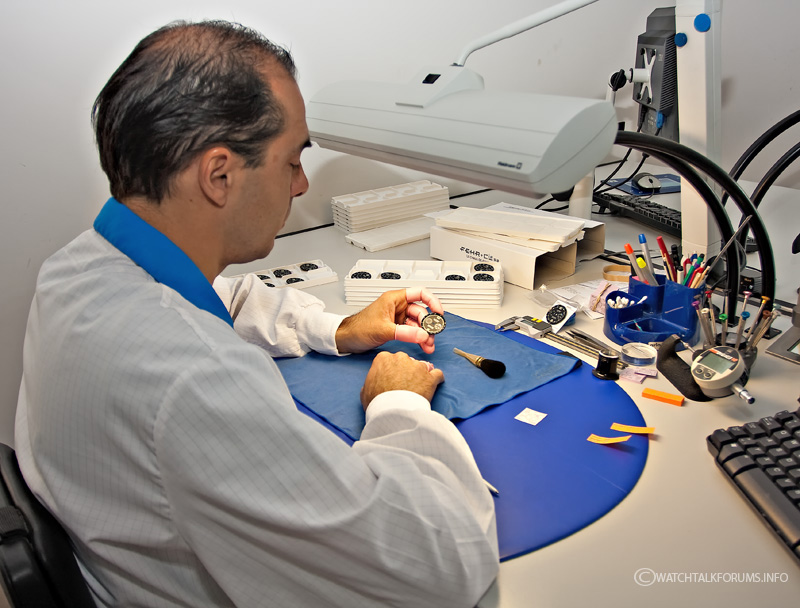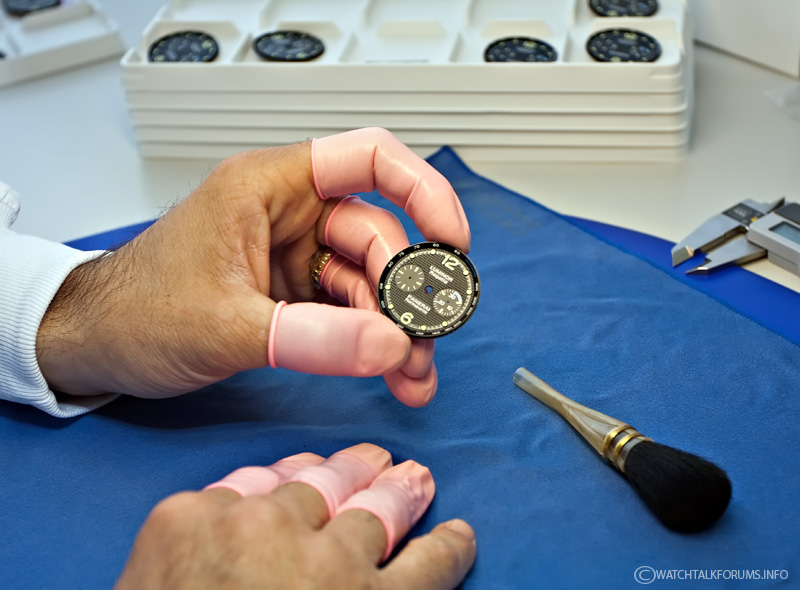 Here, fully assembled, finished, and tested movements are being installed into cases:​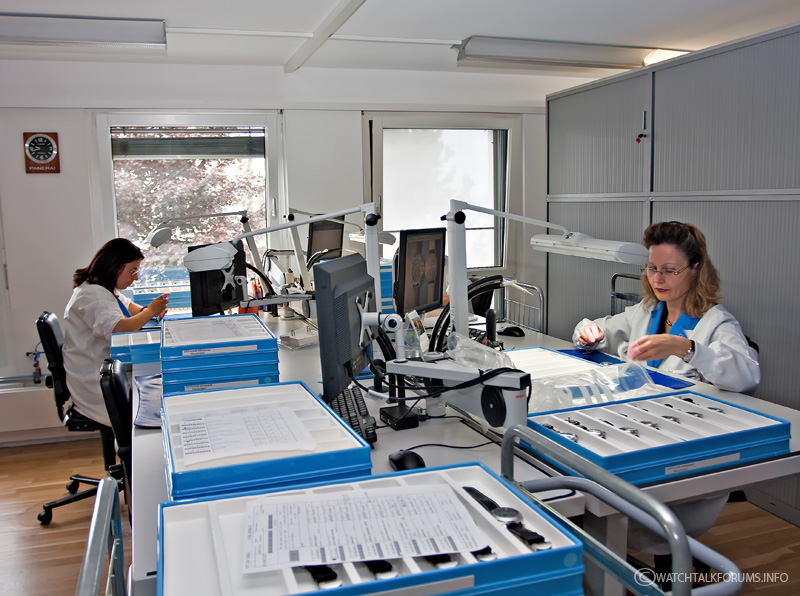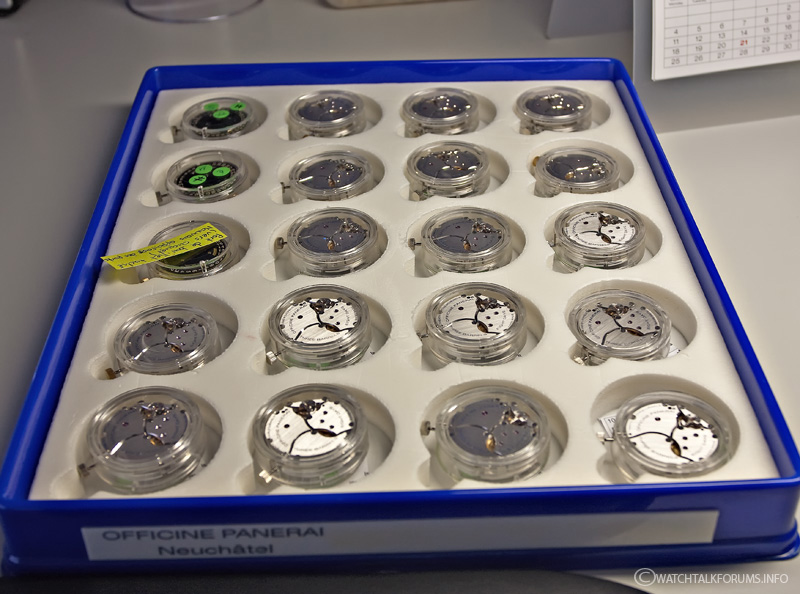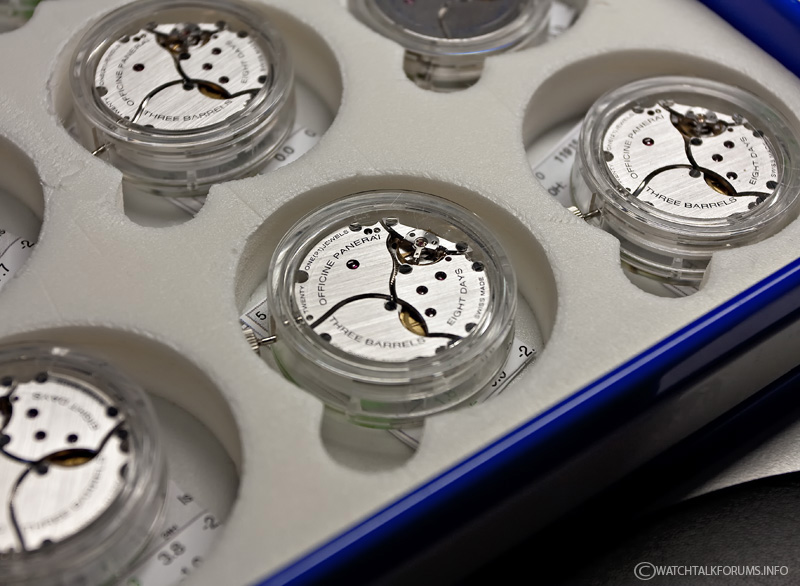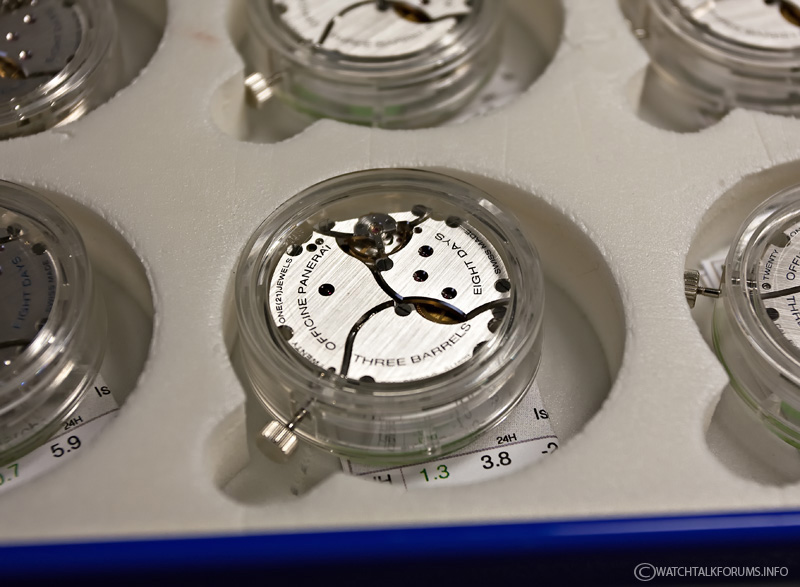 The parts room - cataloged and easily accessible via this sophisticated electronic cataloging and storage system:​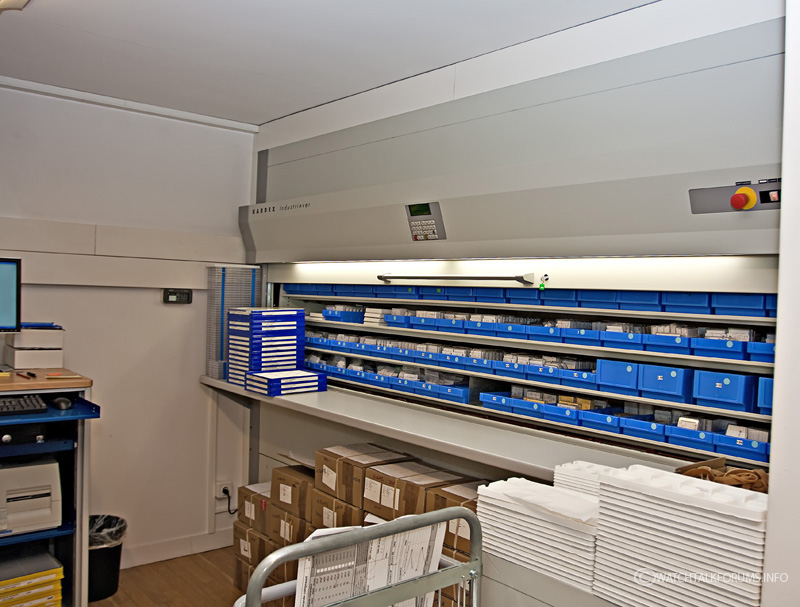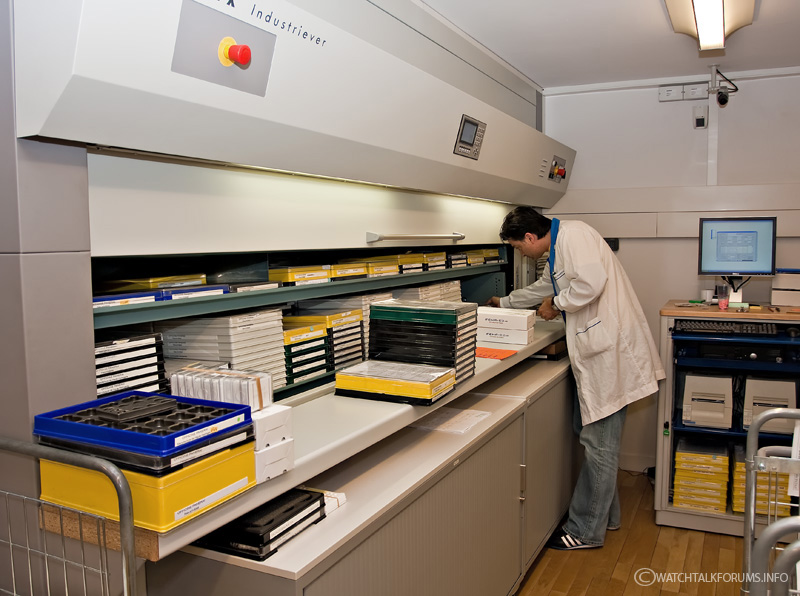 Here movement parts are cleaned prior to assembly:​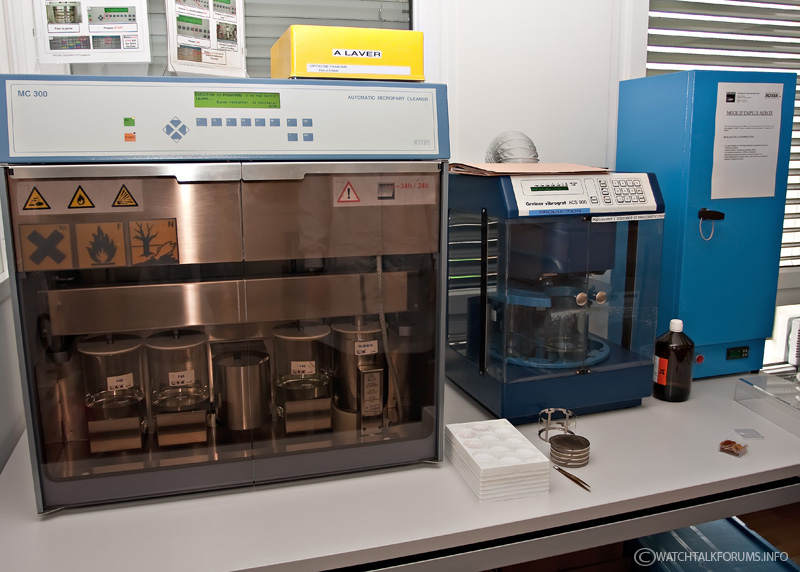 Movement assembly:​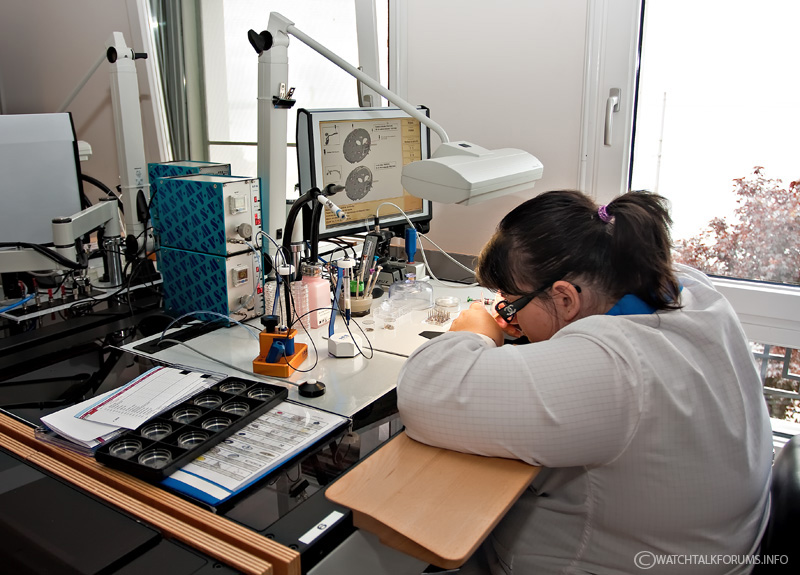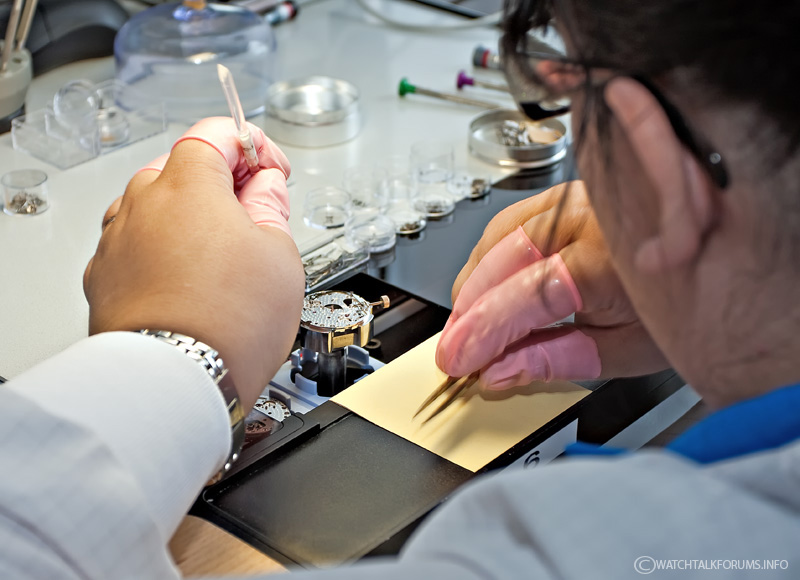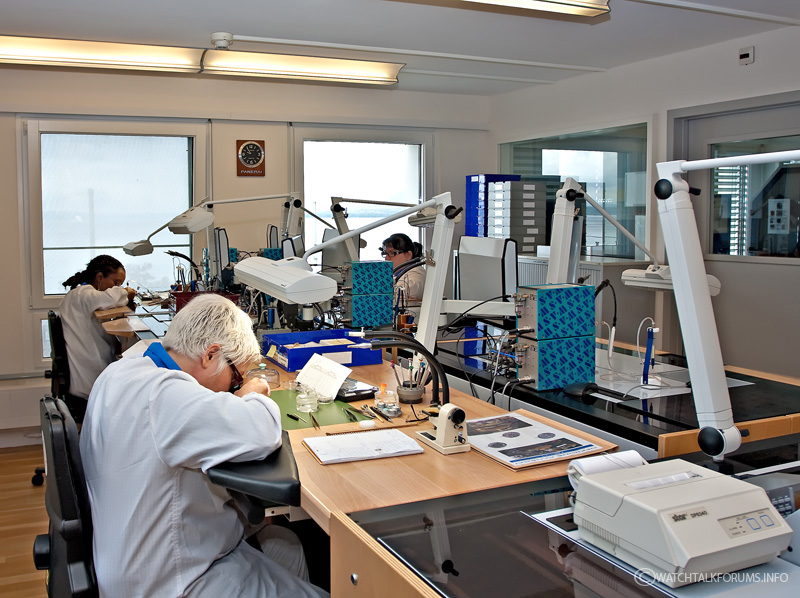 Because Panerai is, in some respects, a "new brand" due to the Richemont acquisition, they have the advantage of being able to do things in fresh, new ways. Here, we see a sophisticated device used to check the tolerances and performance of the escapement - it can take several custom adjustments before it meet's Panerai's standards.​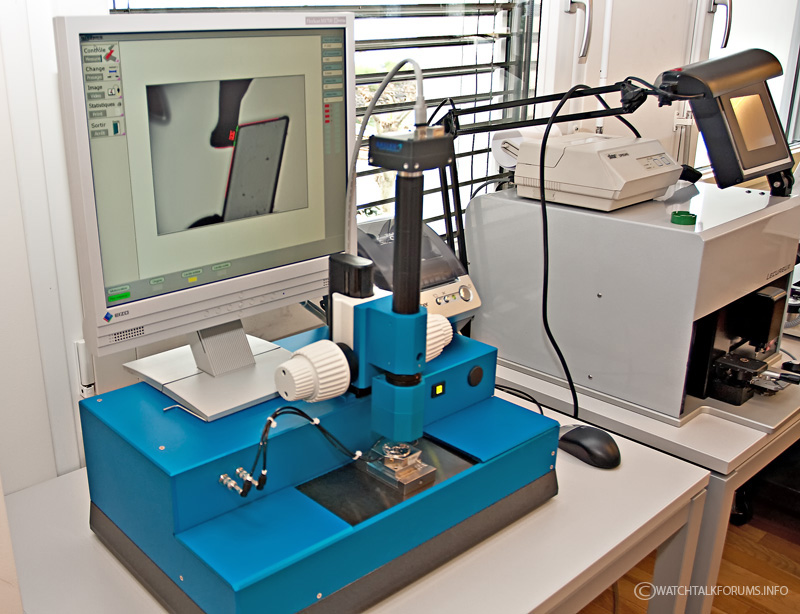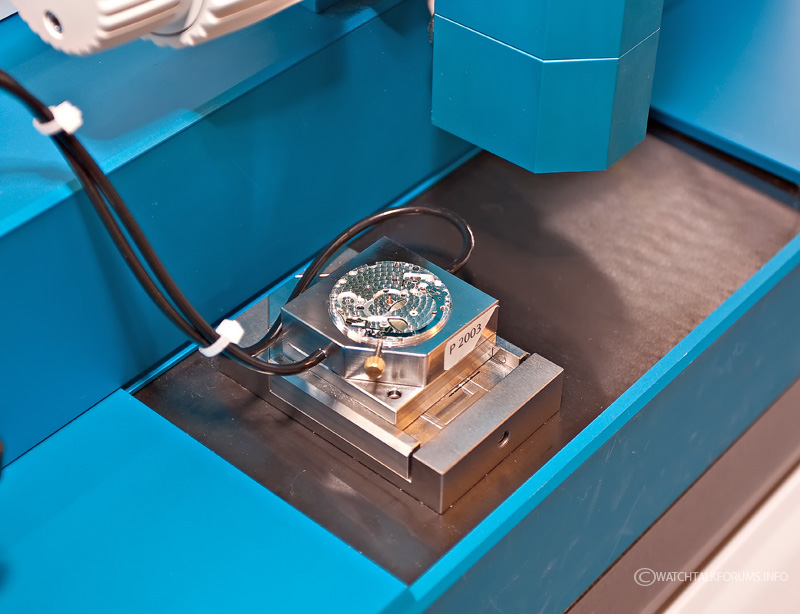 This fascinating device automates the application of the various lubricant types in the movement. Placement and quantity of the lubrication is laser-accurate:​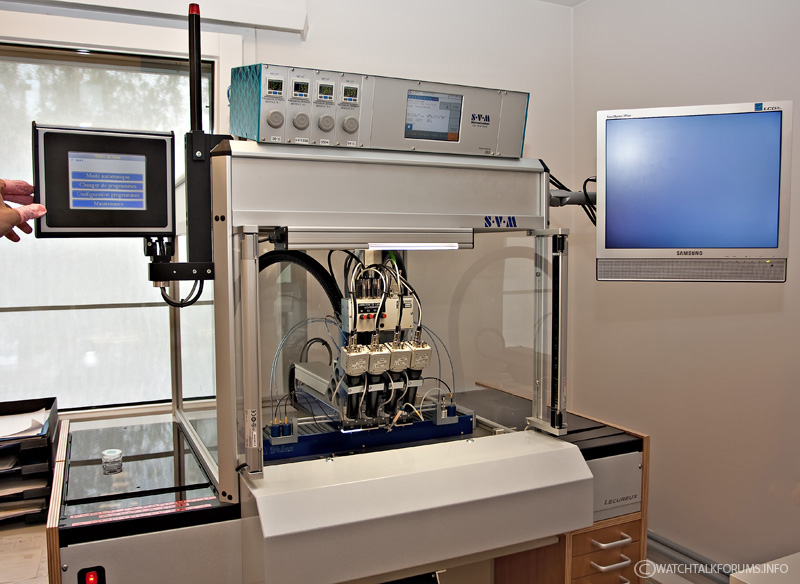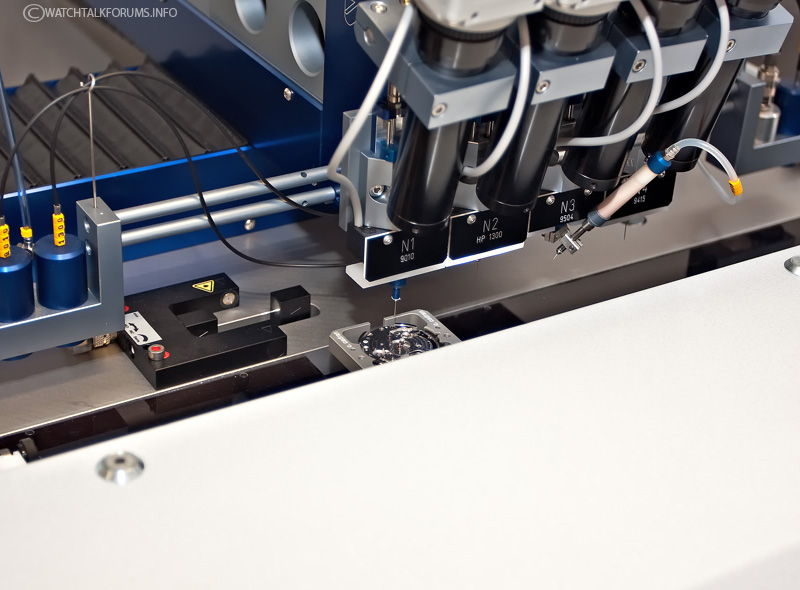 At other factories I've visited, you'd typically see the technician hunched over their work bench with a loup making accuracy adjustments to the balance wheel. But at Panerai, a more elegant work station has been set up which projects a highly magnified digital image onto a computer monitor, simplifying the task:​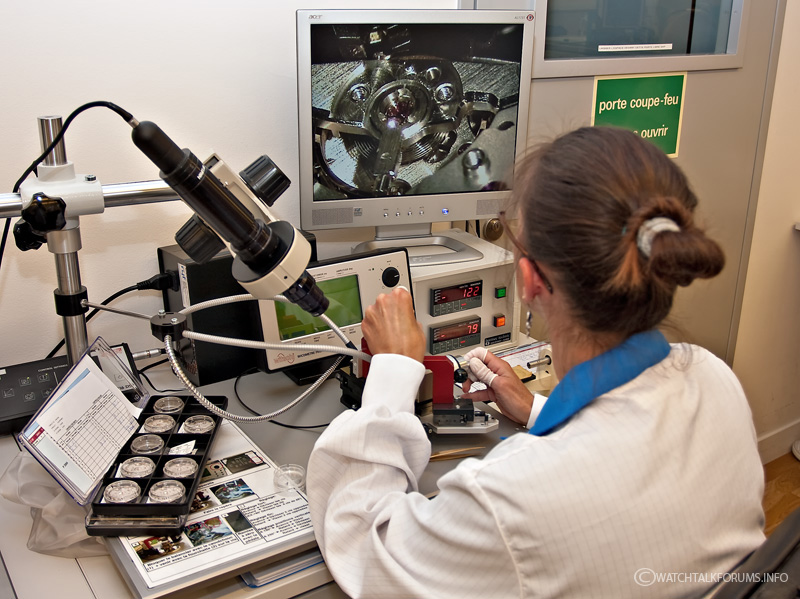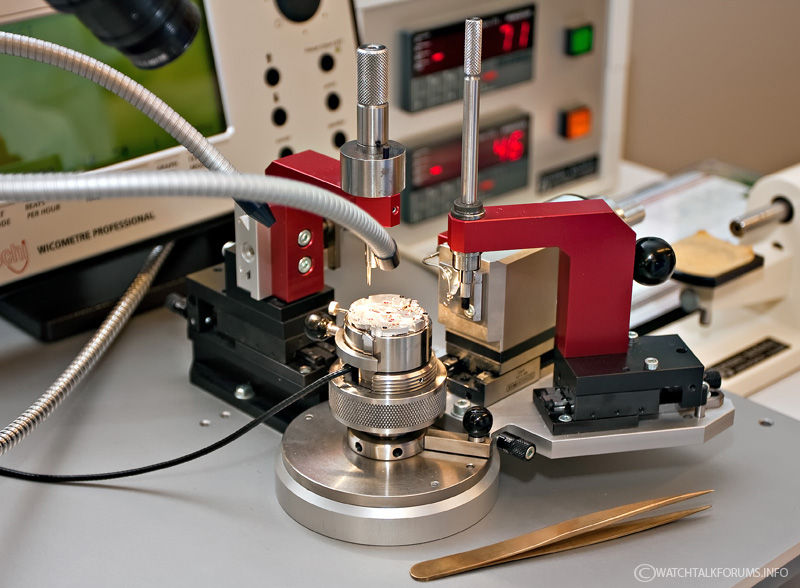 Once the adjustments are made, the movements are placed in this timing machine to verify they meet COSC accuracy standards:​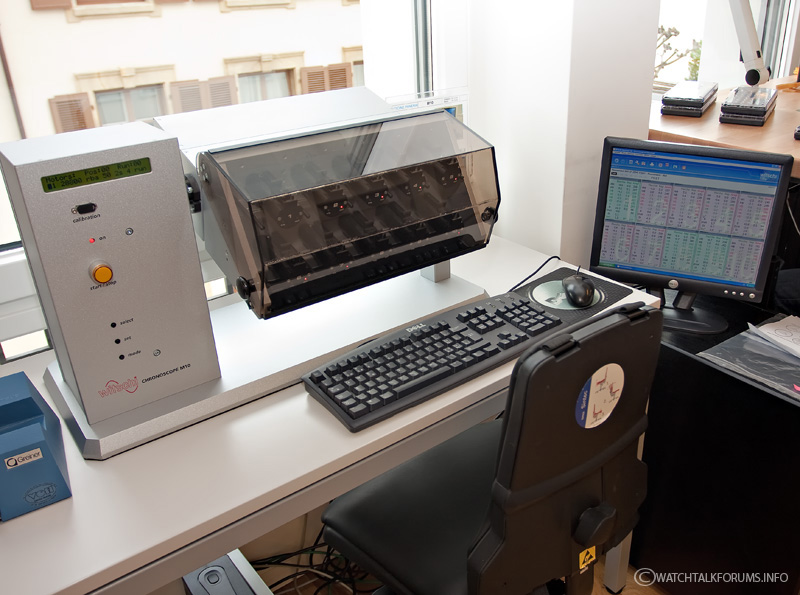 This entire floor is dedicated to movement assembly and testing:​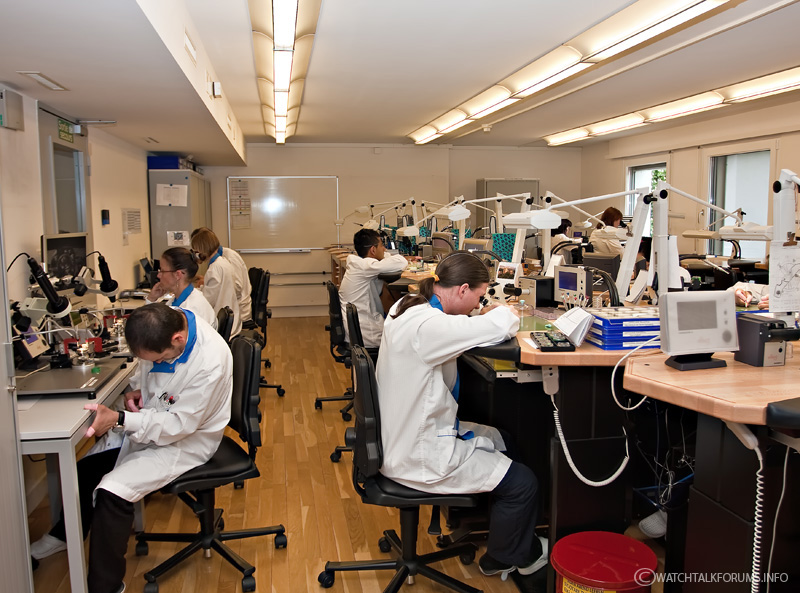 And here we have an example of a finished product - the new P9000:​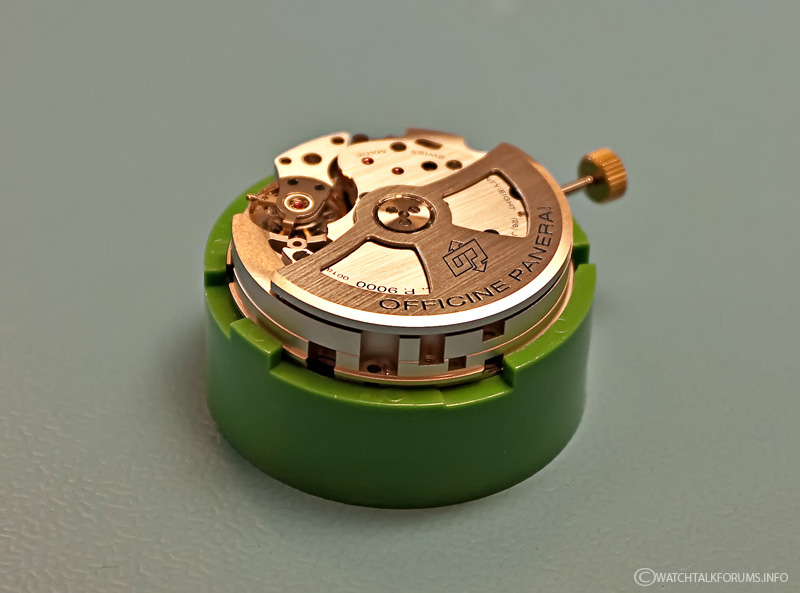 At this final assembly work station, we have hands being placed on watch dials which are then placed on the movements and cased up - ready for final testing:​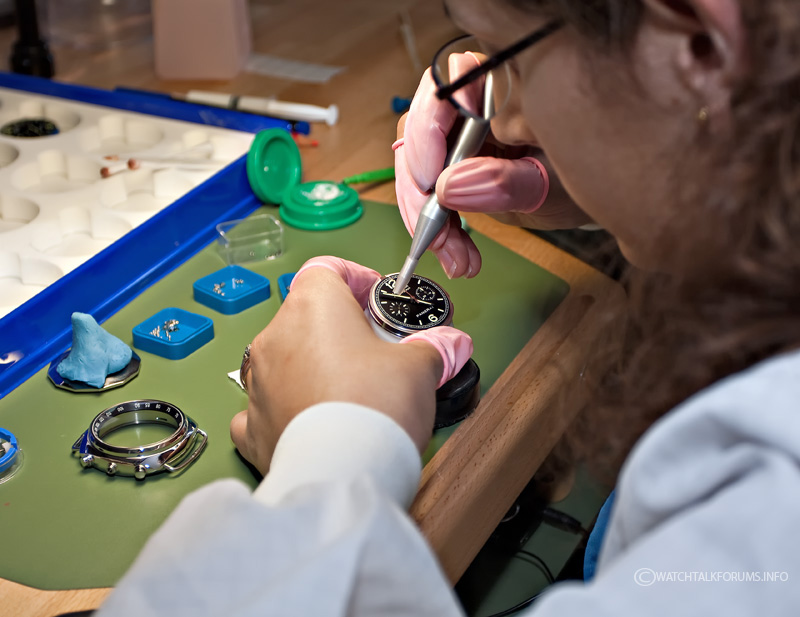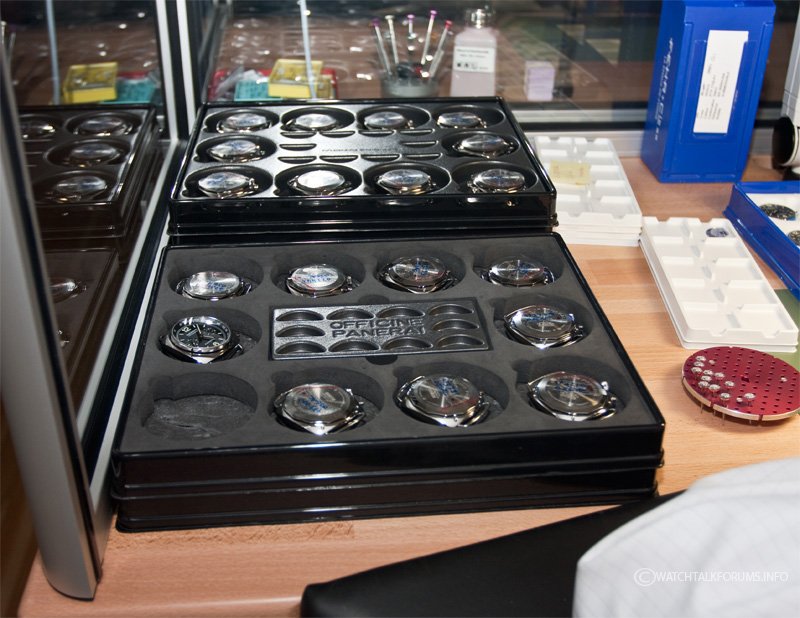 Panerai does some of the most extensive water resistance testing I've ever seen - it was very impressive. In this first test station, the watches are simply placed in a shallow pan of tap water. Many may see this as a rather low hurdle for water resistance testing but it's an important step that many manufacturers miss. A watch can actually become more water resistant in high depth/pressure situations but if a fault exists in the case or the seals, this low pressure test is far more likely to find it:​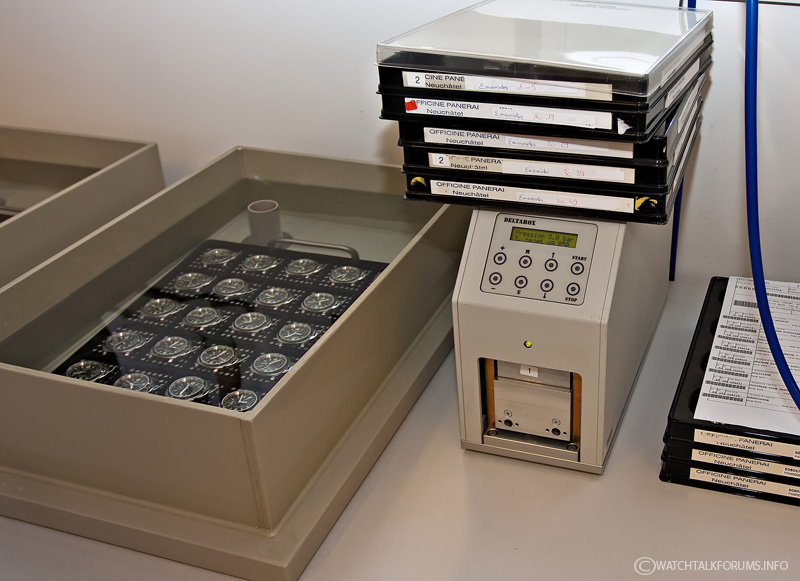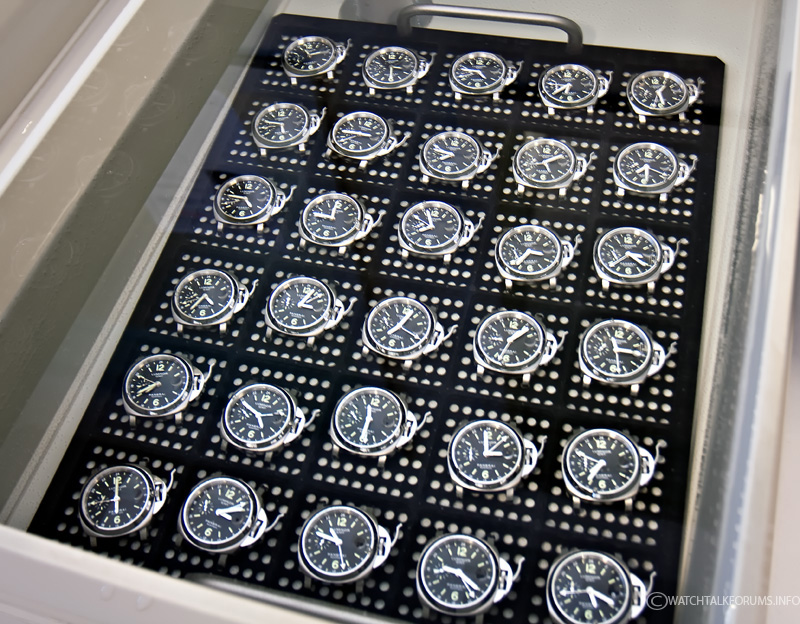 If this step is passed, then the watches are placed in this chamber for high pressure testing:​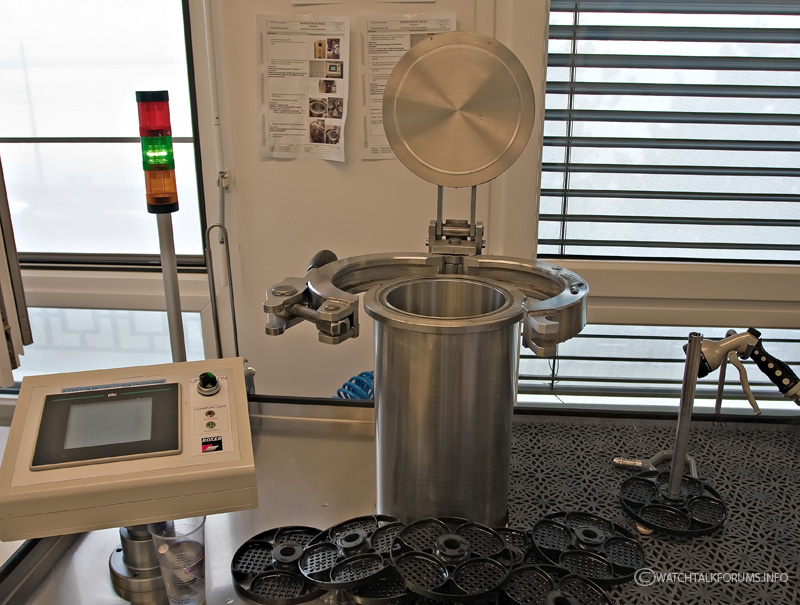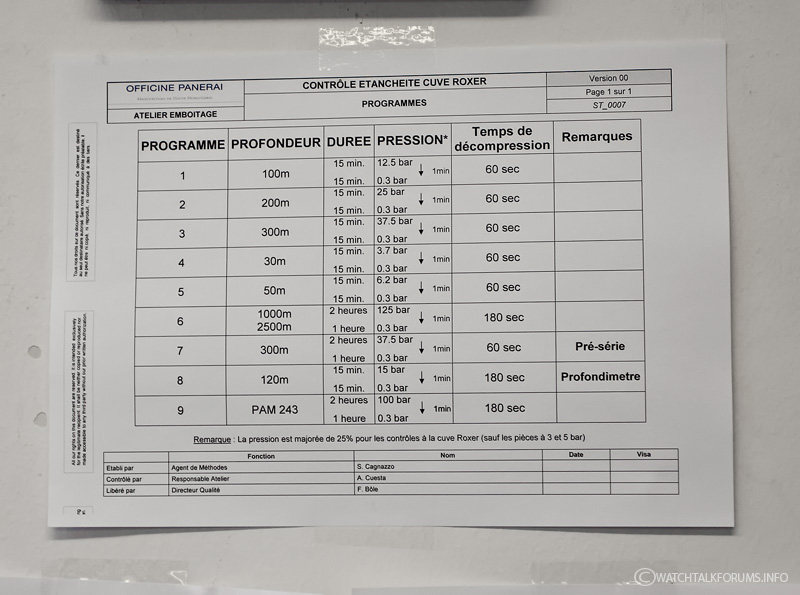 In this third and final test, watches are placed on a heating device, then a drop of cool tap water is placed on the top of the crystal. If condensation appears on the underside of the crystal, then it is known that the watch case is compromised in some way, and fails the test:​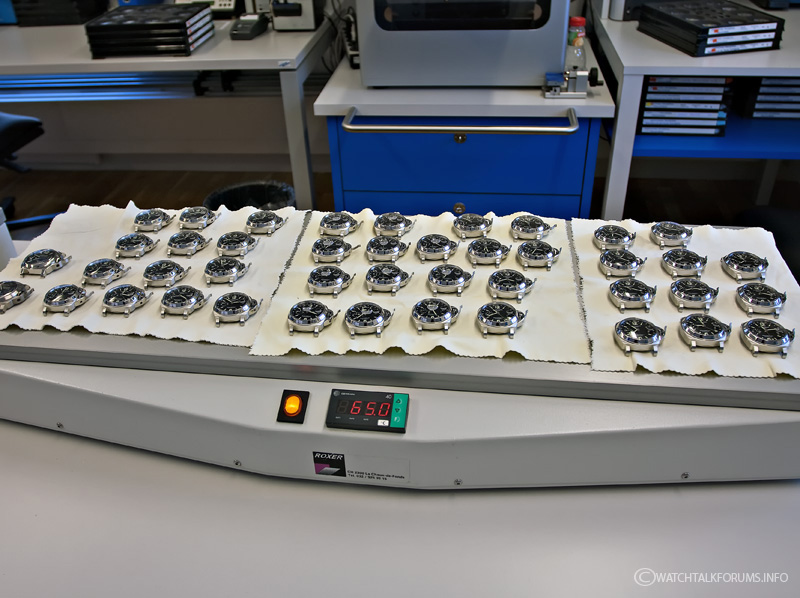 This is a laser engraving station - once the watch passes all tests, it makes a stop here to be "numbered" and receive any other specialized or customized engraving.​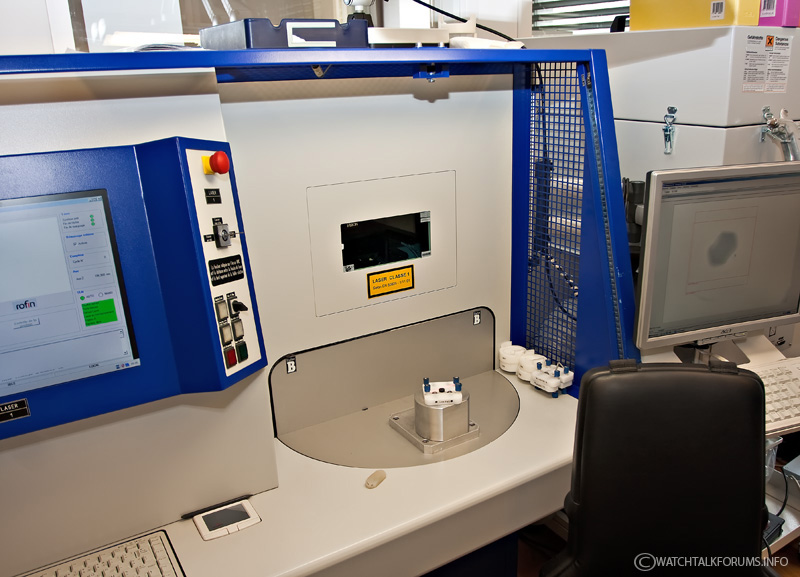 The last step in the assembly process is for the strap to be attached to the case:​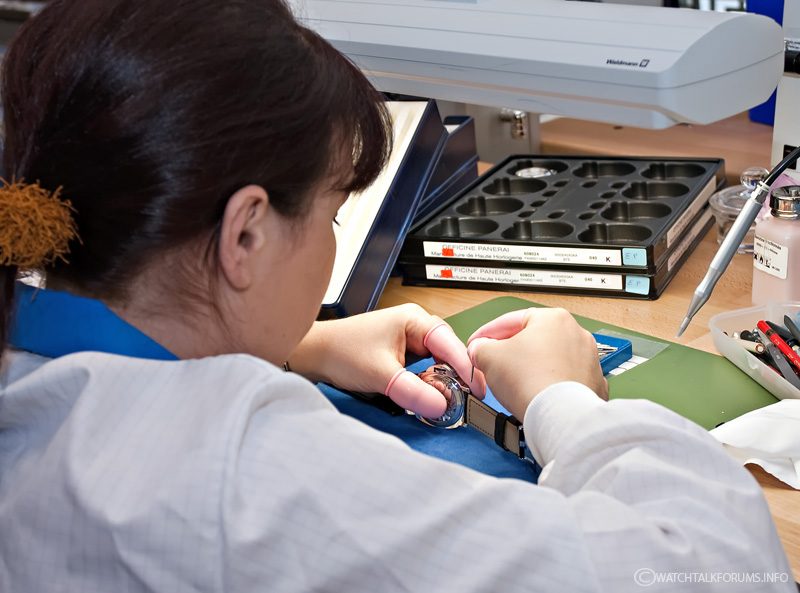 Panerai does do some random quality assurance testing of the straps they receive from their vendors. The machine does torsion testing to test the straps strength and long term durability:​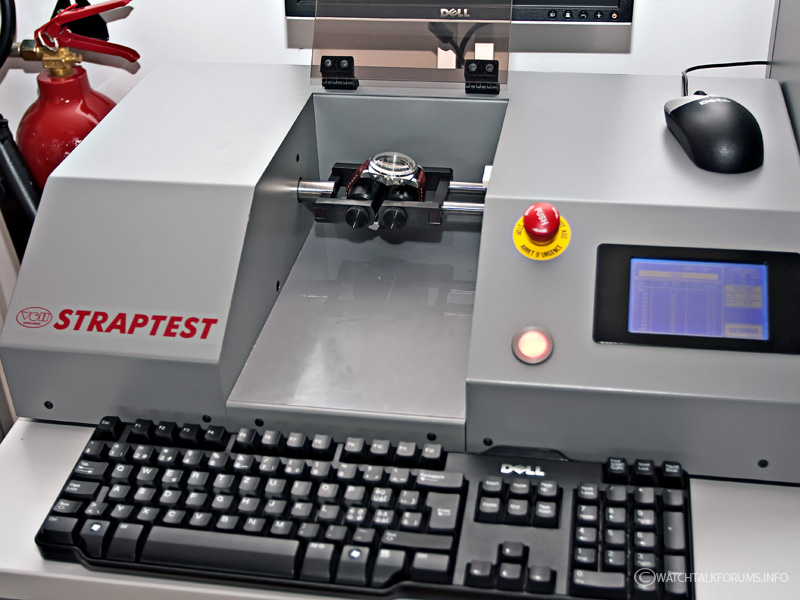 This specialized machine tests how well the strap maintains its color by simulating long term wear - if the strap isn't within an acceptable color range on the chart below after testing, it is rejected:​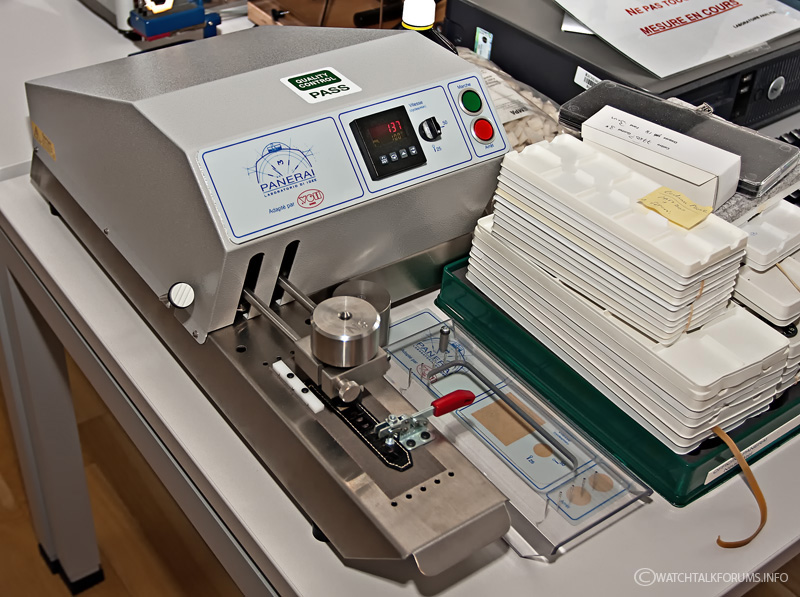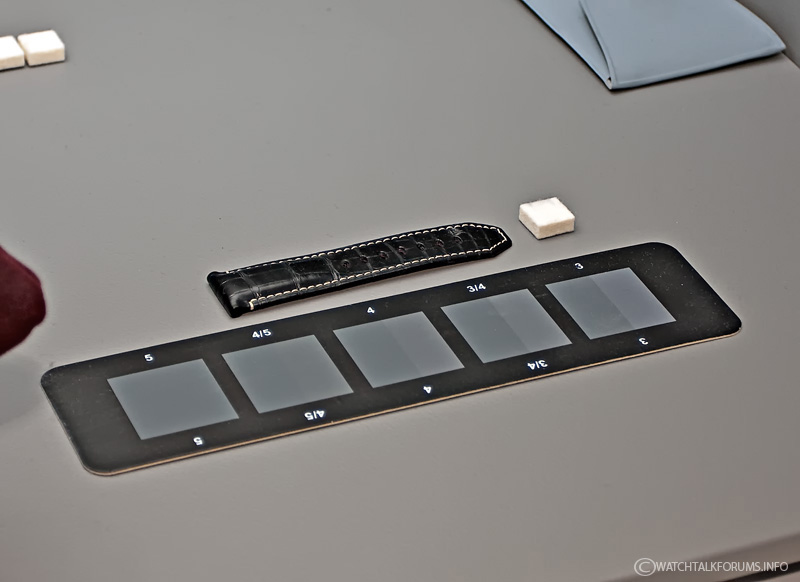 I found these two testing machines particularly fascinating - the first machine simulates extreme "G-Forces" on the movement:​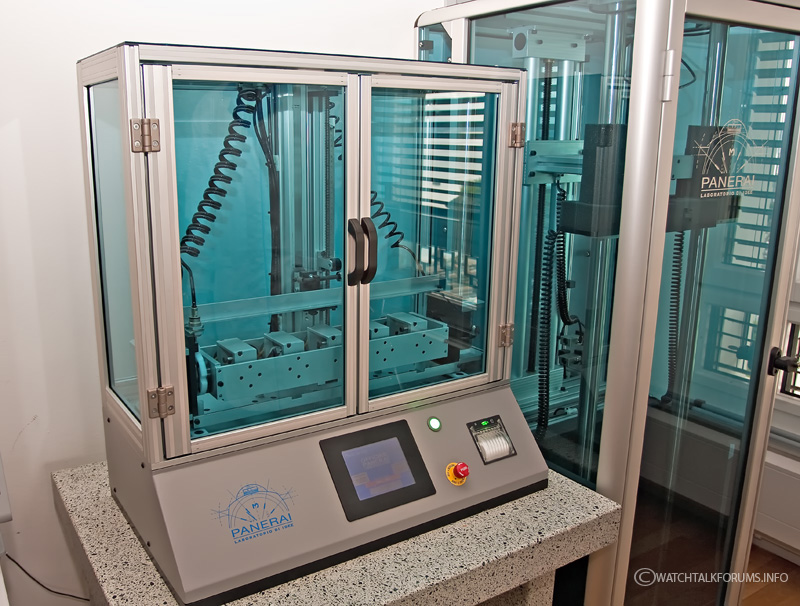 This machine simulates a three meter drop onto a wooden floor - a long standing Swiss standard is that a watch case and movement should withstand such a fall:​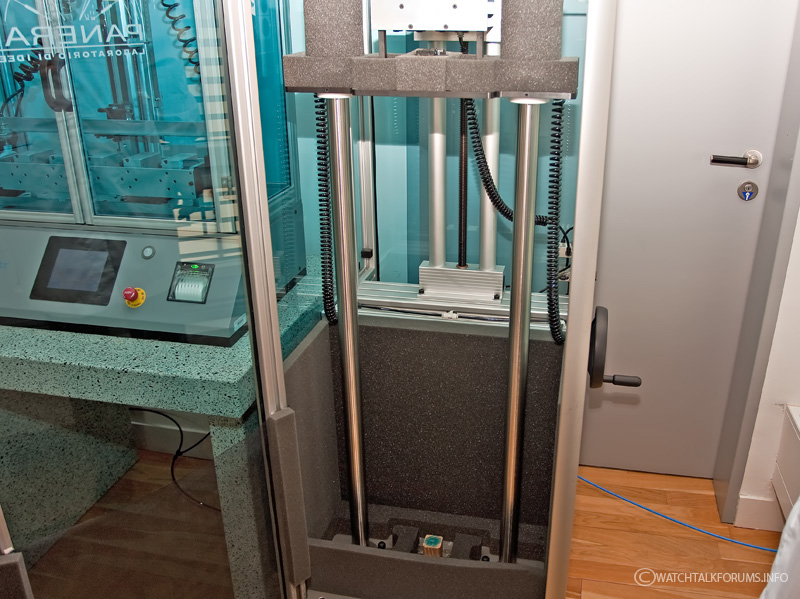 The final stop on the tour was a visit to a special group of Panerai watchmakers who work exclusively on Panerai's most complicated timepieces:​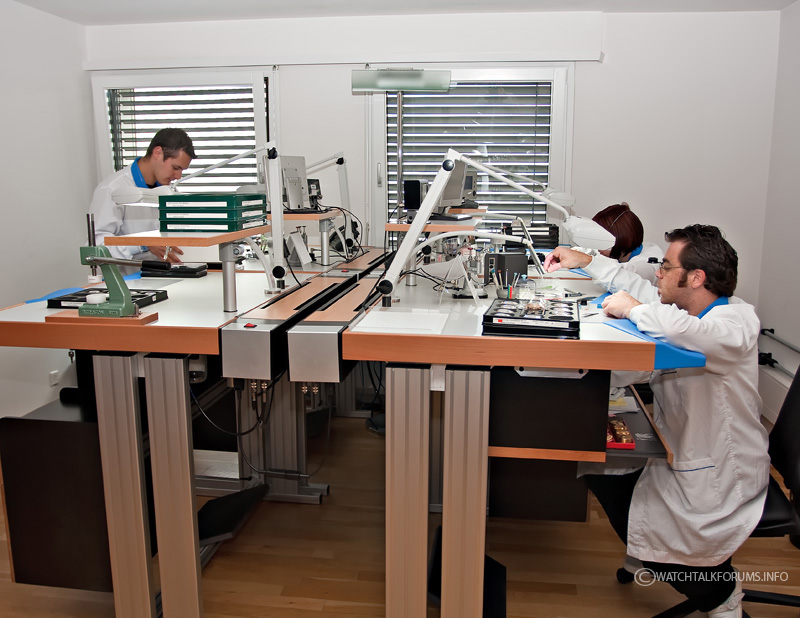 Here's an example of their work - the fabulous P.2005 Tourbillon. Note the rotating tourbillion cage in this series of photos. The P.2005 rotates on an axis at right angles to the axis of the balance wheel and that it makes two rotations per minute: this rotation, which is faster than usual, ensures greater accuracy, providing the best compensation for the irregular rate caused by the effect of the force of gravity.​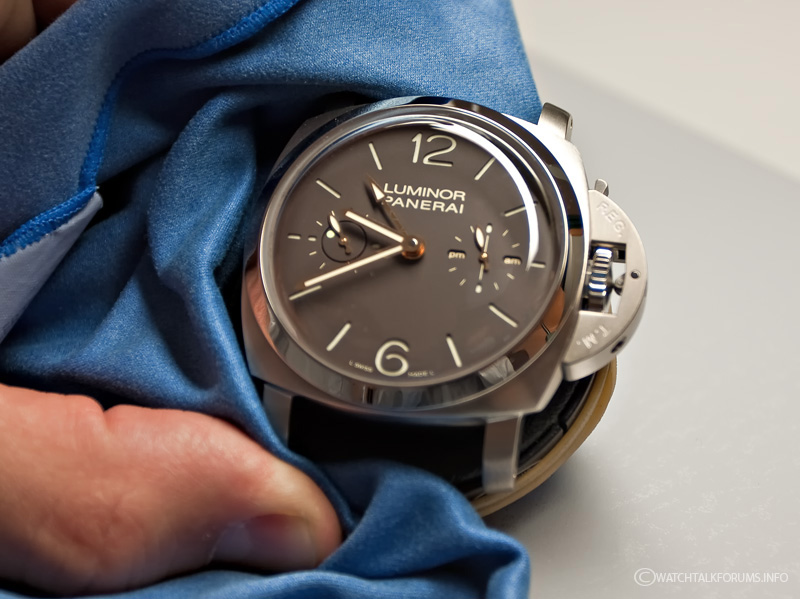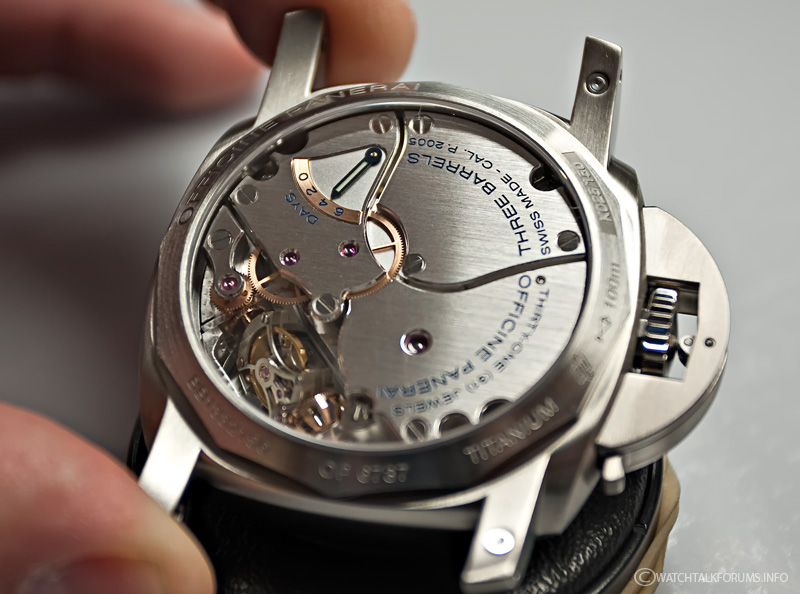 After touring the Neuchâtel facility, Mr. Martinet took me to lunch, and we ventured off to the Swiss town of Buttes - about 40 minutes from Neuchâtel in the Juras Mountains - the very heart of Swiss watch making country. It is in Buttes that the Richemont owned Val Fleuier movement manufacturing facility is located. In the photos below, you can see that Richemont has done some extensive adding on to the original Piaget movement factory - and more building and construction is taking place:​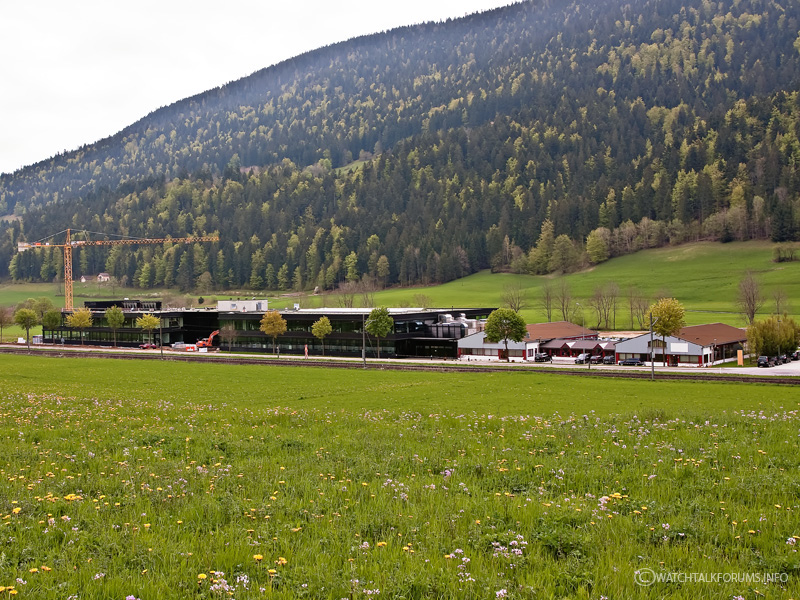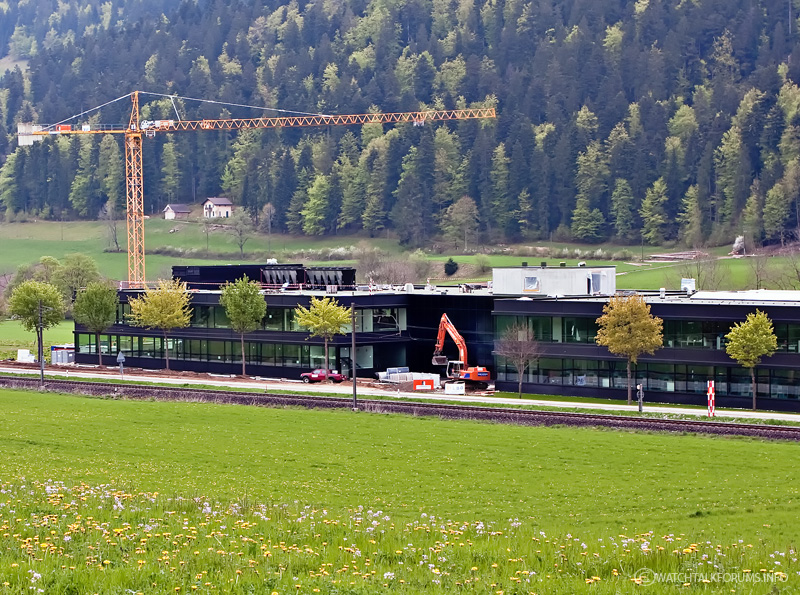 Here at the entrance to the facility you can see where "old" meets "new":​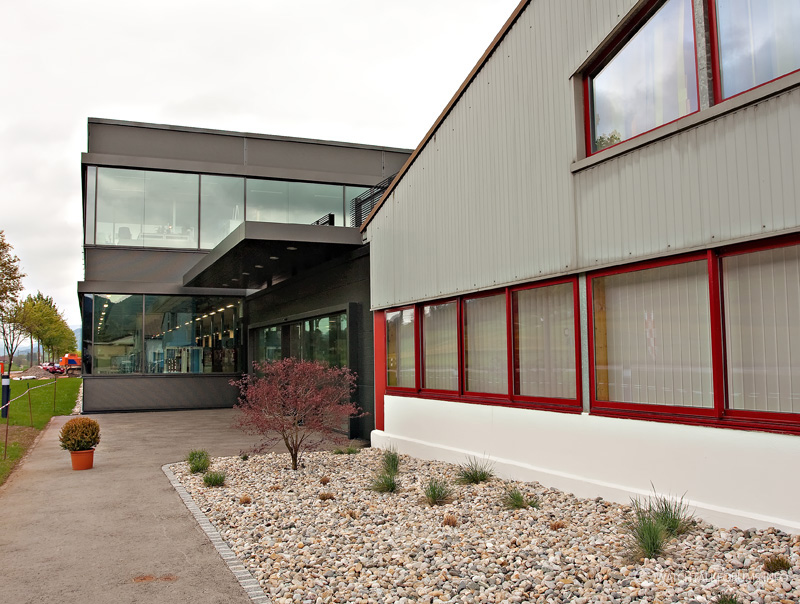 Given the nature of the work that is done at the Val Fleuier facility, I was not allowed to take photographs everywhere we went. But hopefully the photos below will give you some idea as to the staggering production capabilities that Richemont has with Val Fleuier:​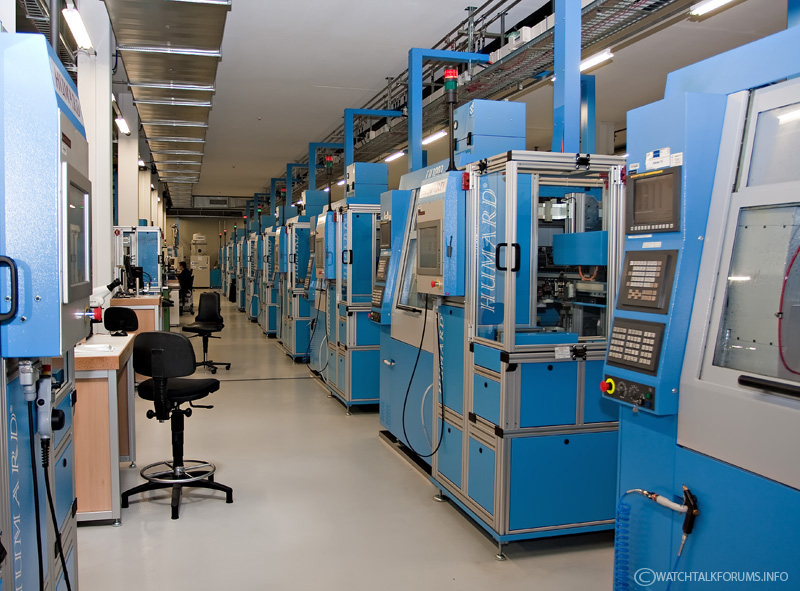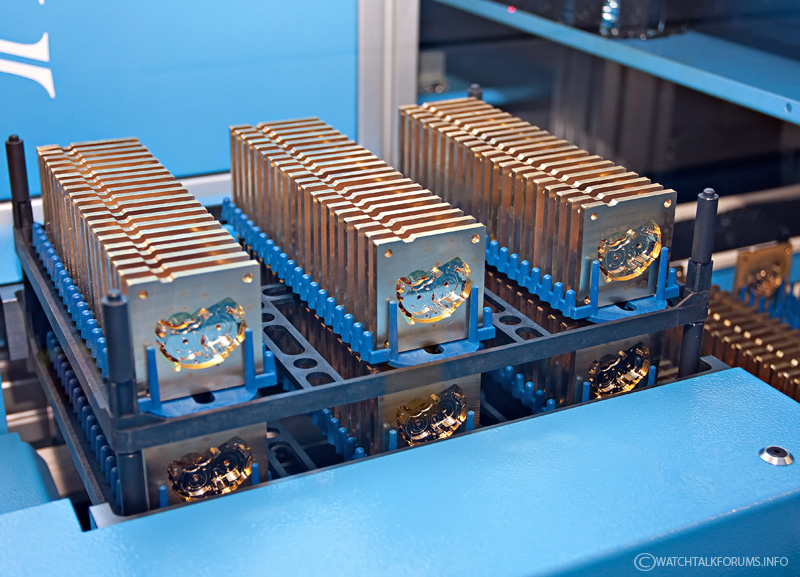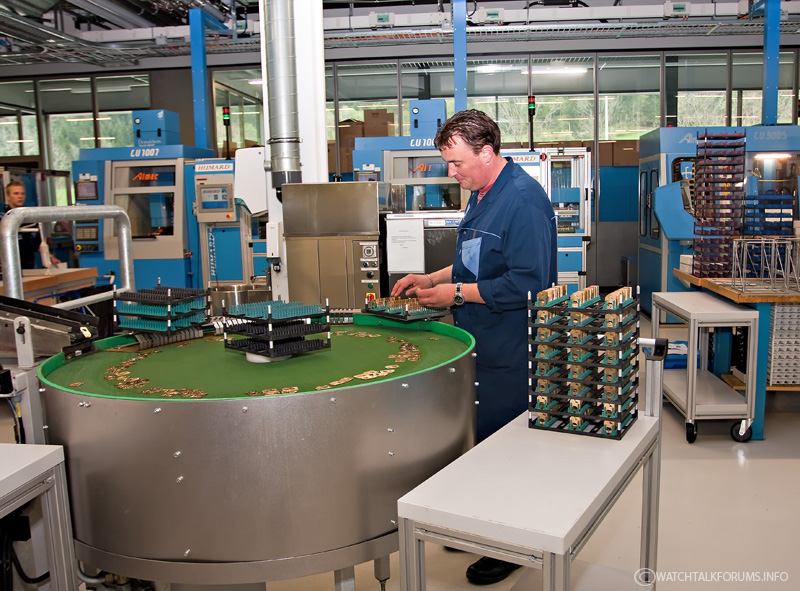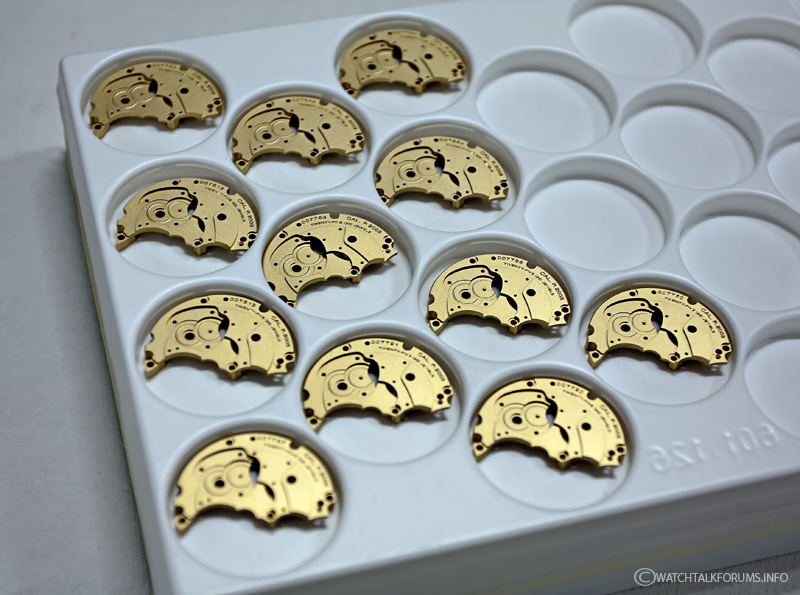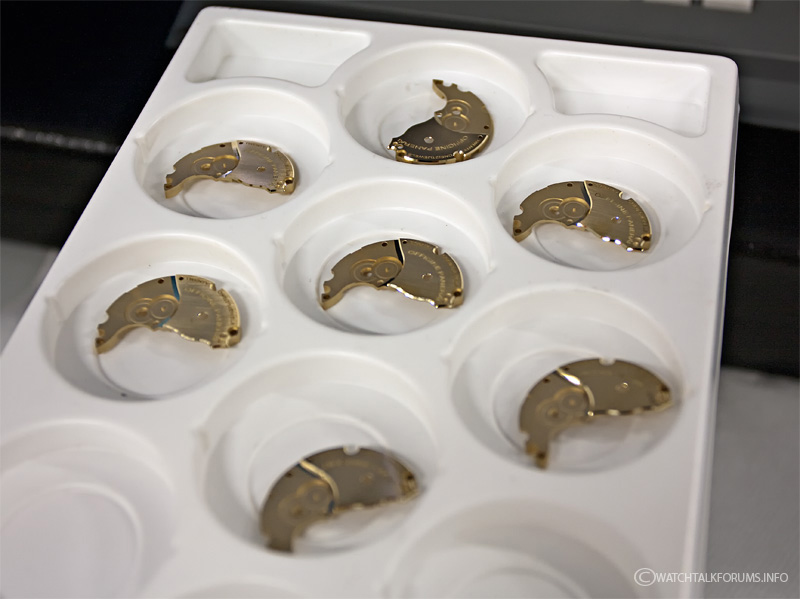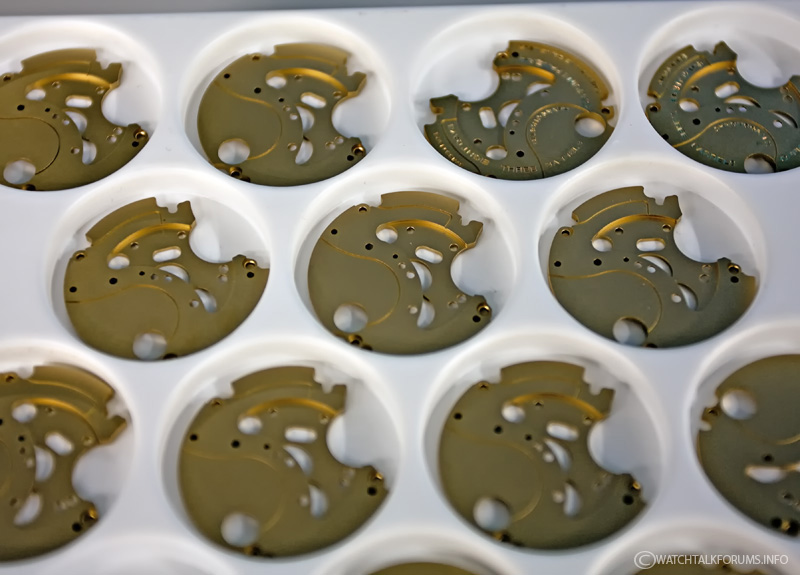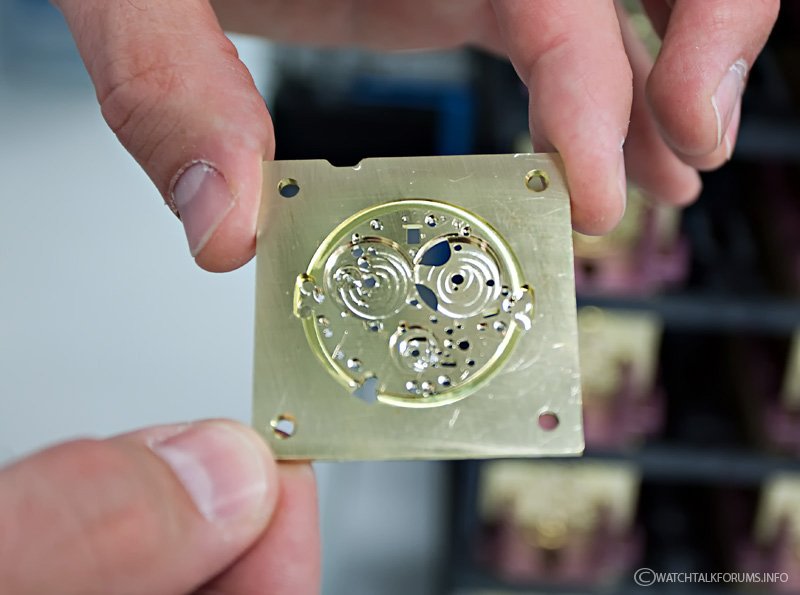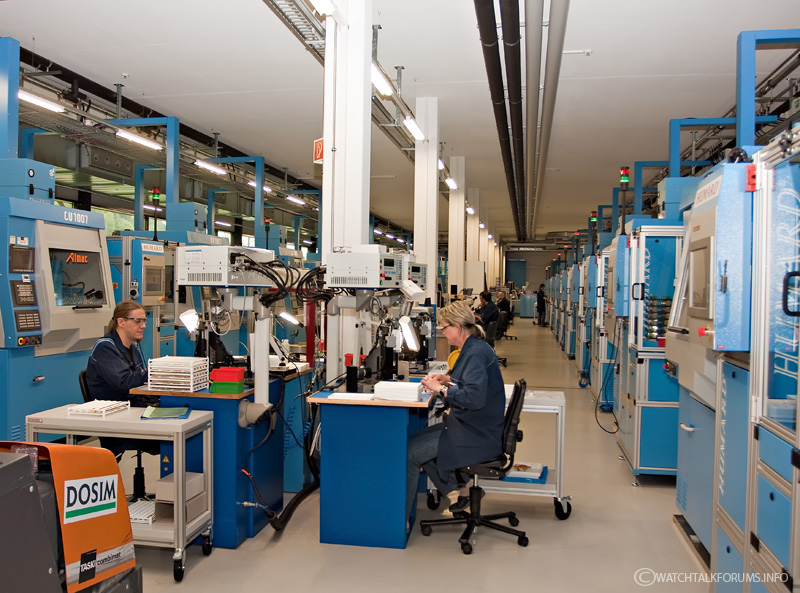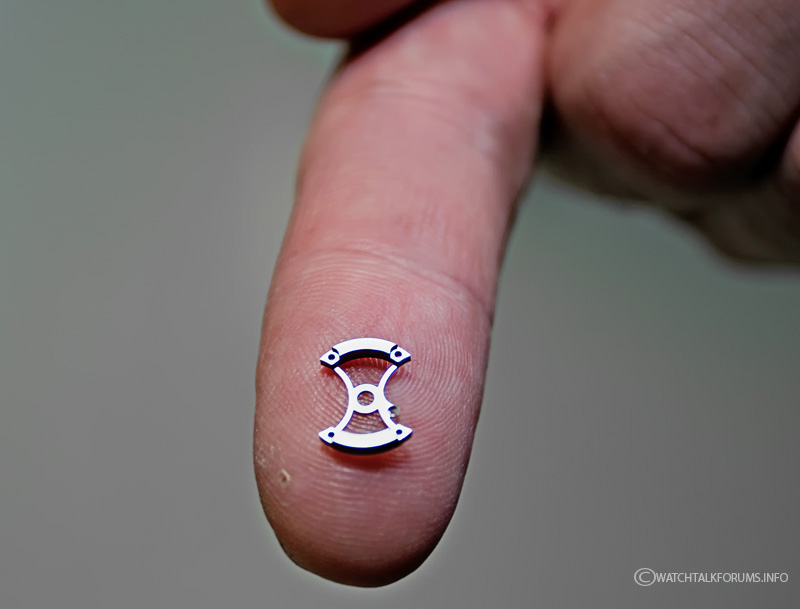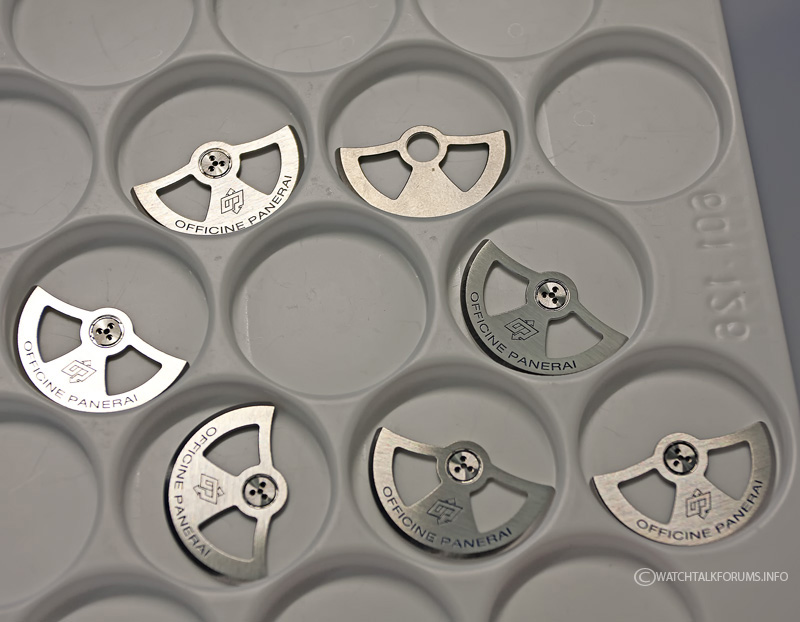 I have never seen a cleaner, more modern watch movement production facility. I did ask if Panerai had any plans to discontinue their use of ETA movements, and they indicated they had no such plans. Whether that will change is anyone's guess, but clearly Panerai and Richemont as a whole is no longer dependent upon Swatch Group's ETA for movements.



I hope you have enjoyed this factory tour photo report! Thank you VERY MUCH to Panerai for allowing me this opportunity, and to Mr. Jean-Robert Martinet for his time and gracious hospitality.​
​
**Photos & Text Copyright 2009 WATCH TALK FORUMS. No part of this report can be reproduced outside of WATCH TALK FORUMS without the expressed permission of John B. Holbrook, II.