Discussion Starter
·
#1
·
This week a lot of 4 Elgins came up on Ebay. One of them caught my eye. It is the same case shape as one of the solid gold Lord Elgins. I set up a snipe and won the lot, then waited impatiently for the watches to arrive.
They arrived Thursday night. I pulled out the one I'd thought might be gold.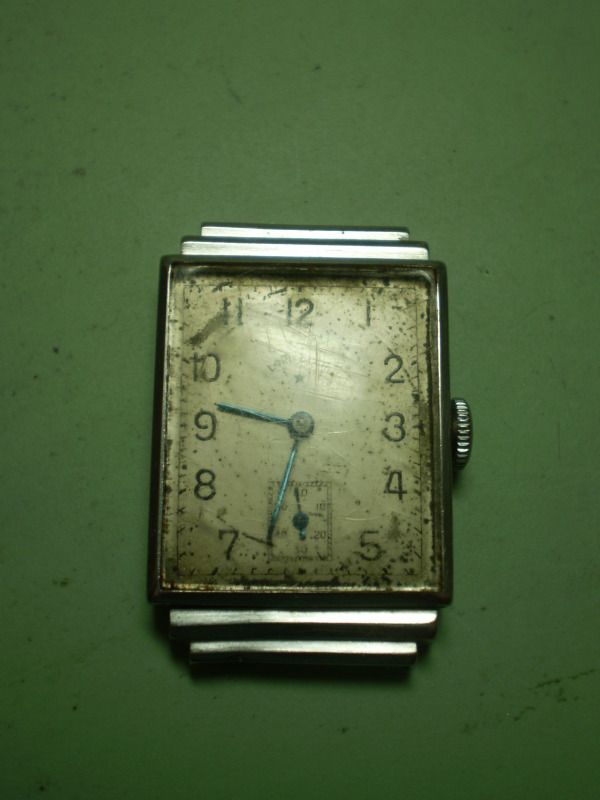 No, the watch in question is NOT gold. But it IS a mystery!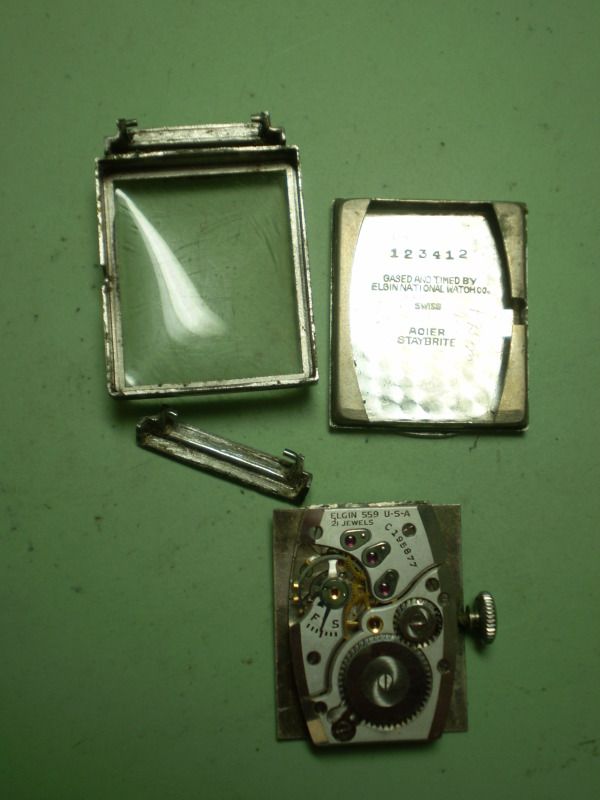 The lug was almost falling off when it arrived, and fell off completely when I tried to remove the bracelet. But the lugs are MALE, requiring FEMALE springbars! I don't know when those stopped being used, but it seems to me these may be pretty late for them. The broken lug is also bent. I'd like to fix it, but i don't know how yet.
The caseback is stamped "Cased and Timed by Elgin National Watch Co.; Swiss; Acier Staybrite" - well, actually, it says '
GASED
' "Acier Staybrite" is a form of stainless used in watches. I know that Omega used it. I think it's an authentic Elgin case.
The style of the dial matches the age of the movement - a font style Elgin used at that time. The dial is a perfect match to the bezel opening, and the movement perfectly fits the cutout in the caseback. I believe the watch may well be original, not Frankenized, but it's one I didn't know about, and never saw in any ads.
A previously unknown Elgin?
Of the other 3 watches, 2 are interesting. I already mounted them on new straps or bracelets, because they seemt o have been serviced recently. One is one of the waterproof models from the mid 50s.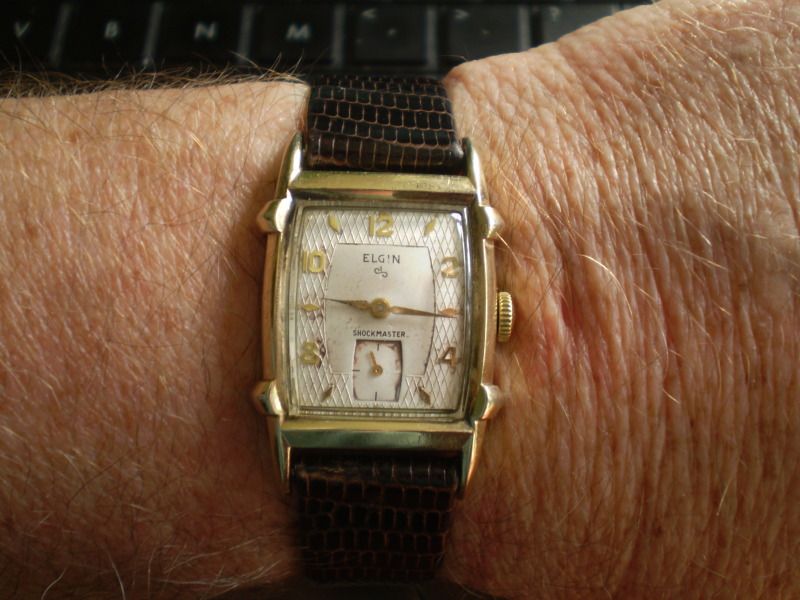 It's one of the ones without screws, with a gasket between the crystal and the caseback, and a split stem. It's running a 715, a 17j 13/0 Shockmaster movement.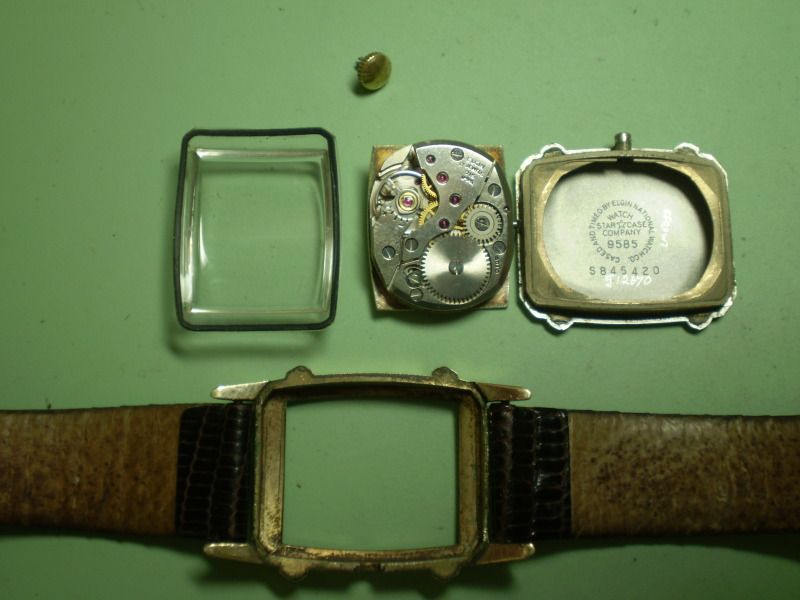 .
The next one may be familiar to denizens of the American Forum. It's on a Speidel bracelet from the 60s - anachronistic I know, but it's a nice pairing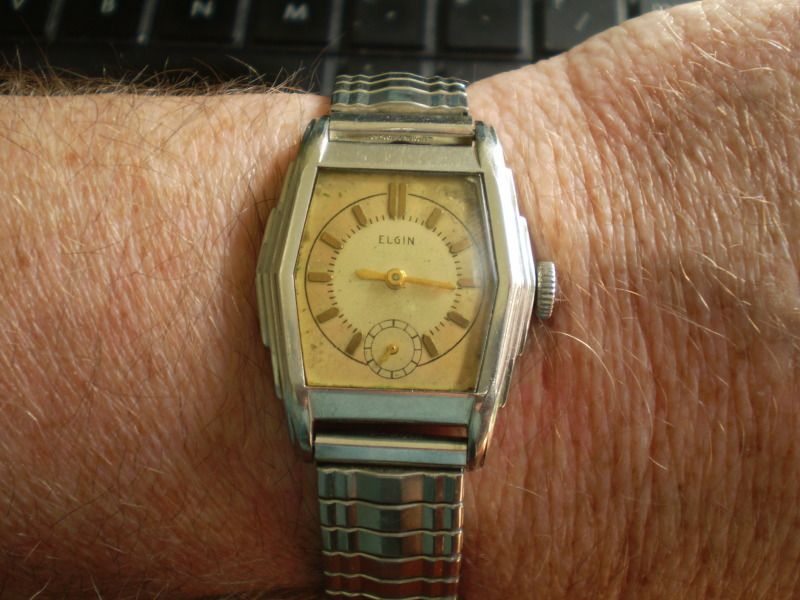 Stan got one very much like it about a year ago. I really admired his - very 'Thirties' in look! It's from 1934 - which puts it beyond my usual range. It's running a 4/0, 7j 485. And the case is something of a mystery to me.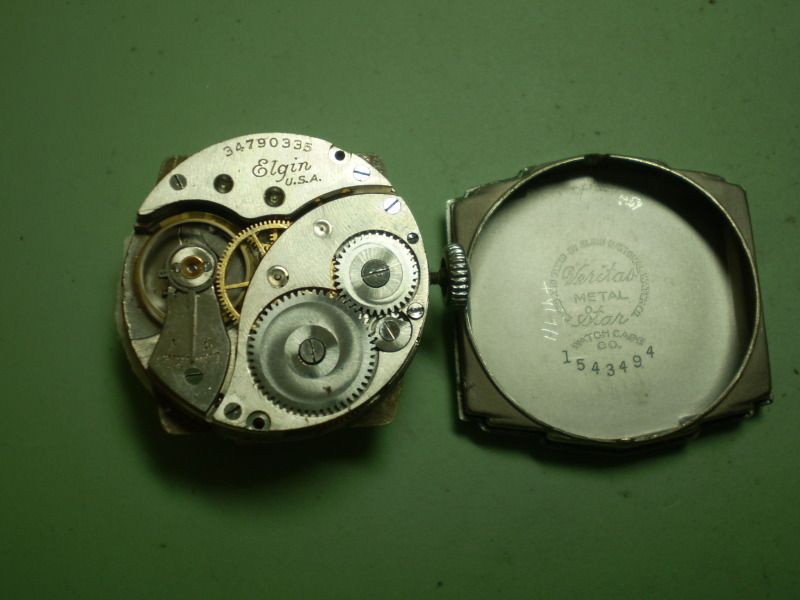 As far as I can tell, 'Veritas Metal' was another early Stainless Steel. The ad I found for this says it's "Model 1474 in 'Veritas' nonmagnetic stainless steel case". I just bought the ad, so I'll post that when it arrives. An hour spent on Google turned up nothing useful on 'Veritas Metal', beyond several other Elgins made from it.
The odd thing is that there's what looks like brassing on the lugs, with a slightly different color of metal peeping through, and the caseback is a slightly different color than the bezel. It's just the slightest bit 'grayer' or possibly 'bluer'. The bezel itself is a brighter color than most stainless, more the color of white gold. I wonder if maybe it's chrome plated?
So, that's my odd lot! One complete mystery Elgin, a very attractive watch that's outside my collection definition, and a waterproof model that's right up my alley. Oh, and a nonrunning Franken in rough condition that I won't bother sharing.