Not my photo
My photos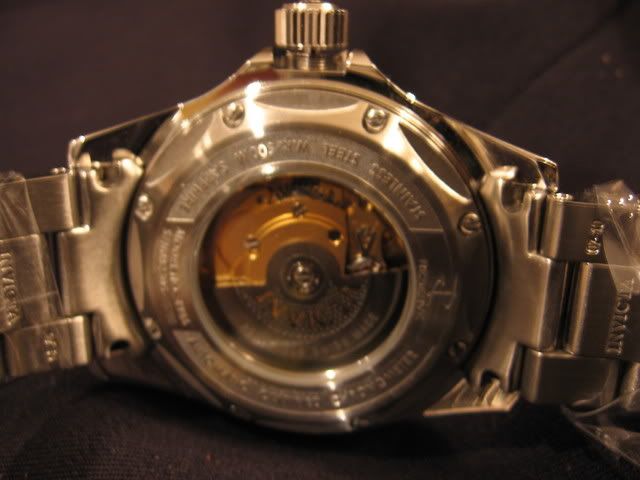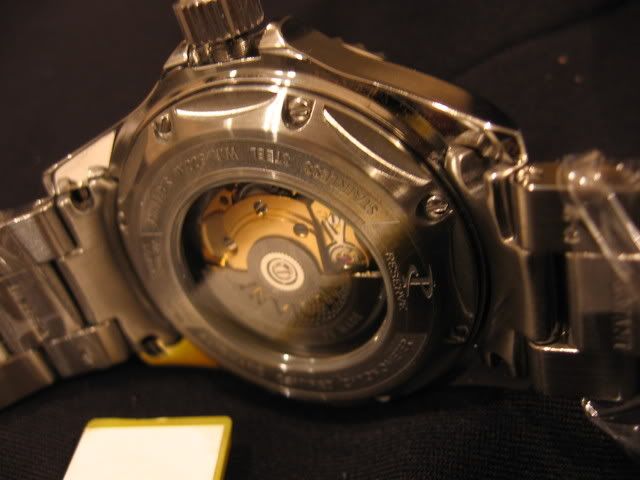 Now
THAT'S
real CHEESE!
IMPRESSIONS
Invicta's Reserve Pro Diver is a step up from the Swiss Movement offerings (9937 et al) we've all come to know and love. It's also an upgrade on my beloved Swiss Made 2014 Pro Diver.
This particular watch, the Meteorite Dial Pro Diver (sans diamond bezel), is probably the nicest Invicta I've ever held. The fit and finish equals, and probably surpasses, my Sapphire Ghost (now departed so I can't do a side by side).
The Reserve Diver makes the "regular" Swiss Pro Diver series look like what they are: $200 to $400 timepieces. The improved quality on the Reserve is readily apparent in the case, the 3x cyclops, the lume, the hands, the bracelet, the clasp - just about every aspect of the watch.
I prefer the black packaging over the Yellow Cheese Brick, too.
GOOD STUFF
The face is incredibily easy to read. I love the new second hand and the lumed hour markers, which are ringed in black (to match the bezel) rather than the traditional Invicta silver. This makes the Meteorite at bit more tasteful and dressy.
Solid, chunky bracelet - as yet unsized - and very nice clasp. This watch is more of a jewelry piece than a tool.
3x cyclops kicks butt. Impressive caseback.
Meteorite dial is stunning. COSC papers right in the box.
BAD STUFF
Typical balky Invicta bezel. I've worn a notch in my right thumbnail trying to turn the thing. Ugh!
The case lugs are very angular, almost sharp. Particularly on the inside. Most high end (or higher end) watches have smoother finishing. I suspect this case is used throughout Invictas 44 mm dive line (that it's not just for the Reserve). It's okay, but not in the Omega league.
The rotor - while decorated - and movement look at bit cheesy. But I've been spoiled by Clerc and some other high end stuff.
VALUE FOR MONEY
My jury is still out on this. I like the watch, but I'm not convinced it's worth 1k. The premium, as far as I can tell, is simply for the meteorite dial. If this watch is typical of the rest of the Reserve Diver line, I would say you should have no hestitation to spend the $500-$700 to get one. It's that much better than the rest of the Pro Diver offerings.
That's all for now.