Discussion Starter
·
#1
·
...Just joined this site, in part because of this dedicated Bulova/Accutron forum. I recently picked up this 1971 (N1) Accutron AO off eBay...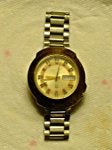 ...with 2182 movement. Yes, this is a pretty 'wild' looking case style, but somehow it seems right for its time frame. It also has a (apparently unusual for Accutrons) 22mm spacing between the hidden lugs. I have removed that band that came with it; apparently a 'lizard' or 'alligator' grain leather band was more typical with this particular style. I intend to put a reddish-brown 22mm leather strap on it once it is serviceable.
...It was not running when I got it, for good reason...turns out the index finger and index wheel were both bent (!!). I have two other movements (another 2182 and a 218D) that I got as 'donor' movements. The other 2182 actually will run (needs a tap to get it started), but apparently it had been 'cannibalized' somewhere along the line because the day disc and some of its associated parts are missing. The original movement has all the day and date parts and they work when set/advanced manually, so it looks like the original movement will wind up being the actual 'donor' as I can transplant the day and date parts onto the replacement movement. I have a pdf of the 218 series repair manual to help me with this...
...Now for my questions. First, this watch has a flat mineral crystal. (I've seen Swiss-made variants of this style with 'Safirglas' crystals, but I don't think this is one of them.) The crystal has a lot of wear marks and scratches. Is it possible to buff it out or would it better to outright replace it? And what would the correct replacement crystal be? Second, when I went to remove the second hand (part 140), it separated from its mounting tube (and naturally, I lost the tube). Is this triangular-shaped hand what Bulova called a 'cone' second hand (I've seen envelopes containing second hands marked 'stick', 'cone', and 'pylon', but I haven't seen them outside their envelopes, so I don't know what the 'cone' and 'pylon' actually look like)? It's a silver-colored hand that was painted sort of a maroon color to fit the overall dial color scheme, and it measures approximately 2.5mm in back and 10.5 mm in front of the tube (would that correspond to a '25/105' size marking on an original Bulova package?). If I can get the correct type of replacement hand, it would be a simple (?) matter of painting it a similar color...
...I grew up in the 60s and 70s, when the Accutron represented the 'ultimate' in timekeeping, and I remember dreaming of someday having one (of course, that was before quartz came along and blew everything out of the water). I would really love to get this one straightened out...