Hi all, new member here and also a proud owner of a new Holystone -- lucky # 13 here. I somehow stumbled upon this watch on the web a couple weeks ago, learned that it is the product of two Twin-Cities based friends / entrepreneurs / enthusiasts who have a very cool concept, and decided I had to have one. I picked it up in person over the weekend. Had a very fun meeting with Josh, one of the two partners behind the project. A cup of coffee that lasted almost two hours. We hit it off well (he's very much a car enthusiast too).

Glamour shots from RedSea website: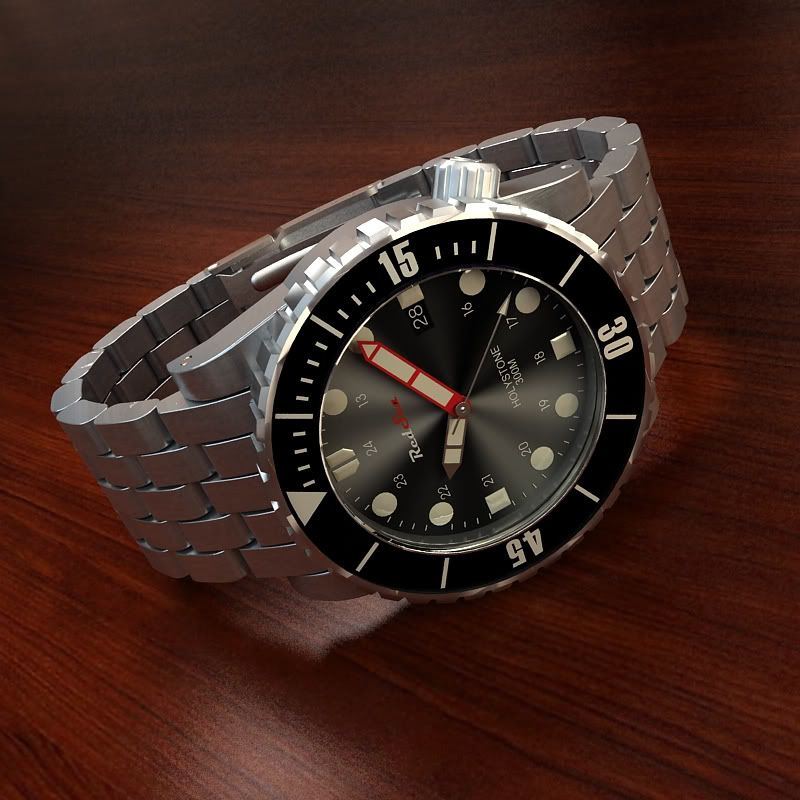 I'm enjoying the watch very much so far -- for many reasons:

• The overall look, style, and comfort are great; and in addition, the craftsmanship and execution are impeccable and could easily hold their own at double the price point.

• The dial is as good as it gets: incredibly sharp and precise printing, a three-dimensional effect to the thickly laid-down markers and the "RedSea" insignia, discipline to not put too much gratuitous writing on the dial (thank you, guys), and a subtle sunburst effect that really dresses up the dial from the usual plain matte or gloss black we usually see. Well done, RedSea.

• Fantastic bezel with a solid feel and click....and laser carved crenellations that are a joy to behold. The bezel overhangs the case by about 1mm on each side, making it "wear" smaller than its 44mm stated diameter. For me, that's a good thing – I usually don't warm up to watches quite this large, but this one works.

• The lume is unique – it's in a shade of vivid bright blue that I haven't experienced before. The lume was done by Lum-Tec, who also mentored Josh and Troy on overall project execution. I like that the bezel markers are lumed, too.

• Nice, sturdy, attractively all-brushed bracelet with all-solid links and solid end-links as well. The watch has 22mm lugs. Good feel and action to the clasp. I, for one, am glad it lacks a dive extension -- they just create extra bulk, and do not actually get used in real life. But offering a half-link option, and/or more micro adjustments in the clasp, would enable a more precisely personalized fit for my wrist.

• Beautifully crafted case, with razor-sharp edges, impeccable brushing, and a very appealing design. The fit and finish of the case are top-notch -- absolutely comparable to an Omega "Bond" Seamaster, for instance. And, while the case finish is not apples-to-apples comparable to a Rolex Sub or Sea-Dweller (because the Rolex has so much high-polish, versus brushed, finishing), I believe the sharpness of the edges and the precision of the contour machining does compare very favorably.

The watch in and of itself is extremely attractive and very well executed, and reflects well chosen design elements -- and good taste -- in all the decisions that the founders made. Kudos to Josh and Troy.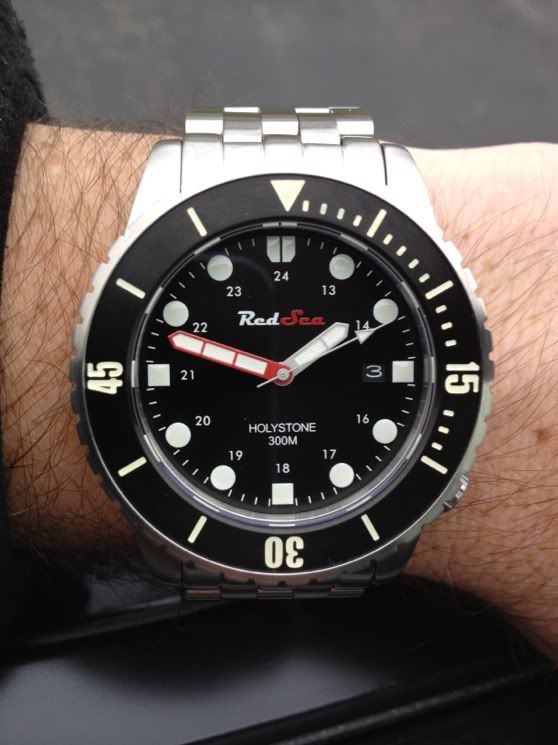 Plagiarized lume shot – credit to John B. Holbrook II: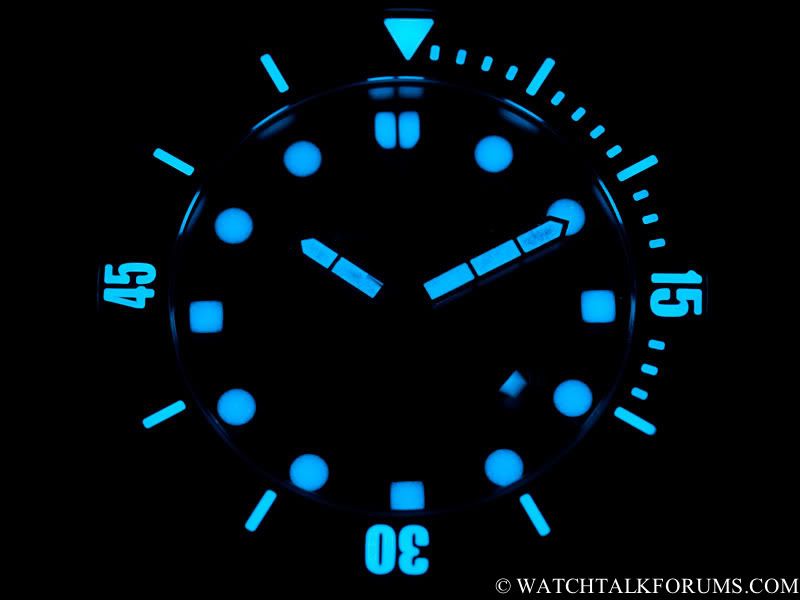 Of the 75 of this model built, there are only about a dozen of the steel Holystone remaining available as of this writing. I got to pick my serial number from what was left, and I chose lucky #13. I understand that the PVD Six Pounder model is also getting close to selling out, and that there is still good availability of the other two models.

One other thing I'm very pleased about.....sometimes you're good and sometimes you're lucky. In this case I'm very lucky, because lucky #13 has been running at a plus-one second-per-day rate since then. Nice timekeeping performance!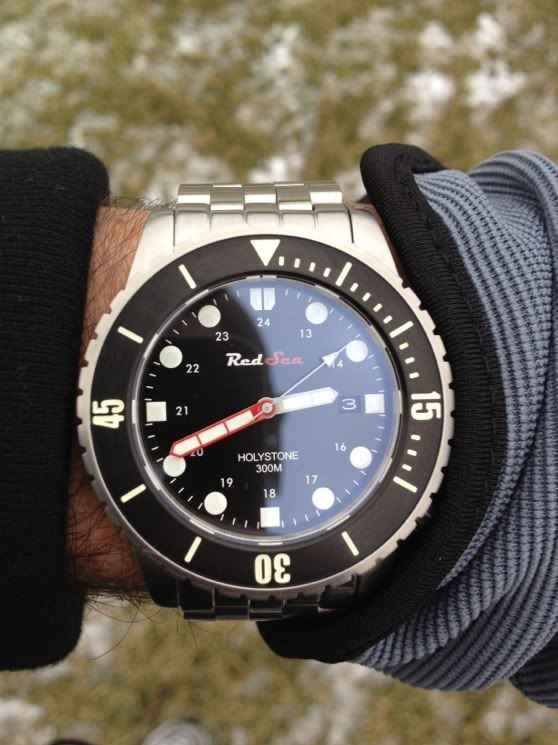 The packaging and extras are excellent -- not that packaging matters as much as the actual watch, but in this case I see it as tangible validation of the professionalism, diligence, and devotion to execution that the guys have dedicated.

• The packaging bundle includes a very nice two-watch travel case, a black NATO strap, a rubber diver strap, a credit-card style warranty card, and he also threw in a red/black NATO for me as a courtesy for picking it up in person. The watch case, and the buckle on the dive strap, are embossed with the RedSea logo. Very classy and nice.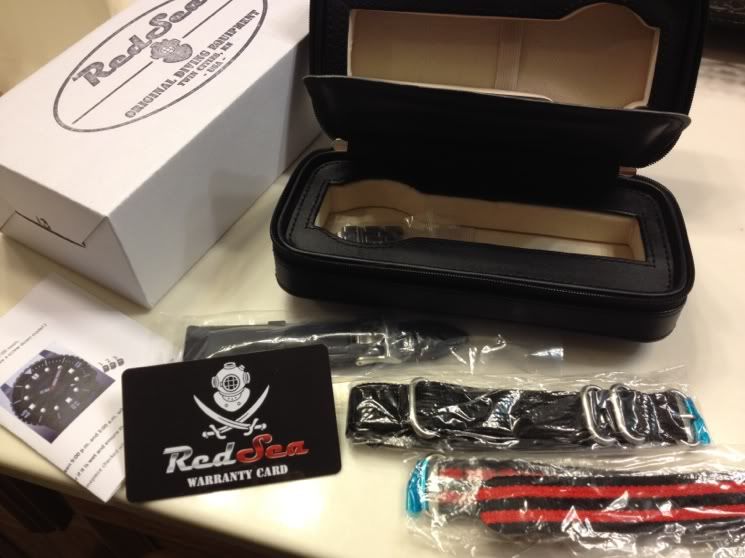 • Another marker of quality I want to recognize: the RedSea website, with its well-organized layout and a thoughtful, visually pleasing design, underscores this project's dedication to high standards of execution as well.


Josh was himself wearing a black (PVD) "Six Pounder" model on a prototype super thick honey brown leather strap that he said they'll be offering before the end of the year. It had cream-colored stitching with a neat little flourish of red stitching next to the watch head. The strap is hand made by a local artisan in western Wisconsin and was absolutely beautiful. He said they have 50 coming in and I asked him to put me down for one. His PVD-coated watch was gorgeous, too. A totally matte, thick, velvety black finish that looked deep and exquisite. I have to admit I wondered if I should have gone that route on my watch.

You may be surmising -- I like this watch very much. But in addition to being pleased with the watch, a measure of my enthusiasm goes above and beyond the product itself -- and ties back to the affection I have developed for the project, and the entrepreneurial spirit & true enthusiasm of the guys behind it. It's just cool to know that I own something so unique and personal, of which only 75 exist. It makes me feel a little like a "patron of the arts", with a connection to the artist, if you catch my drift.

So. At the end of the day, I'm delighted, and glad to have this great diver in the mix. Well done, Josh and Troy! I appreciate what you've done to bring us this interesting and desirable watch, and I wish you all the best for the future success of RedSea. With this fantastic introductory product, combined with their enthusiasm and a track record of capable execution, I look forward to more great things from them in the future.

Cheers,

Dave
Saint Paul, Minn.