Discussion Starter
·
#1
·
I've been intrigued by bronze cases for quite awhile. As a diver and fan of all things nautical, a bronze diver seemed a logical addition to the collection. And the gold-like color is a look I really enjoy. However, I've never been a fan of the "vintage patina' look many vintage watches get, and feared the bronze would be no different and I'd constantly be cleaning it to restore to it's original color. Well I decided to "man up" and give it a try and so I sold off another watch to fund it and not too long ago picked up a nice preowned from one of our great members here.
I really liked the watch from the second I saw it. It's a great look, and looked great on the wrist. I cleaned it a few times, and wasn't sure which way I liked it. I'd had a dive trip to Boca Raton / Pompano Beach planned, so I decided to take it with me and get it where it was designed to be - Diving! Here's the results of the case reaction to the salt water after diving.....
Started the trip with the watch just cleaned with the Brasso. Brand new looking!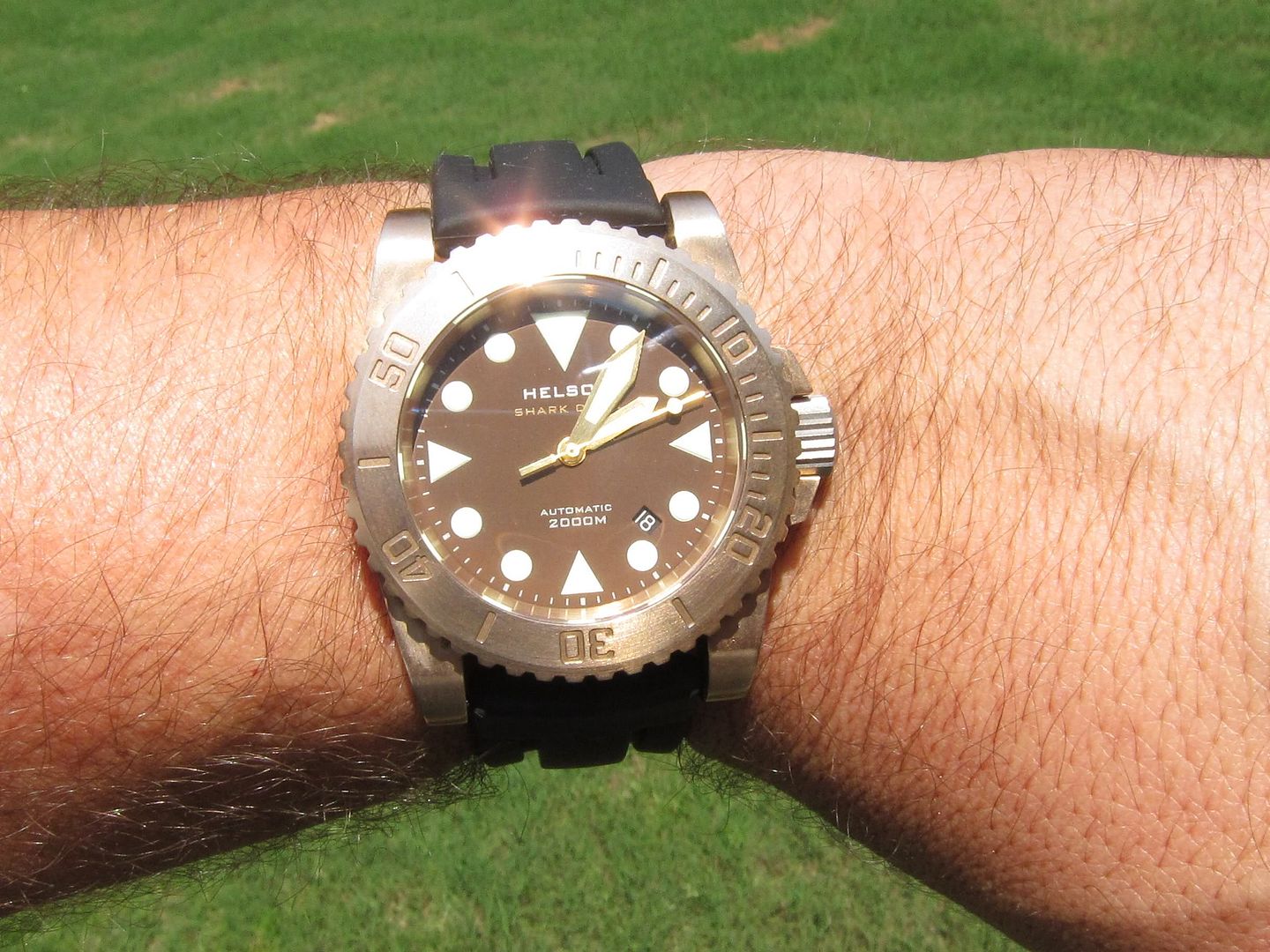 Took it down for about 2 hours under the sea. Here's what she looked like after about 20 minutes out of the water. Showing some reactions...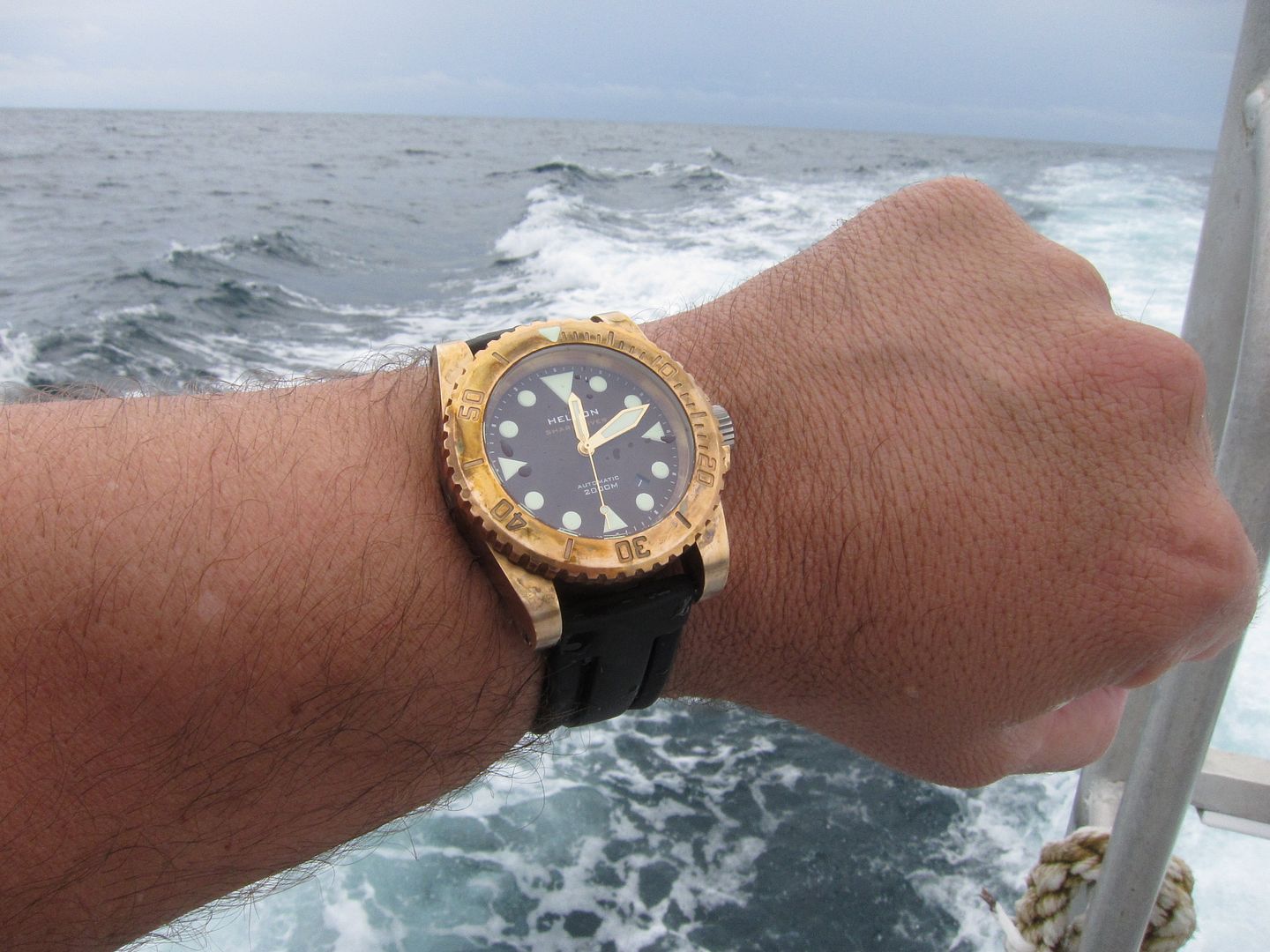 35 minutes out of the water it's showing more reactions.
40 minutes it's peaking and showing lots if color. Amazing how fast it's changing, WOW!!
After an hour it starts to 'tone down' the colors and stabilize...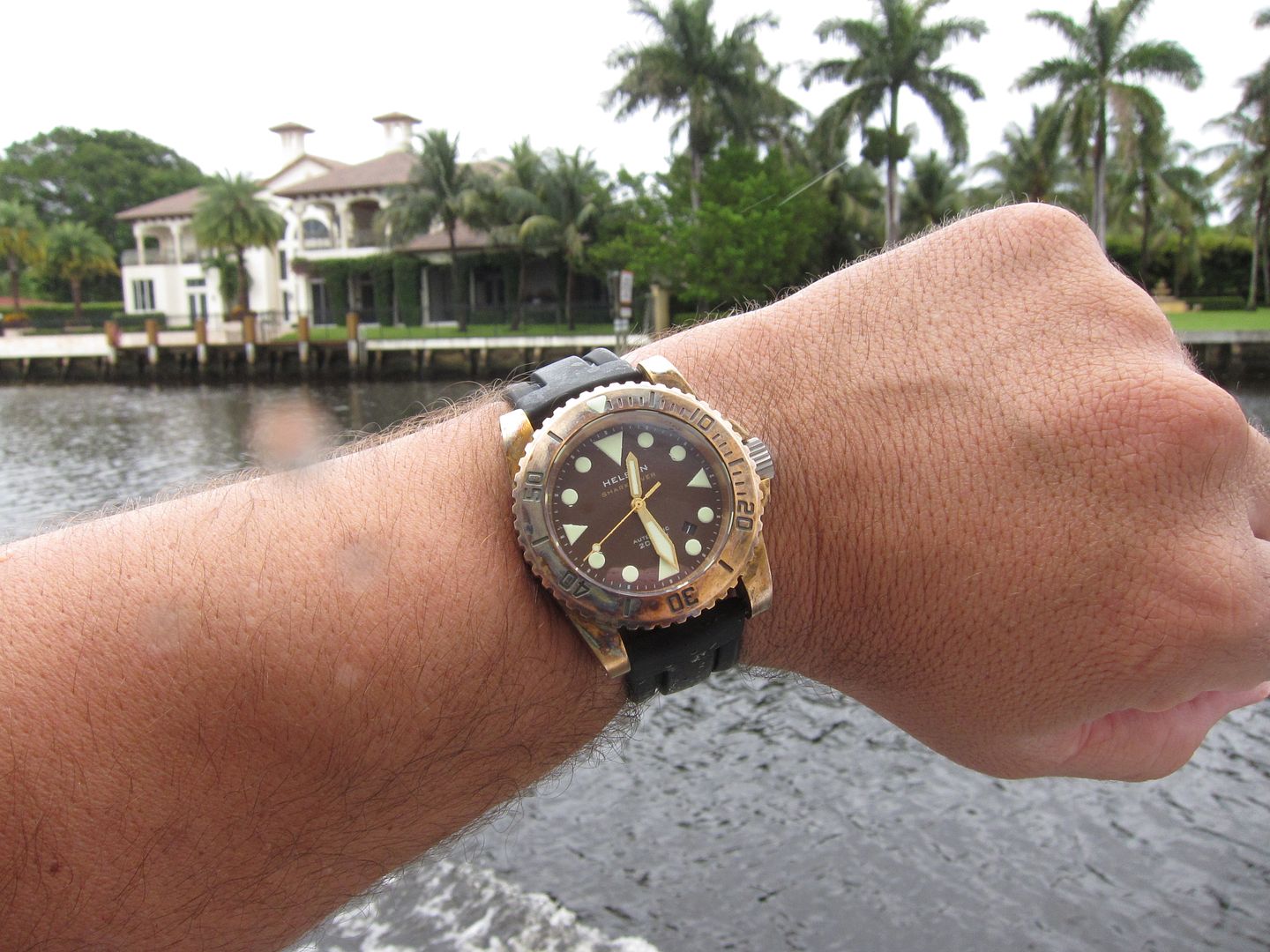 And after 2 hours it really stabilizes out, but still with lots of color variation. It has almost an iridescent look to the color..
Well I was curious to see what the afternoon dives would do to the look. So once I got back in the water & down to depth I checked it out.
The salt water 'cleaned it up" again!
But of course once I got out of the water, the reaction above started all over again. And after being out of the water again for about 4 1/2 hours she looks like this..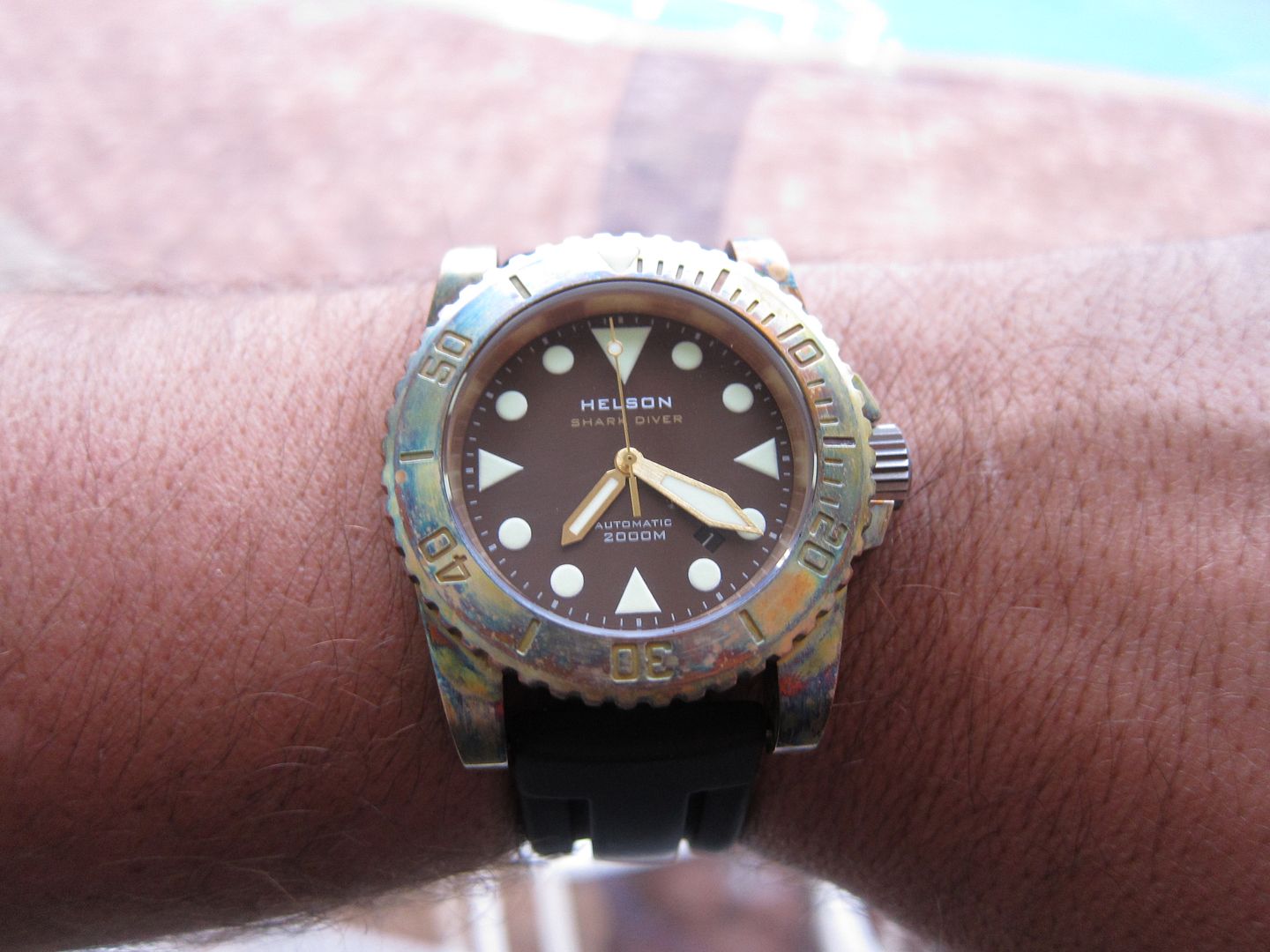 And 5 1/2 hours later the reaction has muted down quite a bit.....
Lastly, after 72 hours it's just a hint of the reaction and the 'effect' is very uniform.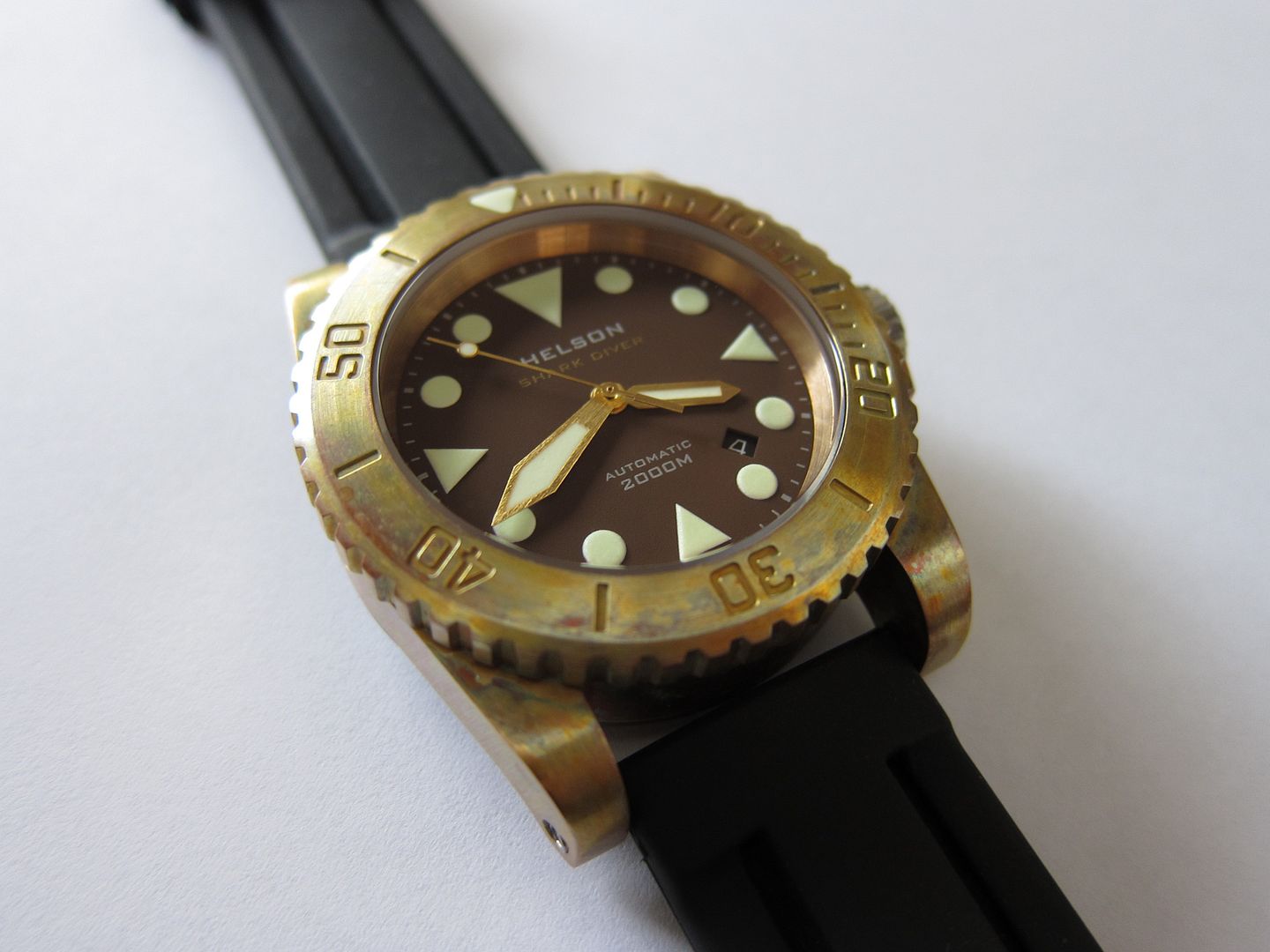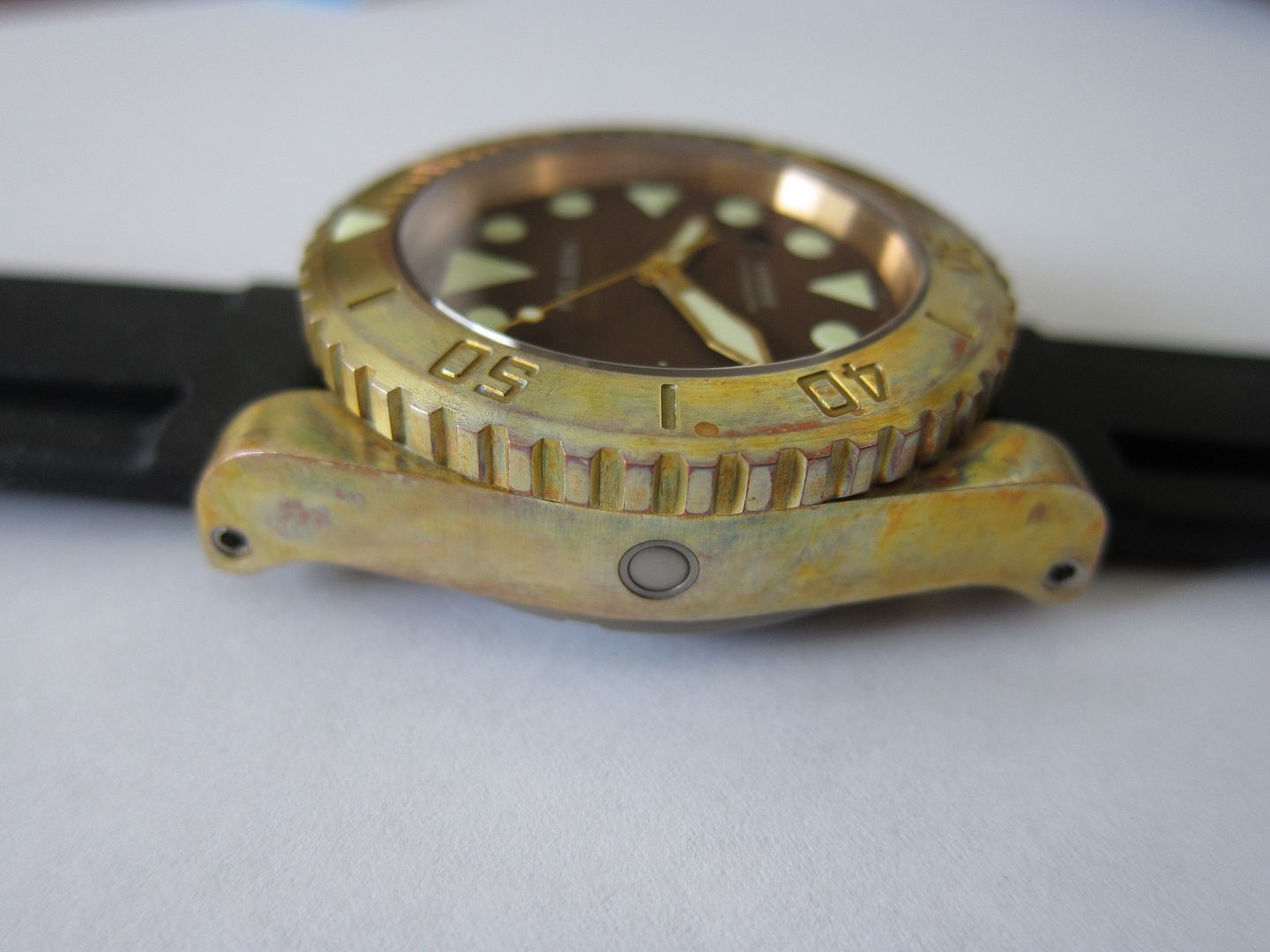 So what do I think? Honestly I was quite worried about how it would look when I first got it out of the salt water & the reaction was at it's peak. But is it aged & stabilized I really like it. It's very subdued and quite unique looking. In fact I've put the Brasso away & will keeping it the way it is. :thumbup1:
I hope you like the pictures. So, what do you think?