Eight days into the month and silence reigns.
Can't have that I'm afraid; mind you, WWIIBuff has shown us his handsome black PVD/red Navy GMT already.
I think I am a few behind so here we go....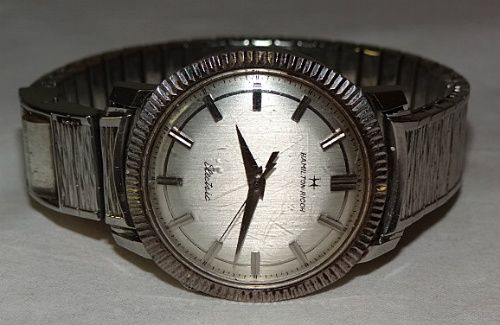 From Wikipedia:
In 1962, Hamilton entered into a joint venture (60% owned by Hamilton) with the Japanese watchmaking firm Ricoh to produce electric watches meant primarily for the Japanese market. The electronic components were produced at Hamilton's Lancaster factory while production of the mechanical works and final assembly was undertaken in Japan. Although production levels of Hamilton-Ricoh watches was high (over 1000 per month), demand was low and consequently, the Hamilton-Ricoh partnership was unable to compete with the substantial market presence of Seiko. The partnership was dissolved in 1965, with the remaining Hamilton-Ricoh electronic movements (marked "Ricoh 555E") re-cased as "Vantage" and sold in the U.S.
Well I knew about these but had not noticed one for sale before. Hopefully that crystal will polish up OK or I'll get it replaced.
And a nice Dixon (c1935; 17 jewel 987-F movement) with early refinished enamel dial to replace my existing one which, although nice, has an incorrectly refinished dial. Will probably flip it.
Newbie
Existing
And pleased to announce my first 401 (...
the "much coveted" 19 jewel, 12 size 401 movement
), a
c1932 white gold filled Stanley
I won't see this one for a few months. It's getting a new crystal and HOPEFULLY correct hands. (If anyone can help please PM me).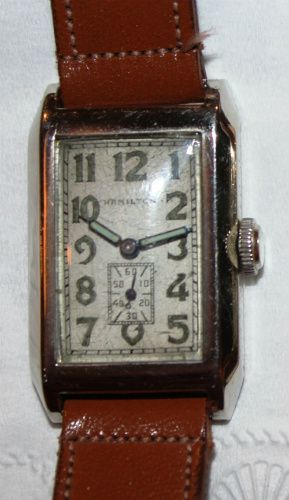 [Sellers' images]