LUM-TEC Combat B17 - The One Watch/One Year Project.....
LUM-TEC Combat B17 - One Watch/One Year Project
IDEA: "The Everyday Mans Test"
I see advertisements in magazines and television all the time of watches being worn to scale Everest or racing fast cars or diving the deep; of celebrities posing or passing a football. Most any watch can survive those things. I've had this thought for a while now; what about a project where I pick one watch from one micro brand, wear it every single day for 365 days and document the project on one continuous thread, updated at least once or twice weekly with posts, pictures and details. The thought being to enjoy, track, report and discuss the life and times of a watch as it lives its day to day life with a regular guy doing everyday things from the Office to the Outdoors, from the Boardroom to the Back-country; for one year and seeing how it holds up.
These were parameters I set up for the test watch:
Micro Brand
Automatic (hacking movement)
Date window
40mm-44mm
22mm band (must fit well on leather, NATO, Rubber and Bracelet)
Sapphire
Lume
I think the LUM-TEC Combat B17 checks all of these boxes! I'd like to thank the folks at LUM-TEC for a couple of things. Not only did they give me a great deal on this complete package but they sent it to a local contact (along with a great line-up of other models) who brought it to the Winter Atlanta WUS GTG that was hosted last week and I was able to take delivery and give the attending group a chance to review a model they had never seen before either. I selected the Combat B17 for a few reasons. First of which is the case size. The 43mm case size a perfect fit for my small wrists and that was really important given the fact that I intend to wear this watch everyday; comfort is king. Another reason is the movement; the Miyota 9015 is an engine I've never had before but have heard good things so this will give me the opportunity to test one. Thirdly, the optional kit for this model is fantastic. The B17 comes with a branded rubber strap that is fit to the curve of the case as well as the curve of your wrist. It's very comfortable as well as practical in this respect. Also included in the kit are two NATO straps (one Black and one Olive Green). The extra piece that I ordered to complete this kit is the black PVD five link bracelet. The lugs on this bracelet is curved to fit the case just like the rubber strap and it has a dual deployment clasp with the LUM-TEC logo stamped on it.
Here are the specs on the watch from the website:
Quick Overview Combat B17 featuring the all new super precision
28,800 BPH Miyota 9015 movement visible through a sapphire caseback.
Includes 2 top grade military NATO straps and a molded rubber strap. 200 meters/660 ft. water resistance.
Product Description:
Specs:
43mm width excluding crown.
22mm lug width.
316L bead blasted stainless steel with black titanium carbide PVD hard coating.
200 meters/660 ft. water resistance.
LUM-TEC MDV Technology®.
Miyota Japan 9015 28,800 BPH automatic movement with hand winding and hack feature.
Calendar.
Thick sapphire crystal.
Double side clear anti-reflective coating.
Threaded sapphire caseback.
Screw-lock crown with double diamond sealing system.
2 heavy gauge NATO nylon straps included (green and black). 22/22 size.
Molded rubber strap included.
1 year limited warranty.
Limited numbered series of 888.
Free lifetime timing adjustments .
http://www.lum-tec.com/collection/current-models/combat-b/combatb17.html
Here are some pictures from the LUM-TEC website.....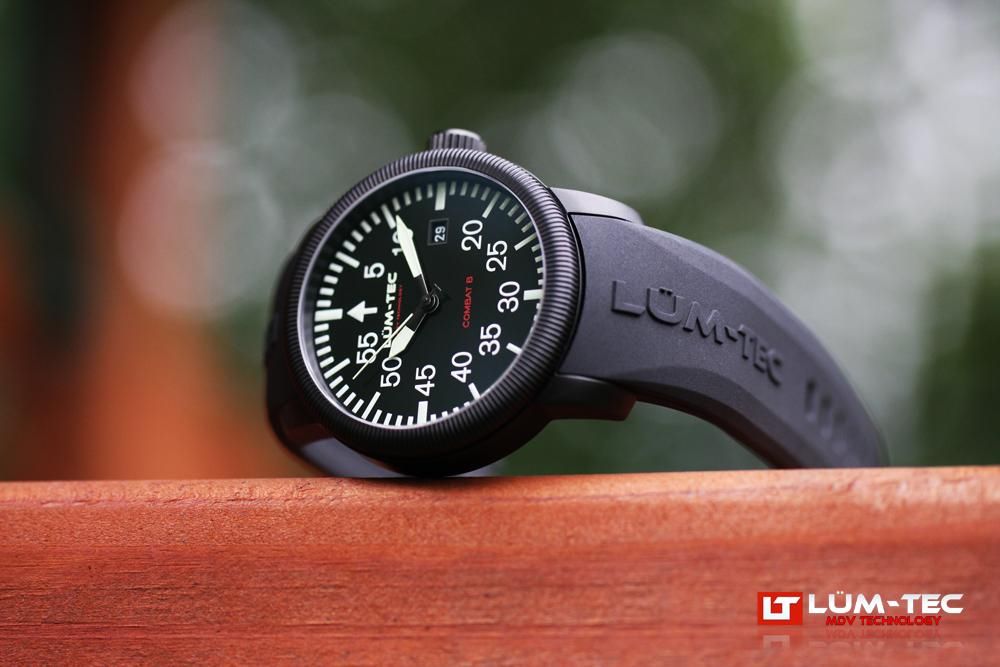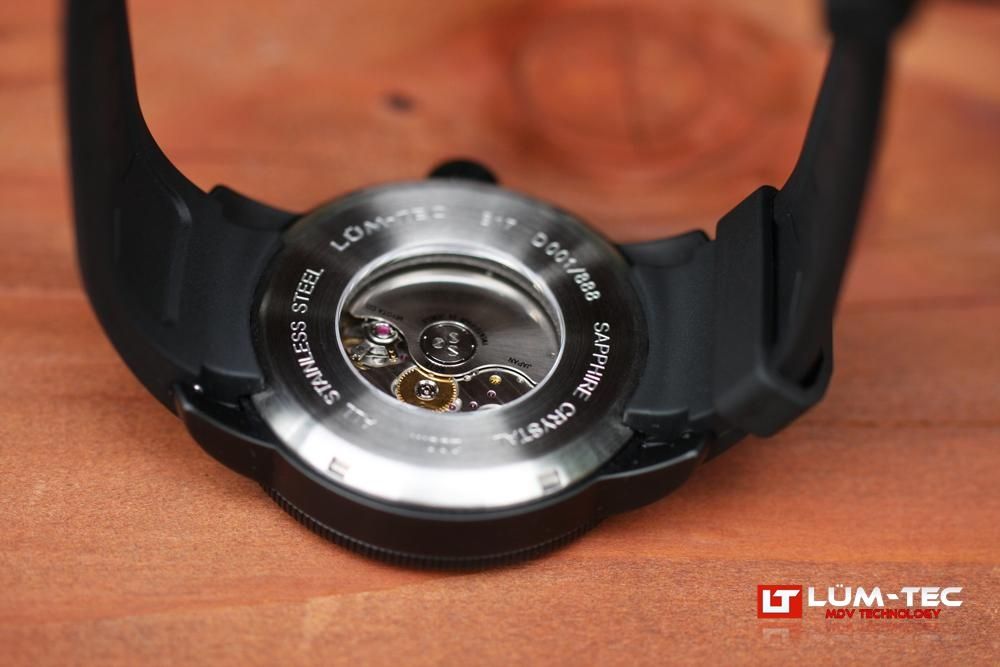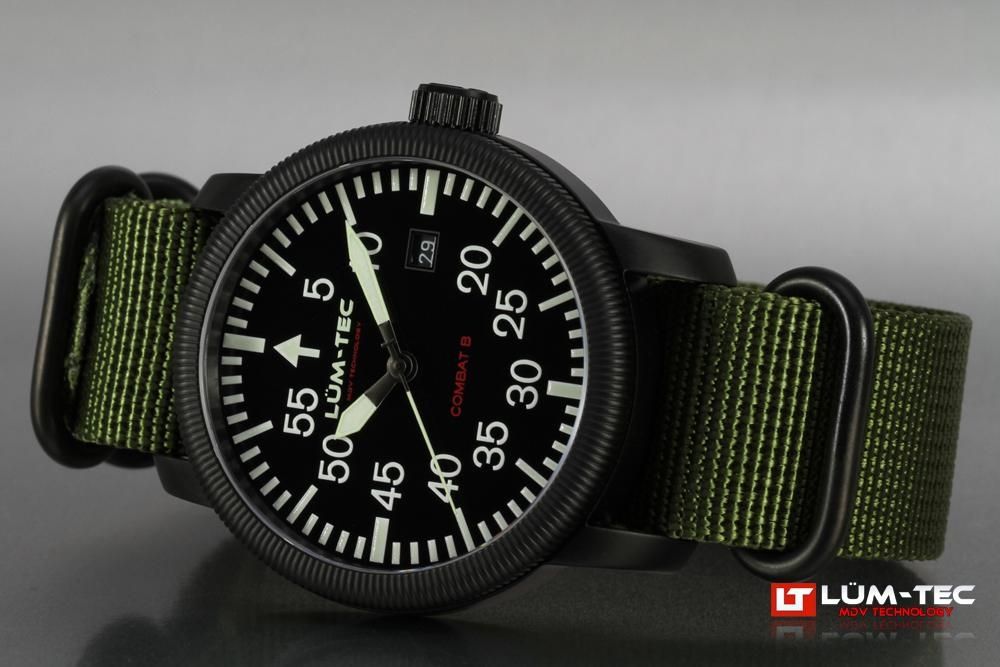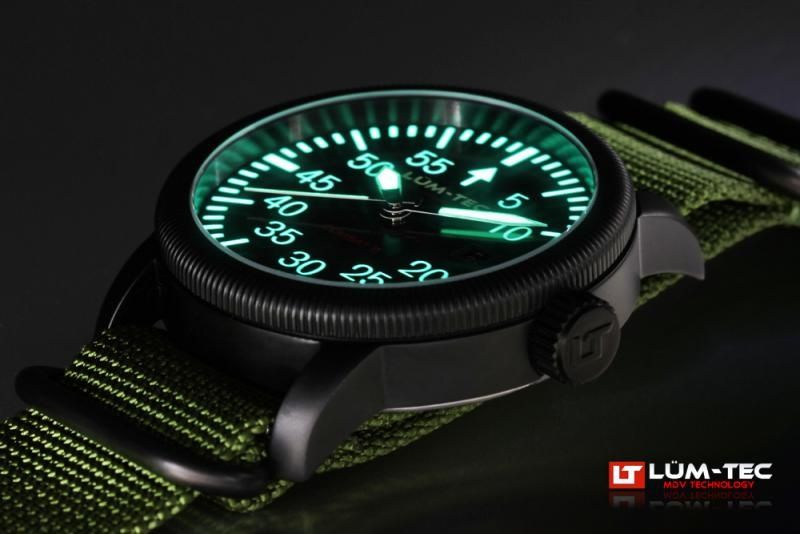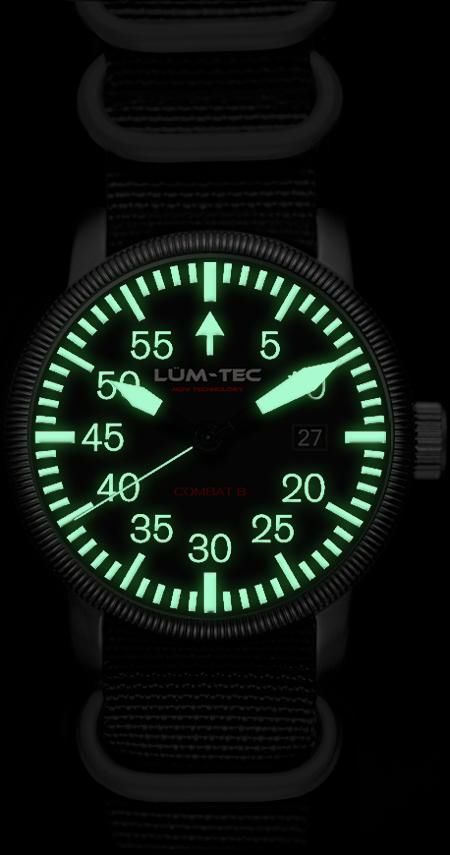 I've had this watch now for almost two weeks and let me me start by saying I've read many many threads on the various fora regarding the high level of customer service one can expect to receive from the folks at LUM-TEC and I can tell you that already I have had two calls with the LT team to go over some details of the watch and this project and they have both been positive. So as I said before I picked up the B17 at a local get together that was held on 12-JAN-13 so I've had almost two weeks with it already and have been very pleased so far. The fit and finish is really nice, the PVD on the case is even and well coated, the lume is awesome of course and so far the 9015 is running a consistent -5 seconds per day. As the project goes on I'll cover more of the aspects of this watch in a detailed review but it's suffusive to say that I am very impressed right out of the gates with this model.
Let's get started.......
As I said before I picked up the Combat B17 at our Atlanta WUS GTG on 12-JAN-13 from a local LUM-TEC contact by the name of Bill Powell. The folks at LUM-TEC had it delivered to him along with several other models that were on display for the event. It was fun to cover the project with a local group of fellow WIS; we had about 25 people in attendance during this event.
Here I am (on the right; black shirt) picking up my B17 from Bill; I received model #41 of 888.....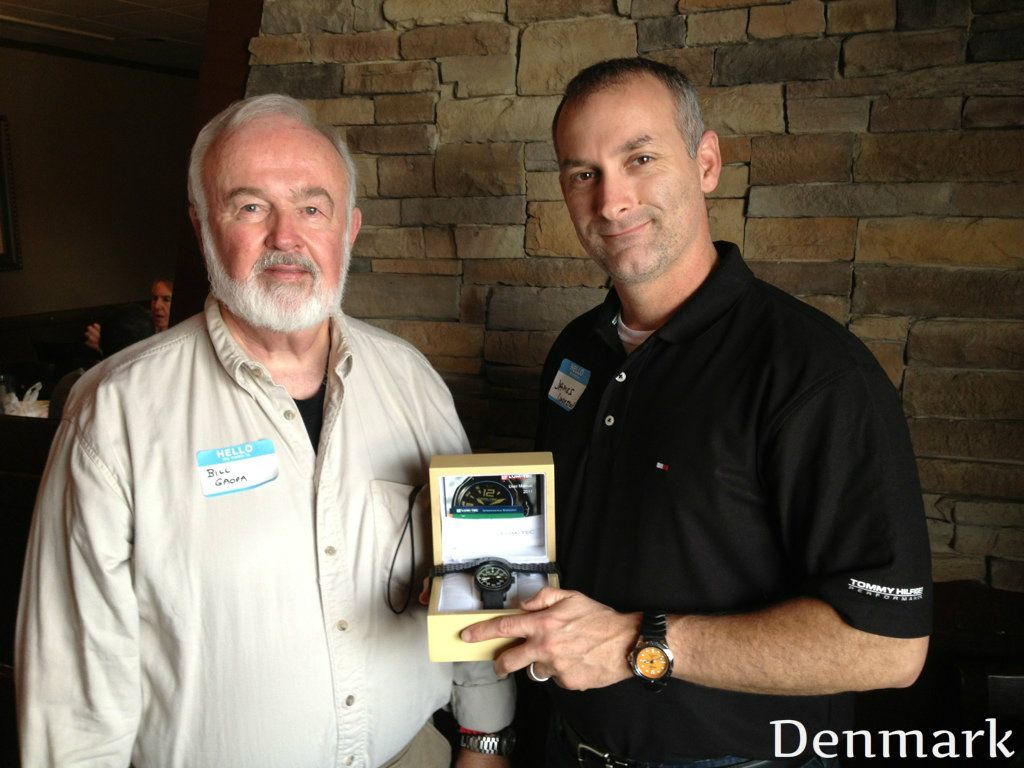 Here are a few quick shots of the kit with the NATO straps that came with it as well as the PVD bracelet that I ordered to be included..... (thanks Bill)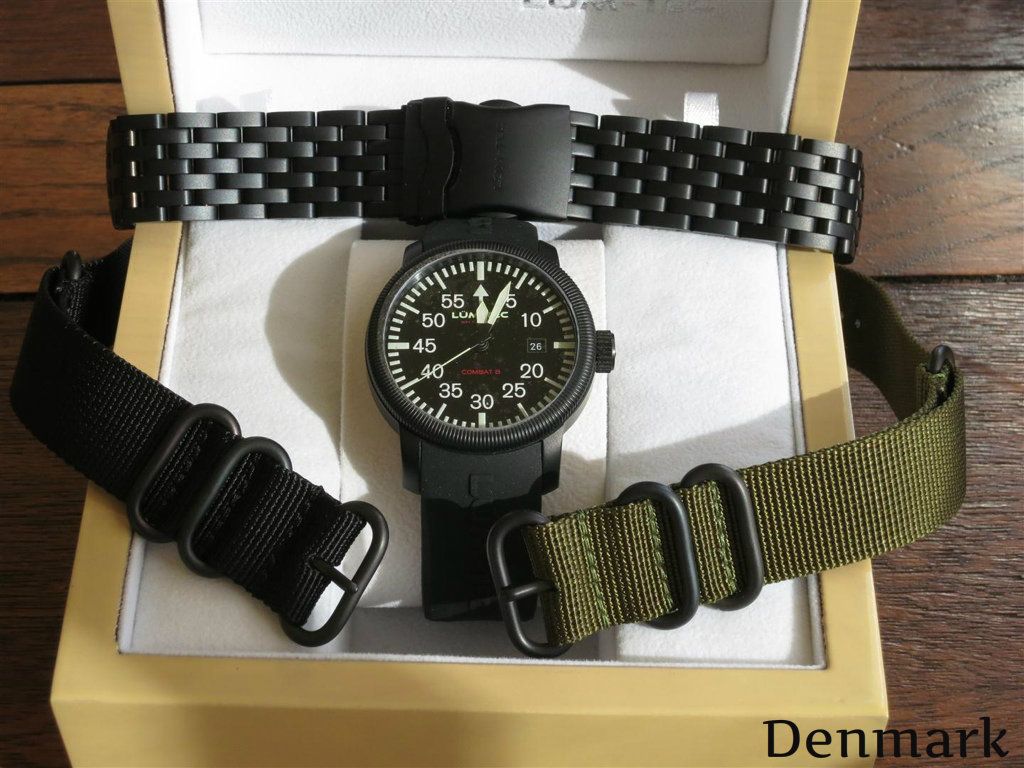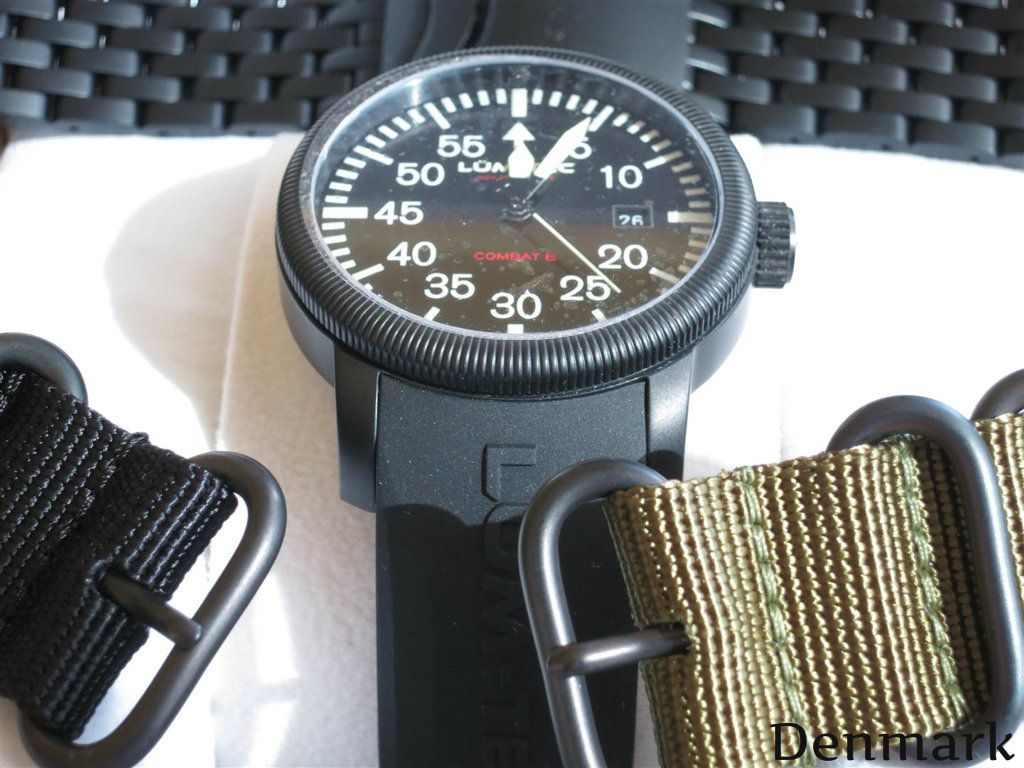 Here's a quick shot of some of the group of locals that attended the lunch.....(Bill's pics)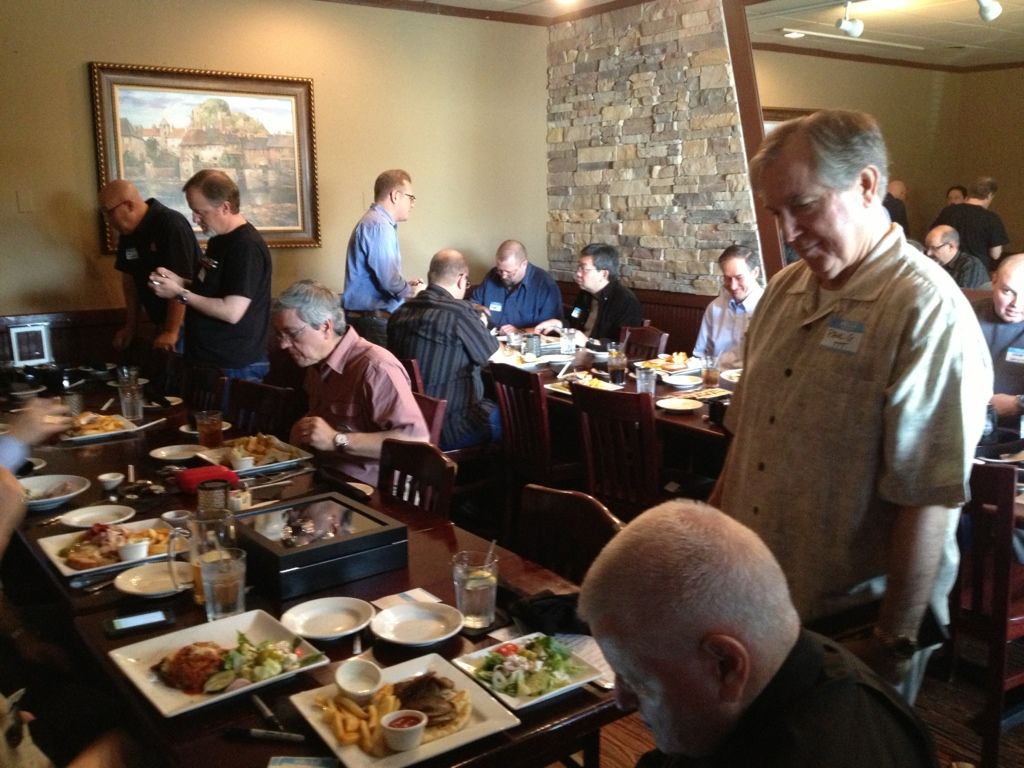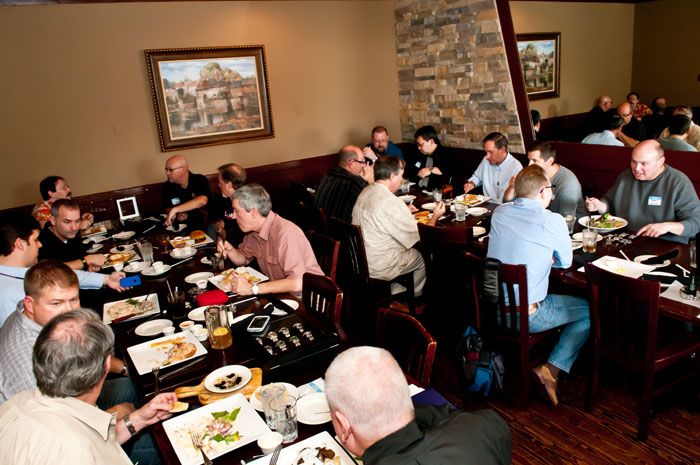 After the luncheon we took a trip to one of Atlanta's "Jeweler to the Stars".....Tara Fine Jewelers;
Atlanta Fine Jewelry | Buford Jewelers, Official Rolex Dealer | Tara Fine Jewelry
We were hosted by the great folks at Tara with a dessert buffet and all the hands on time we wanted with the outstanding selection of Omega, Breitling, TAG, Rolex and Montblanc lines just to name a few.....Tara was offering fantastic deals on their watch selection for our event and let me tell you, those timepieces were not the only thing worth looking at during this event.....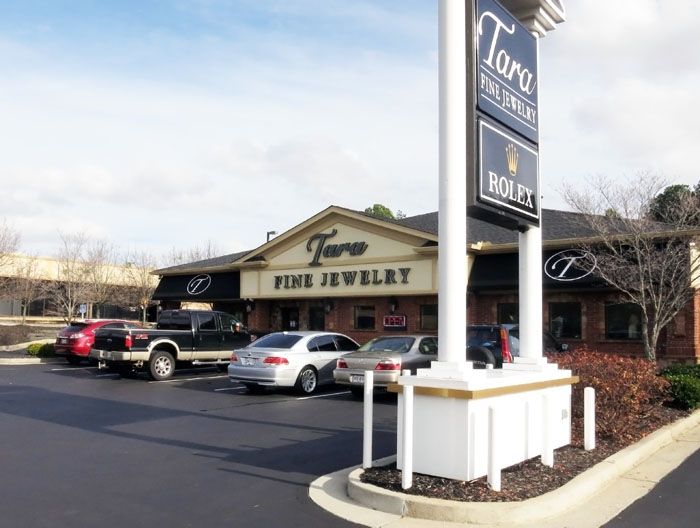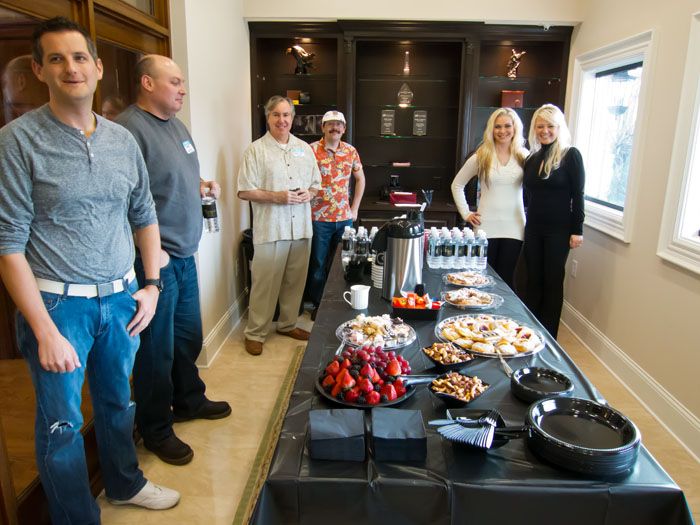 Can you spot my Combat B17 in this picture......
So, going forward my idea is keep this thread going by updating it weekly with pictures and details of the watch' life over the course of the next 365 days; providing my feedback on it performance, durability and functionality as I wear it on a daily basis. While wearing one watch all the time is no big deal for most of the people out there for us WIS it's not something we normally do so my hopes are that I will be able to give this watch a honest chance at a normal life and see where that leaves us!
Thanks to everyone whose interested in following.....and as always please jump in anytime with your thoughts!
Thanks,
Jade330i