Discussion Starter
·
#1
·
Vintage technology appeals to me. A tuning fork watch movement is at once both an impressive technological feat and archaic design. The movement technology might be obsolete but it resulted in the development of fascinating calibers and advancement in timekeeping precession, a real-world product of someone's imagination.
A while back I picked up what I thought was a good looking "C" case IWC "Electronic." While the electronic models are generally far less collectible than more finely finished mechanical models, I still thought it would be nice to get some of the information on these watches in one place since it's generally kind of scattered and I don't recall seeing many (any?) similar watches posted on this site.
Here's my Electronic, which I've posted on the site before: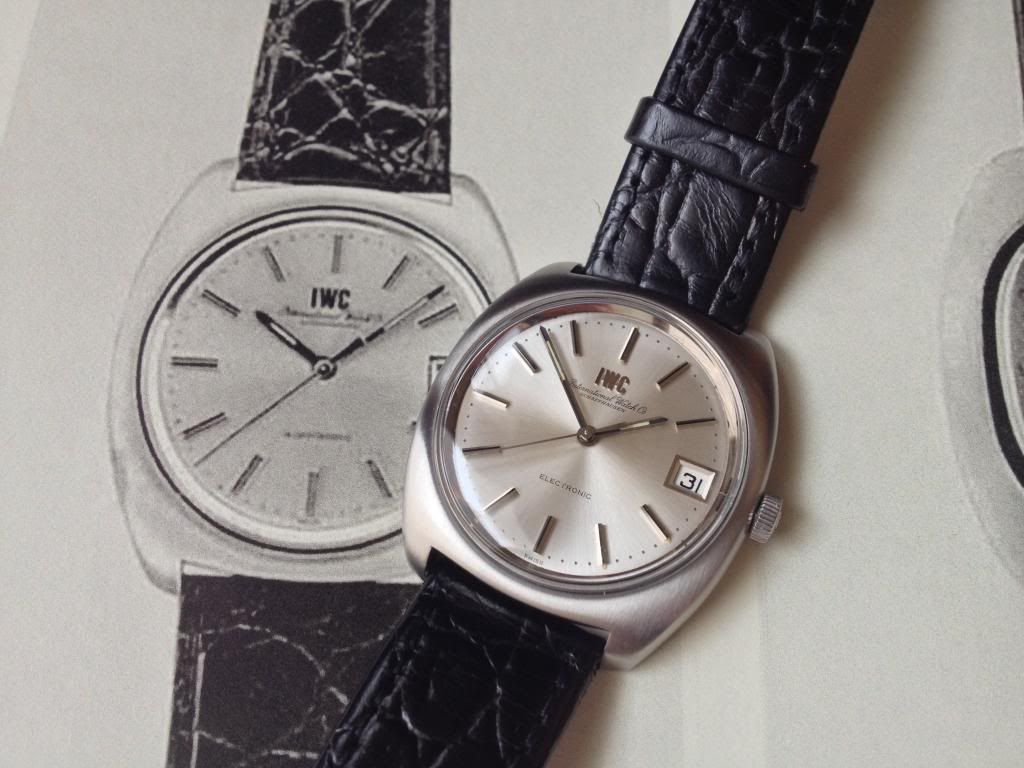 The Electronics were manufactured only during the early 1970s with total production of just around 30,000 pieces. The Electronic and the Edison Electronic (sometimes referred to as the Edison-family models) utilized Max Hetzel's ESA 9162/9164, rebranded IWC cal. 150/160 respectively. The cal. 150 (ESA 9162) displayed the date while the 160 (ESA 9164) had day and date functions. There are many varieties of Electronics using both of these movements out there, though the cal. 160 is relatively less common. They can be had in spectacular condition for only around a $1000, sometimes less.
Both movements can be found in a variety of several IWC case references, though it generally seems that the Edison Electronics typically sported the day/date function as well as less conservative IWC case designs. I don't have a decent stock photo of the Edison Electronic but a quick Google search for "IWC Edison Electronic" will demonstrate my point about the watch functions and the unusual case designs. IWC, like most other watch manufacturers, got into some weird stuff in the '70s.
Electronics were offered in steel and gold like all other IWC watches during the period. Additionally, some of the more unusual models (Edison Electronics) came in polished tungsten.
The 1972 IWC catalog provided a page description of the tuning fork mechanism, which might not provide any ground breaking revelations concerning the quite popular ESA tuning-fork movement, but I thought was still a neat thing to have. I'm only working with a few formal years of German but I tried to clean up the automated translation a little bit anyway: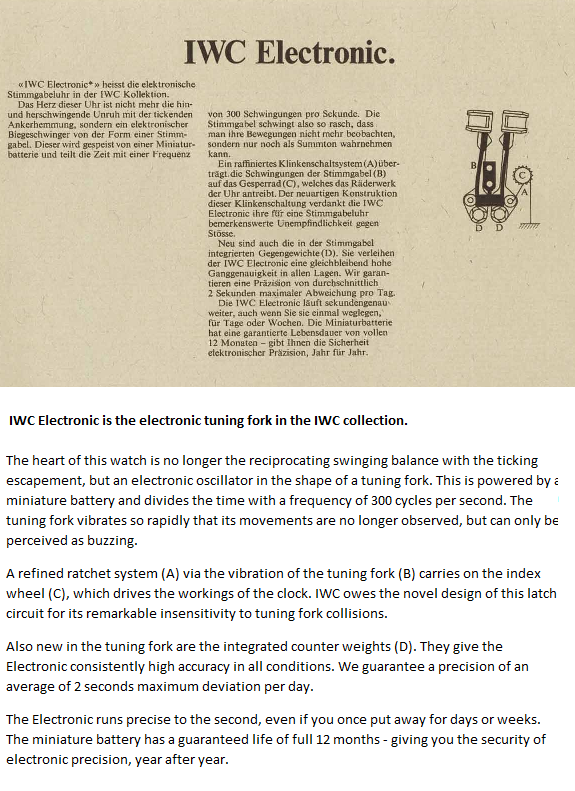 Of course, many other watch companies used the same ESA movements. But there are a couple reasons why I would go as far as to say that these IWCs are the greatest of all electric and tuning fork models of their time. First, IWC equipped a few of their most popular and very classy vintage case designs with these movements, and I personally just appreciate the design more than what I've seen from other makers. Secondly, IWC still services the Electronic models. Most collectors know that one of the greatest challenges in collecting accutrons is the procurement of competent service or proper parts, and all original examples are becoming a rarity. IWC (for a price) will service any and all vintage models, even if it means manufacturing new parts. That kind of peace of mind and reassurance is nice to have in a collection.
Some examples of my favorite electronic case designs: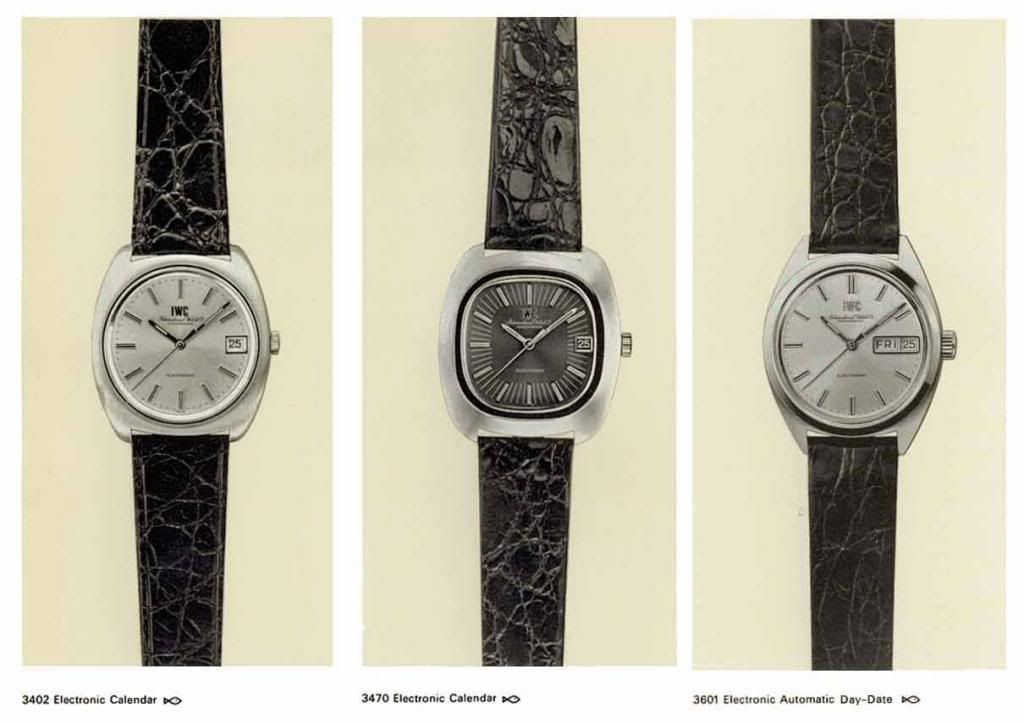 Please follow up with any additional information or pictures you have. On a couple occasions I've seen some confusion about these models. Some people seem to mistake them for quartz watches, or worse, fabrications.