Discussion Starter
·
#1
·
I thought I'd post this since I can't find this watch on Invicta's website anymore, I have it, and I think it's great!
The watch is an Invicta 9538A: 40mm Titanium/Sapphire diver quartz chronograph that an ex-girlfriend got me around 2004/2005. I really like the way it wears, it doesn't pull my hair, and is pretty lightweight so I barely even notice it. What little lume there is sucks pretty bad.
It has a titatnium case, sapphire crystal, titanium/stainless bracelet with solid links and deployment clasp, Swiss quartz chronograph, screw-down crown and pushers.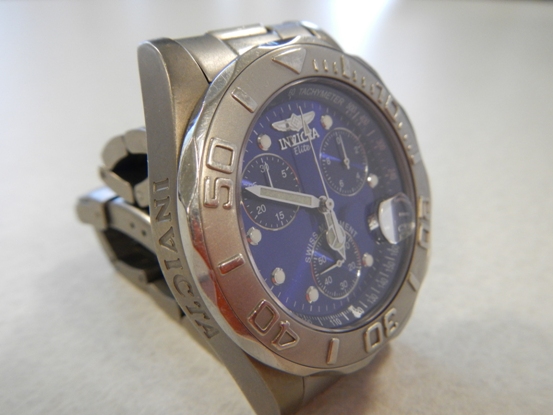 The 40mm case wears great on my 7.5 inch wrist! I think this weighs about 120 grams (I haven't got a scale)
The bracelet on this never ever pulls my arm hair: That is the biggest failing of even much more expensive watches I've tried on. It has solid links with push-out split pins and what looks to be a stamped titanium deployment clasp with stainless folding bits.
I've had to replace about 5 sets of spring bars on this puppy, probably because I'm hard on stuff, and I never took the time to research getting some really strong ones. THe last set I got a few weeks ago from a small watch shop, the guy said he put larger diameter ones in than the bent ones he took out, so hopefully these last.
I have worn this almost daily for about 5 of the last 7 years and it has a good amount of surface scratching on the band, one scratch on the date magnifier, and one scratch on the bezel. The case looks pretty dang good except for a scuff on the 5 o-clock lug.
I think I've put three or so batteries in it, but never had it properly serviced. The closest I've gotten is cleaning the outside with a toothbrush in the sink with some Dawn. I may have had it ultrasonically cleaned at the mall once.
The watch had an 'unanticipated decrease in altitude' once during my rapid exit from an apartment a couple years ago and fell clean down 1/2 flight of concrete stairs. The bezel and bezel spring exploded off and the spring was lost forever. There was no apparent damage other than a scratch on the bezel and scuff on a lug. Invicta customer service is awful (what little their was that I could contact), and they wanted me to send the whole watch in, even though I gave them the exact model, measurements and part that was missing.
I just discovered that an Omega Seamaster pro bezel spring/ratchet might fit, so I have one on the way and am excited to get my BBQ timer/drink counter back in action! EDIT: The Omega bezel ratchet only sort of fit and doesn't ratchet, and makes the bezel really hard to turn in either direction. I think I'll try Invicta cust service -again- to see if they will sell me that part. It hink it's the same as an 8926, so that might be good.
All in all, I really like this watch, I love the weight and look, but the terrible lume perpetually annoys me.
And here are the pictures: