I am generally a Hamilton man by interest but, I have pieces from most all of the high grade American manufacturers in my modest collection. To this point I have only really been missing an Illinois. But, price and scarcity have prolonged my search. I have long admired Rick and Greg's collections and passion for, and dedication to all things Illinois.
About six or eight weeks ago, as some of you might remember from my posts, I spent part of the day in Springfield, IL at the Farrell and Ann Gay, Illinois Watch Museum. After the visit, it just reinforced in my mind, at some point, I really needed to add a nice example of the "home state" manufacturing done by the Illinois Watch Company to my stable.
Since then, I have been diligent in looking online and anywhere I might happen to visit that might have an Illinois wristwatch for sale. But, most of those places are inhabited by usual suspects who know what they have or, are looking for a premium. So, the going has continued to be slow.
So, when recently I was scanning online offerings, and came across what appeared to be an original Illinois dial and movement that was housed in a case I didn't recognize, my interest was piqued. The case was very interesting and looked to be in very good cosmetic and structural shape, and from the correct period to accent the watch. The movement was listed as running and maybe stopping occasionally. But, in my experience, that generally means the balance is in good working order and all that might be called for is a good COA. So, I was intrigued, would this little jewel turn out to break the bank or not?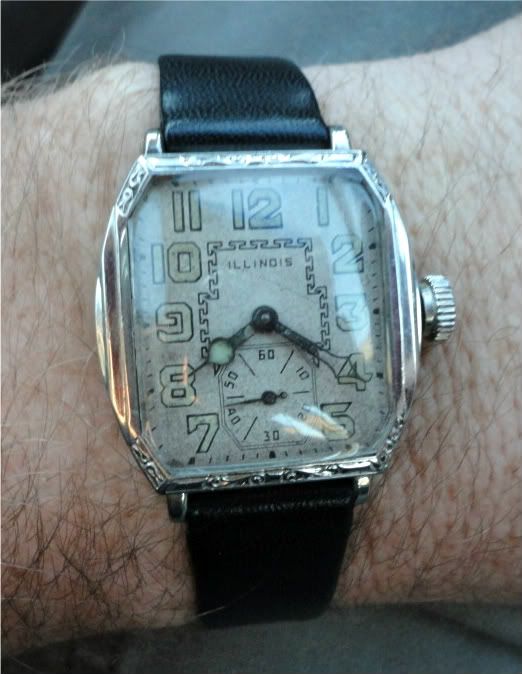 I did some homework on what dials and movements should bring and researched further regarding the case. It was listed as a Star Watch Case Company, "Stellar" case. The seller thought "Stellar" might be the model. But, I had remembered hearing that Star had used names to specify case material so, I started looking and found that "Stellar" referred to a 10K rolled gold plated case. (This one happened to be white gold plate.) The engraving is quite striking. Some black enamel will make it even more eye catching. (Case 32mm W X 34mm L X 8mm T)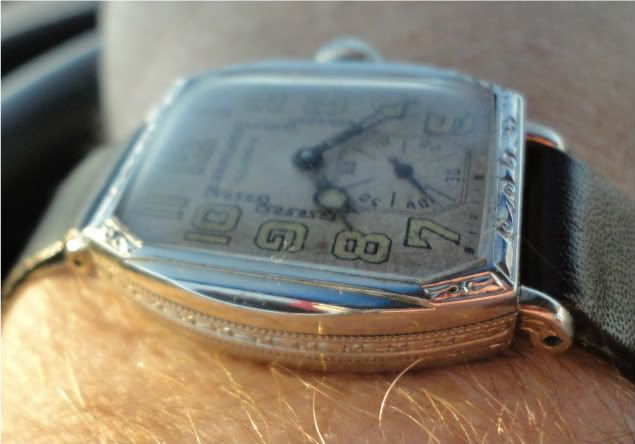 The 307 movement dates to 1931 or 1932, after the company had sold to Hamilton. So, a case from a company known for replacement cases could support a few different scenarios.
First, it might have been a case Hamilton utilized to clean up some existing Illinois stock of movements, dials, and such during the ensuing consolidation. Or, it could be that a subsequent owner of the watch re-housed the movement and dial in a new case after the original wore out. Or, it could have been a replacement after the subsequent owner melted down a solid gold case during tough times.
I tend to think it is unlikely the case is original to the watch. The case seems to be much crisper than I would expect for the shape of the dial and hands. But, maybe the seller spent more time than normal in cleaning and shining it up and it was worn gently through the years.
I know a lot of the purists here might not be interested in this particular watch. But, it at least temporarily fits the bill for me. Its heart started beating in the factory where it all started! And, for the price I paid, in my opinion, it is a very nice addition to my wrist wardrobe until I find a completely, historically correct model from the 20's.
Any thoughts on this watch and what it might have been or, if it could be correct model for the Hamilton/Illinois era would be greatly appreciated.
I intend to do more investigating into Star Watch Case Company. I find it interesting how they fashioned their niche in the watch business.