Discussion Starter
·
#1
·
My wife and I went to a local auction today in Amish country that we frequently attend. Sometimes they have watches, always have some really crummy clocks. Today they had a nice Illinois "Aristocrat" Double sunk dial with a gold filled case that seemed like it was running pretty good. I have just recently been learning about pocket watches and thought I would give it a go. I don't think I overpaid, and the bidding "wars" are always fun.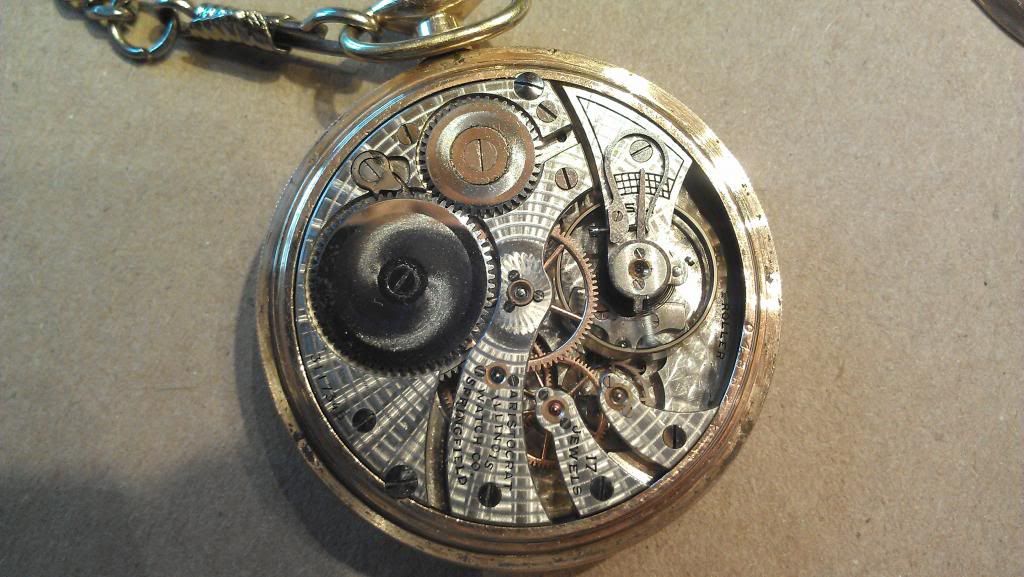 I have been looking for a nice "daily wearer" pocket watch that I can use for my cowboy action shooting costume and this will fit the bill nicely. It has a not so obvious scratch on the crystal from the 7 to the 4, and under magnification you can see that it was someones daily wearer because the bottom rim of the case has a wear (not through the gold fill) mark like it was carried crown up in the owners pocket. The case back also has some nice tastefull floral engraving on it that also shows some pocket wear, but no big scratches anywhere. It's the perfect watch for Cowboy Action. I bought a nice Hamilton RR watch a while ago that is just too darned nice to wear for that type of rigorous activity.
I think it is a size 12 watch, and a model 10 movement. The case back and case serial numbers both match, and the serial numbers show it was manufactured in 1917. I didn't see the case listed in the book (complete price guide 2012) where I also looked up the movement and mfg. date. That was actually quite a bit of fun and I can see why the pocket watch guys get such a big kick out of researching the watches. Some little bit of detective work and it was kind of satisfying.
At least my score was easier to carry than my wifes six cattle brands and wrought Iron "display" rack
Shown next to fireplace poker for comparison.
Now all I have to do is get a gold chain to replace the nice, but silver colred one that came with the watch, and find a fob that will go with my "alias". It's in the watch pocket of my jeans now and I think I will wear it for a while.:biggrin: