Discussion Starter
·
#1
·

THE X-33 PROTOTYPE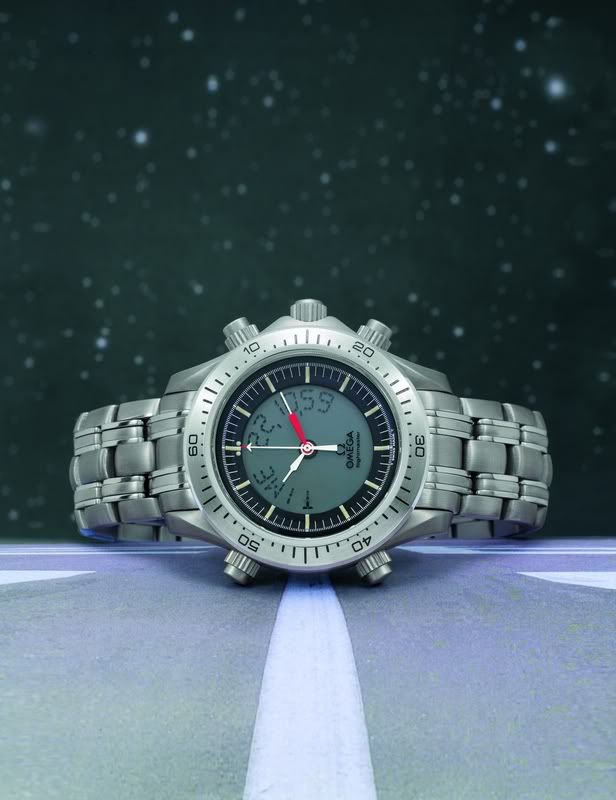 ​
When the requirement was established for a new wristwatch with multi-functional capabillity and which met all the criteria for flight-qualification, OMEGA produced two prototypes. The first was made in a batch of 100 units
​
It featured a single case back but offered a low-decibel alarm.
The second prototype incorporated a double caseback which amplified the alarm to 80 decibels – the loudest alarm on a watch. Development of the X-33 thus began in 1995 with evaluation of the units produced being made by astronauts on both sides of the Atlantic as well as pilots of the Blue Angels and Thunderbird squadrons. The evaluative process which lasted a total of 5 years concluded with the advent of the Speedmaster Professional X-33. At the specific request of NASA, titanium was used as the case material owing to its' properties, that of being hypo-allergenic, non –ferrous, non-magnetic, light and being extremely robust. The watch featured an analogue and a digital display in company with many higher functions which were a result of the evaluative process.
The Flightmaster above, numbered 09/22 was made in 1996. It was housed in a titanium case and presented on a titanium and stainless steel bracelet with deployment clasp. Its' polished, brushed case featured a bezel with minute and seconds divisions. Its' double caseback was secured by no less than nine screws. The dial of this new watch which was then still under wraps highlighted a green display with luminous painted baton indexes. An outer minute track had 1/5th sub-divisions for seconds much like its' manually-wound sibling. Luminous inserts were provided for the feather-shaped hands with the main shaft of the minute hand painted in red.
To be flight-qualified, the X-33 had to satisfy its' evaluators of the following criteria –
- accuracy to within -0.3 to +0.5 seconds per day
- water and pressure resistance to 3 bars
- shock resistant to 3500 g's
- be antimagnetic
- temperature resistant from -20 degrees C to +70 degrees
- have a special alarm
- lighting
- pass all vacuum tests
In addition to absolute time the watch also displayed
Military time,
Universal Time (GMT)
and mission elapse time (MET)
with an an alarm for each. This was a necessity since while most tasks on spacecraft are performed according to MET, the Space Shuttle uses Central time and the ISS is on Universal Time. Thus having all these times available on one watch it reduces the need for multiple watches. That apart, it is however not unusual to see astronauts wearing two watches, often in the case of the "X-33" one with a titanium bracelet and one with a Kevlar bracelet. This purpose of this is provide the user with instant recognition of which watch was performing which function. The name eventually given to the watch was the Omega code name for the project. It was to become so popular that the name was retained as the designated name for the watch. It was then decided that the watch would be placed in the Speedmaster Professional line due to its association with manned space flight.
Functions of the X-33 as tested
- TIME ( hr, min, sec )
- perpetual calendar ( day, date, month, year )
- ALARM
- MT elapsed mission time up to 999 days
- MA elapsed mission time alarm
- UT universal time (two timezones with day number)
- UA universal time alarm
- CDT countdown up to 100 hrs with alarm
- CHR chronograph to 1/100 second up to 100 hrs
- End of battery life indicator
Dimensions
Diameter 44 x 49 mm
Case Depth 15mm
A pilot's impression of the X-33
http://www.timezone.com/library/comarticles/comarticles631681530107424115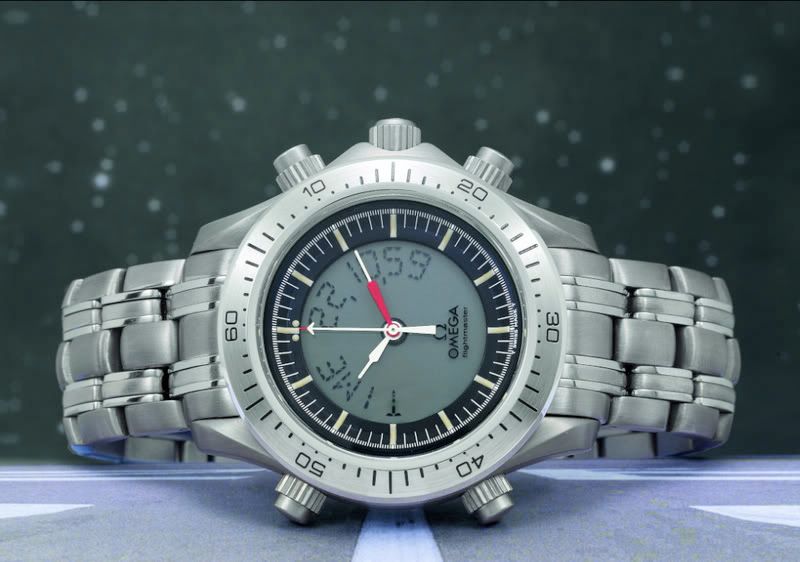 Pictures - antiquorum.com, sources
Houston

​