Discussion Starter
·
#1
·
I have these 2 invicta quartz watches that I can't reset the chrono minutes sub-dial. The invictas just have a generic manual to reset the minutes sub-dial on the chrono.
Manual has generic instructions and says IIRC pull out crown to position 2 and hold pusher "A" until the dials move and then single pushes of "A" will adjust large seconds hand. On both of these watches with the crown in position 2, single presses of A will adjust the chrono seconds (large hand) one position, and holding pusher "A" will sweep instead of single steps.
The manual says that pushing "B" will select the next hand (minutes sub-dial), and then pushing "A" will move the minutes, but it doesn't, only the seconds hand will still move.
Advancing the seconds hand will also move the minutes hand, but once you push the crown back in and use the chrono, the minutes hand will reset itself back to the wrong position instead of zero'ing in.
Invicta says they will repair these if I send them back in, but it's a like a $25 return fee + the cost for me to ship to them, which I'm trying to avoid.
Sorry for the blurry pics. Can anyone help getting these chronos adjusted?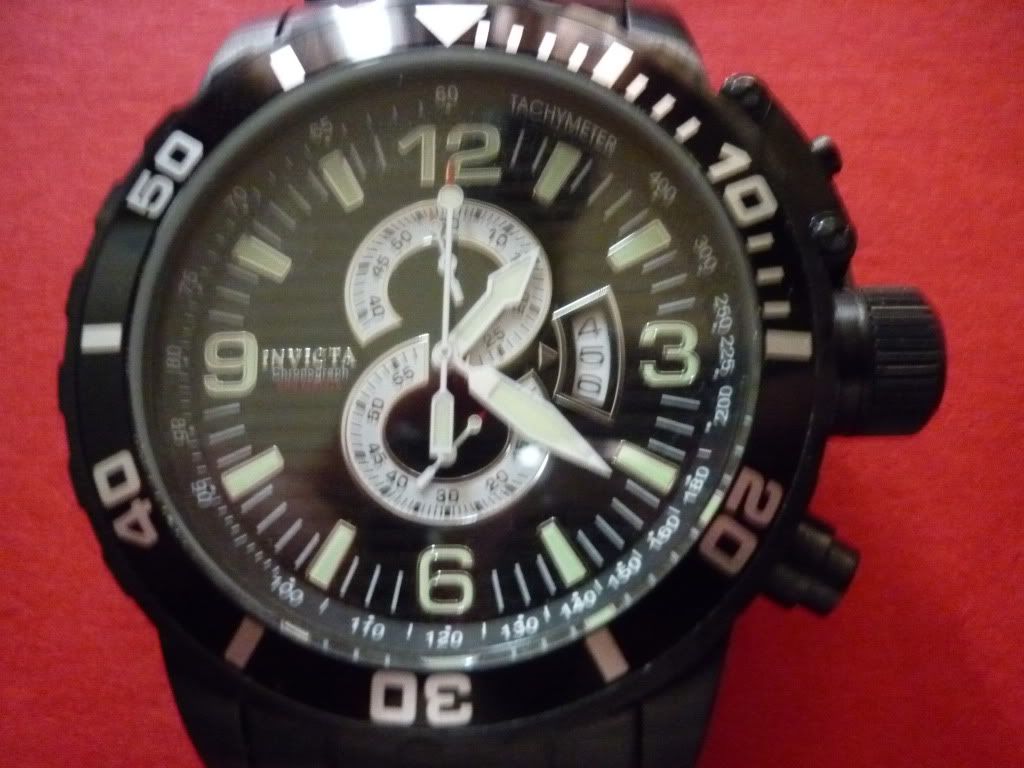 This is an invicta 4902, I believe the movement is a TMI ZD51. The minutes top sub-dial has the minute hand at the 57 minutes mark instead of 0.
This is an invcita 2272, I believe the movement is a YM92-A. This is a lefty watch, so the bottom pusher is the "A" pusher and top is the "B" pusher. The minutes bottom sub-dial has the minutes hand at 4 minutes mark instead of 0.:sad: