When I was a kid, the Hathaway shirt company was a classy participant in the world of men's fashion. They were represented in print and on tv with an actor who wore a patch over one eye, adding a little macho mystery and panache to the brand. I think that was the brainstorm of ad guru David Ogilvy.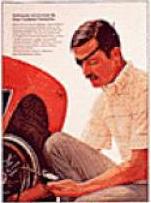 I am curious what you think gives Hamilton it's style and panache?
Vote for as many answers as like.