Discussion Starter
·
#1
·
I think I'm turning Japanese... haha
Anyway, I began collecting with Seiko and Orient, buying their 50-150 dollar watches and honestly I got burnt out because I bought most of what they had to offer. Now that I'm buying more expensive pieces, a whole $300-400 now... I'm back from Swiss land to see what the Japanese had to offer at a higher price point. After looking around for what seems like forever, and thinking over and over about what I really wanted in a watch I found it. My original criteria called for a 36-38mm watch, comfortable, sapphire, and 100m resistance. After looking at the SCVS/Sarb lines, and the Orient Star's... I found a picture that showed me the case on the scvs001, I was sold.... the case design on the newer spirits like the scvs011 and Sarb023 were too blocky for me... I wanted something understated/classy but not out of place with jeans.... The pillow like case with rounded lugs that are aggressively turned down... so classy IMO... the cream dial with gold (I know I know) can go with jeans/Khakis/or Slacks.... just ordered from Seiya for the first time... can't wait!
Here is the pic that really grabbed me... the case design of this watch has to be comfortable after looking at all of the lines... just classic IMO..
This one also interested me in that I love how the lugs hug the wrist... The orient stars did not appear to do this...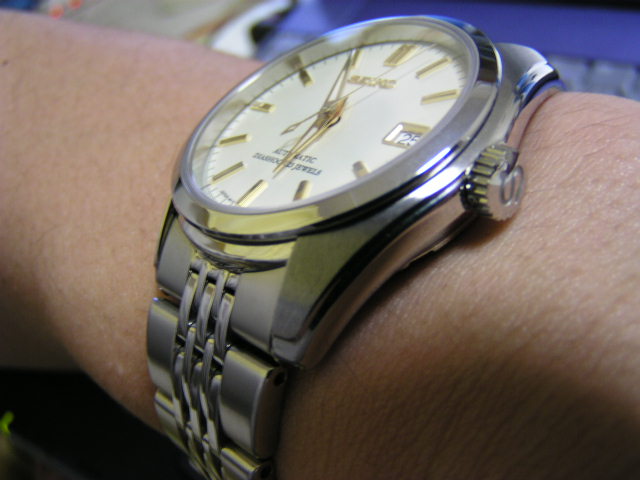 None of these are my pics!