Discussion Starter
·
#1
·
Hey all,
I just pulled the trigger on a Chase Durer WarHawk Pilot watch OTV. It's actually my Christmas present from the family.
50mm Titanium Case, Swiss Made, Unitas 6498 mechanical mov't, K1 Dome Crystal, Anti-Glare Coating, Leather strap. I saved $80 with a coupon.
I've always loved the IWC big pilot watch and this is about as close as I'm going to get. I noticed that Debaufré sells one like it.
Thank God for Value Pays because my car broke down and I'm $2,200 in the hole on that, so I'm lucky Santa is visiting at all.
The name on this watch is WarHawk. It seems to be a bit on the antagonistic side and I'm not sure if I like that name on a watch. I know it's a military pilot-style watch, but even the real McCoys didn't have names like that on them. There's a Hamilton pilot style on the same site, with the Unitas mov't, but it's not the same style. It's kind of boring looking.
Here's my question: WOULD IT BOTHER YOU TO HAVE THE NAME WARHAWK ON THE DIAL OF YOUR WATCH??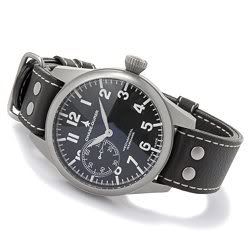 Image courtesy of ShopNBC.com