Discussion Starter
·
#1
·
I am in the market for one to compliment my Lum Tec M20 which has a carbon fiber dial. I have 2 questions:
1. Who makes an authentic carbon fiber, high quality strap. I don't want any cheap imitations here or some kind of material made to look like CF.
2. Most of the "authentic" carbon fiber straps I've seen look like thatched black leather and don't have the nice, black and gray contrasting shades that the dial and real carbon fiber has. Are these actually fake?
For example: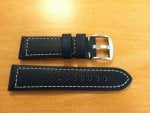 Please educate me on CF