Hello again guys & fellow Arnie admirers & collectors,
it's good to be back with a close-up short study of the watch that Arnold wore in his Military drama action-packed film Commando.
As some of you brothers from (Military Services) will naturally know & for the other forum members reading this post, A Commando group is:
"An Expert team of amphibious military units & individuals trained for raids into enemy territory which include search & destroy missions & various covert ops, and are taken from the various special teams within that specific branch of Military force to form that elite team."
The wristwatch is an intergral part of a Special forces or other Special-Ops team uniform, with the Divers Wristwatch being the hallmark of Wristwatch choices worldwide for service in active Military Duty.
The "Seiko Divers" wristwatch has quite possibly had the largest following with service on many Military servicemans wrist's since the 1960's most notably with the Vietnam war & the useage of the 6105-8XXX models and Bellmatics and chronographs, right up to currently today serving in Iraq & Afghanistan with distinction.
Suffice to say, many vintage Seiko Diver 6105 & 6306/6309's and H558/H601's as well as Tuna's are still being proudly worn today by Military personnel on duty around the globe.
When Seiko unveiled the H558-500X series of Analog/Digital sport diver watches in the early 1980's, they became an instant hit with many of the USA's, European and International Military forces around the world.
Many elite US special ops teams wore these models entirely as an self-issued Personal & Duty watch, that held the much needed & desired Military used distinctive features most notably used dual 12/24 hour time modes with Countdown features & alarm with backlite display with hacking feature. (Shown below is my NOS H558-5009)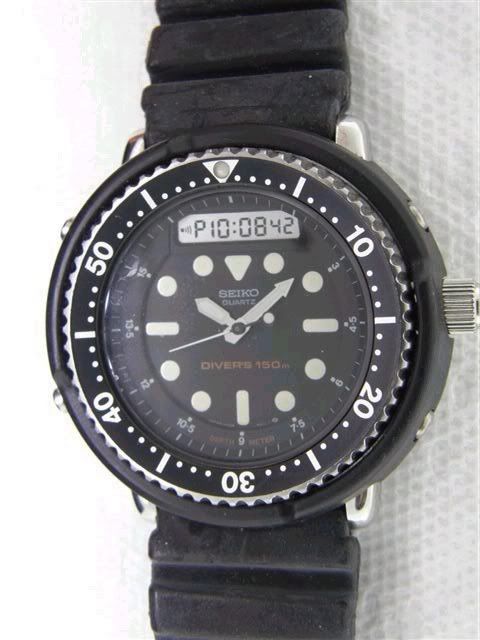 ~With the action packed films of Commando & others such as Raw Deal, the H558-500X sport diver watches have attracted a huge following in the watch Collectors community as well as all others.
No where is that feeling of hard core WISdom of the attachment to Military & heroism seen more, than in the 1985 Film (Commando) starring "Arnold Schwarzenegger" as that Ex-Commando drawn back into action wearing the Seiko H558 Arnie.
In a brief glimps of the Commando Film, we see a close-up wrist shot of Arnold which is supposedly the Seiko H558 Diver to the general public, but is known to collectors familar with this watch to be merely a (Mocked-up) model of the real H558 made for the "high visibility for TV viewing" showing a set of double dial chronograph registers and large LCD read-out panel which is supposed to depict the Seiko H558 Diver, but clearly to the trained eye it isn't at all how the real H558 dial appears. (It's Funny how Hollywood thought they needed an exploded eye-candy dial shot which featured a working count-down digital panel)
Below is a large pixel exploded film-clip view of that very H558-Arnie Hybrid eye-candy wrist shot, where he (John Matrix) is setting the countdown timer to time the hours & minutes left to "find & rescue" his daughter (Jenny) from the bad guys (Bennett & Cohorts)...Then as we know, all heck breaks loose!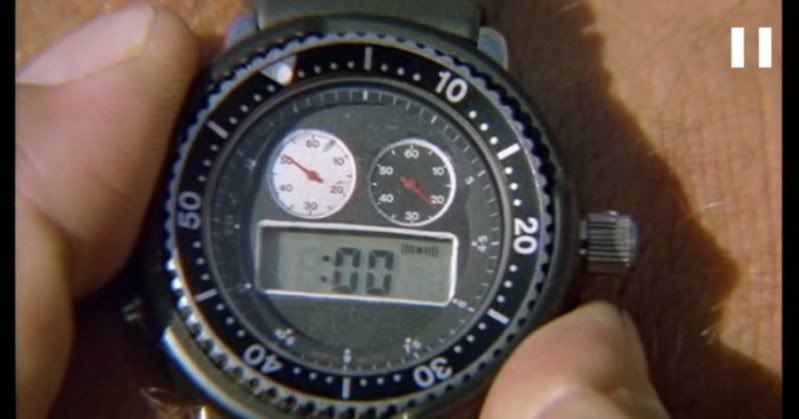 "Welcome back John, So glad you could make it!"
Hope you enjoyed this post- :thumbup1:
Cheers & Hasta La Vista-
Jimmy