In the grand scheme of things, air conditioning is more important than watches so these are going to help fund a new central unit. The first on the block is this 1952 Seamaster reference 2576 bumper caliber 342 with a white waffle dial and rose gold hands & markers.
The dial is original with some patina and slight discoloring at the edge of the dial between 11 and 2. The movement is very nice and keeps great time, plus it was serviced last year.
It will come on the croc strap shown for $650
now $575
, or a more basic tan leather strap for $600
now $550
. Basic USPS Priority shipping included within the CONUS.
Next are these two project watches.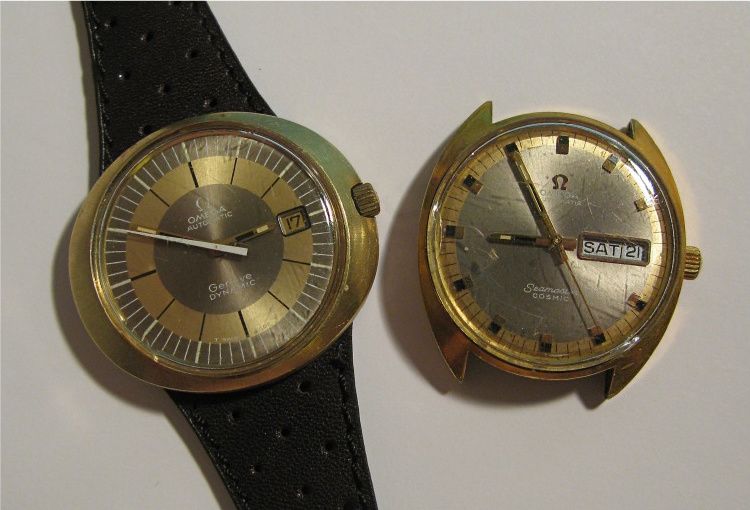 On the left is a caliber 565 Geneve Dynamic. The dial is in excellent shape, it has a new aftermarket strap, and starts ticking as soon as the crown is turned when the hands are moved. The original crown and hands are on it also. There are a few small dings in it but nothing monstrous. With a new crystal and a service this will make a cool watch. Asking what I paid: $250.
On the right is a caliber 750 Seamaster Cosmic. This dial is also in great shape and this movement also starts ticking the second the watch is moved. Original hands and crown too. There's wear on the caseback plating but nothing visible when on the wrist. A light polish and a new crystal will make this a very cool & funky regular in your rotation. Asking $200.
More pictures are available upon request and offers entertained on either of these two. Contact me at dhkanagie @ gmail . com (remove spaces) or simply PM me here. Thanks!