A PHOTO TOUR OF RGM WATCHES
By: John B. Holbrook, II & Dennis Kanagie
10/30/09​
After having spent the morning of October 30th touring the NAWCC Museum (
click here to read the photo tour
) Dennis "ulackfocus" Kanagie and I grabbed a quick lunch at a local diner, then headed over to the RGM Watch Company Headquarters in Mount Joy, PA: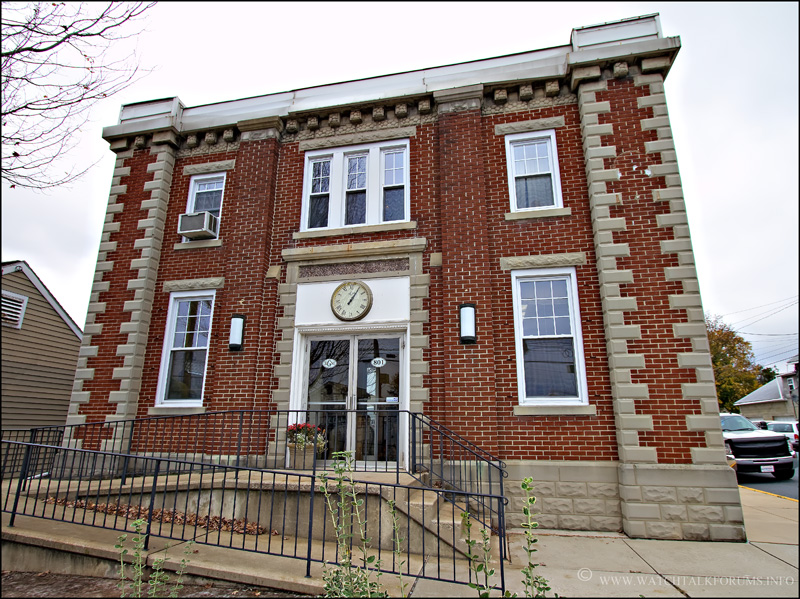 We went inside and were greeted by none other than Roland Murphy himself, the owner and founder of RGM. Here's a photo of Dennis with Roland.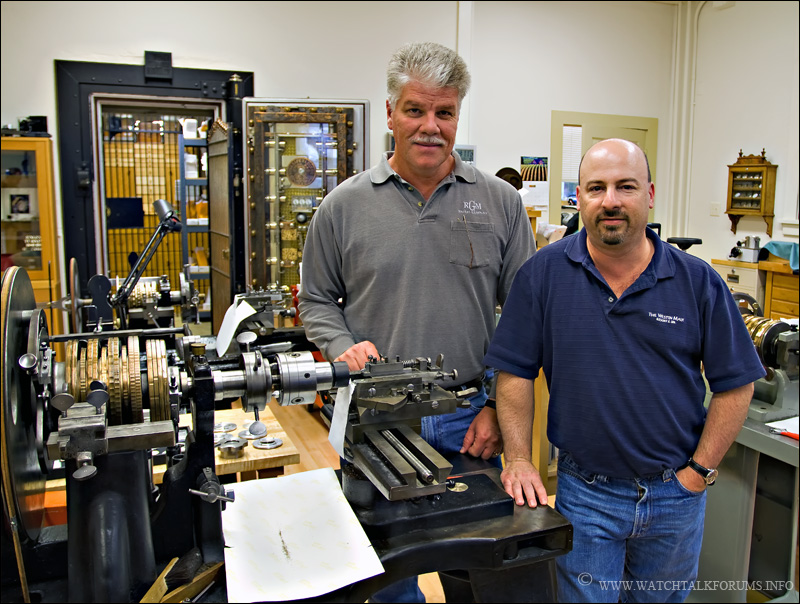 Roland is a 1986 graduate of the WOSTEP program in Switzerland, having previously studied watchmaking at Bowman school in Lancaster, PA. - only a short distance from where RGM is headquartered today. RGM, introduced its first watch in 1993 and has been steadily growing ever since, garnering every increasing respect for their dedication to classical watchmaking, and for their capabilities to do custom work. Roland has a strong passion for American Watchmaking, and RGM has the distinction of being the last remaining American watch manufacturer (thanks to advent of the entirely in-house designed RGM Caliber 801, which is the first American made caliber in over 35 years). Roland is continually striving to bring more and more of his production in house and rely less on Switzerland for components.
Roland and RGM also specialize in the art of
engine turning
- a centuries-old craft that, today, involves the use of antique machines (called a rose engine) to engrave delicate patterns on metal watch components. Also known as
guilloché
, this particular decorative style was made most famous by the Breguet.
Here's a copy of one of the only know books on the art of engine turning techniques which Roland owns - it was a very small publication run, and quite valuable to collectors: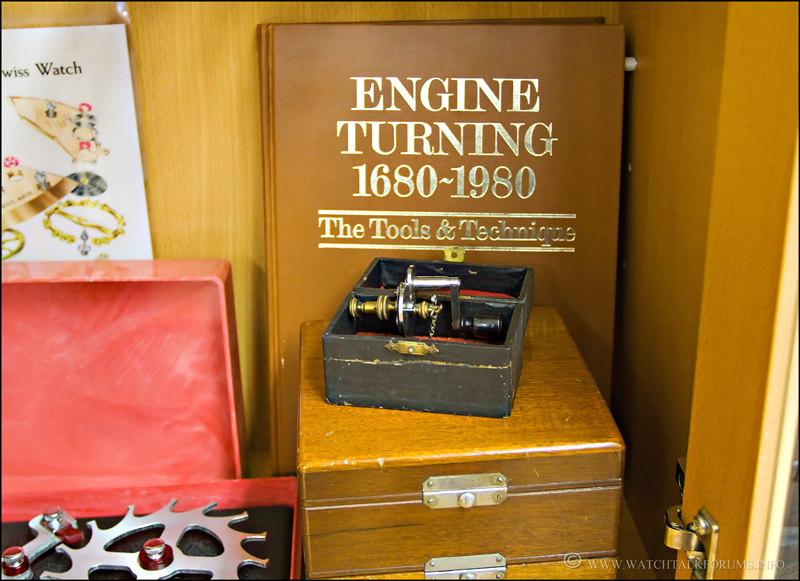 Roland has invested in several rose engine machines he's purchased and restored from around the world (mostly from Switzerland and German) which allow him to produce engine turned dials, cases, and even on movement components. Engine turning is as much of an art as it is a science - and very much a lost art in the United States. In fact, Roland had no idea how to operate the first rose engine machine he acquired - it took him several years of accumulated training time he spent with masters in engine turning both in Europe and in the US to get a basic foundation of expertise.
Here's some photos of the engine turning machines in RGM's workshop floor which Roland uses to create his masterpieces: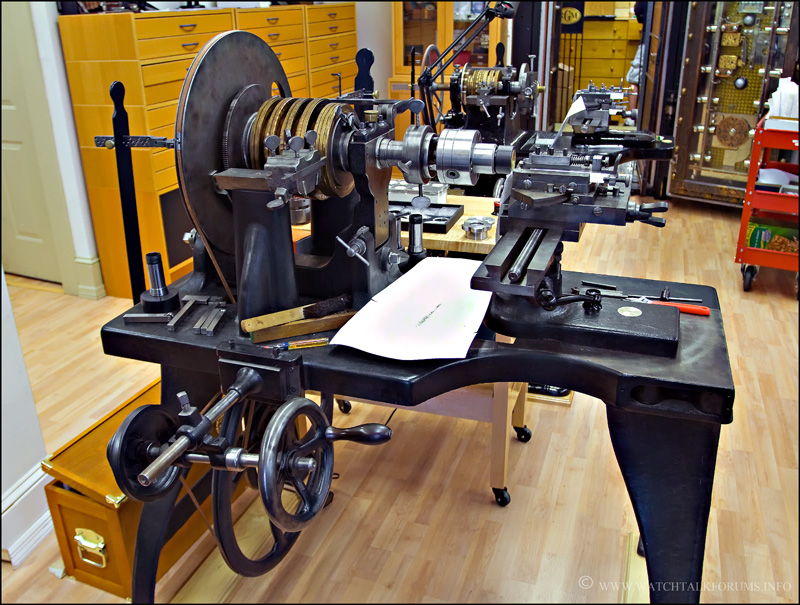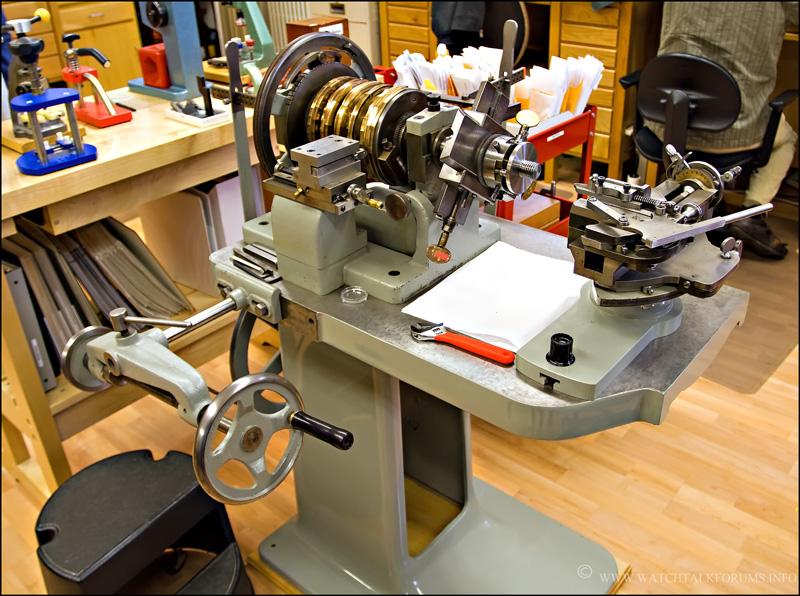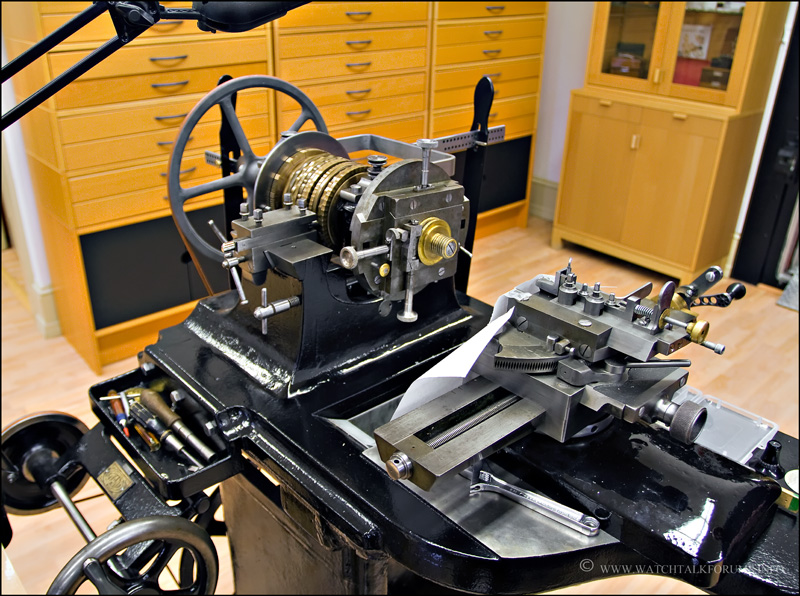 The heart of the rose engine machine are these round plates called
rosettes
: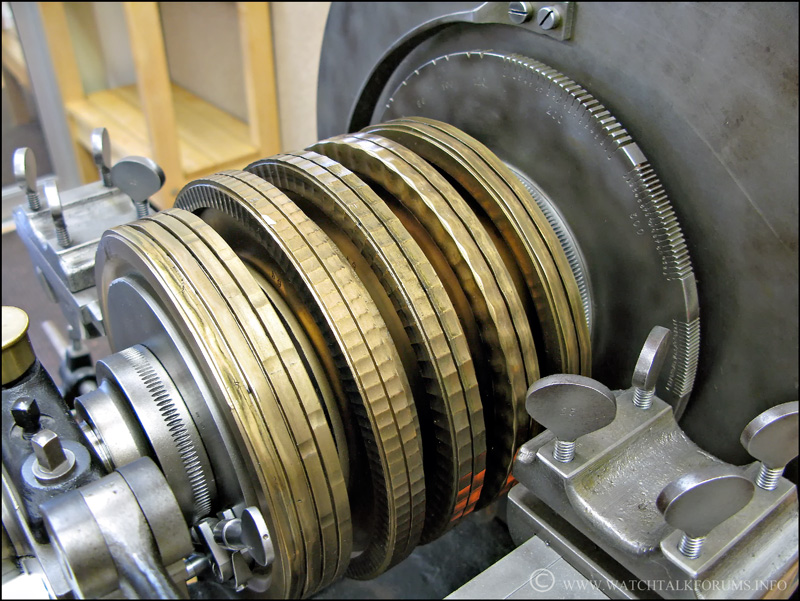 The rosettes can be configured in a nearly endless combination to create the repeating patterns which get cut into the surface of the part being engraved. But the machine operator must rely on expertise learned through practice to develop the "touch" for how much pressure to apply, and the speed at which to turn.
Here's some examples of engine turned dials: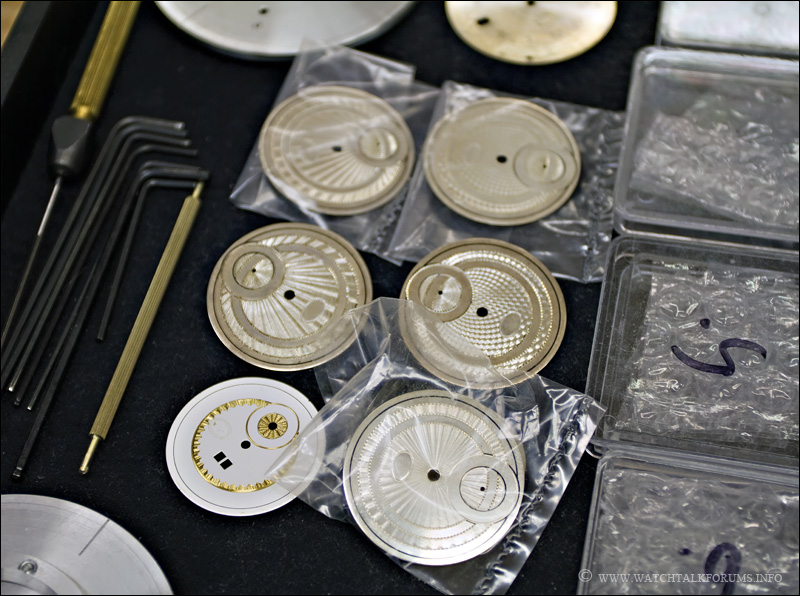 This dial didn't quite pass RGM's quality standards, but it gives you an idea of what a finished product looks like: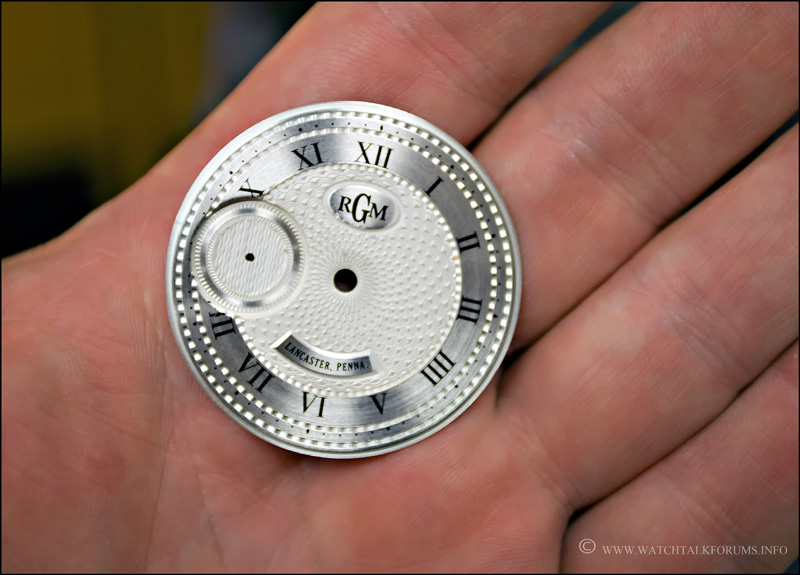 Personally, I think RGM's "reject" dials look better than the 1st quality production of many watch manufacturers.
Roland actually gave us a demonstration on how the engine turning machine works: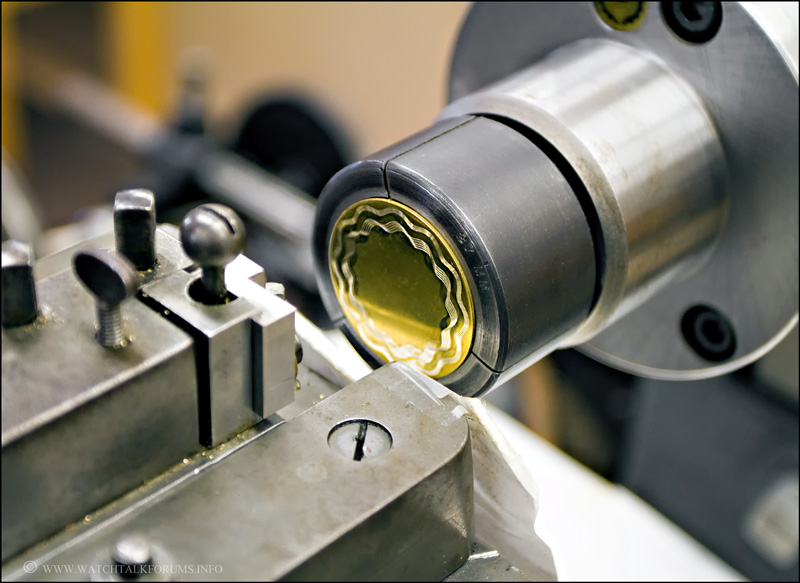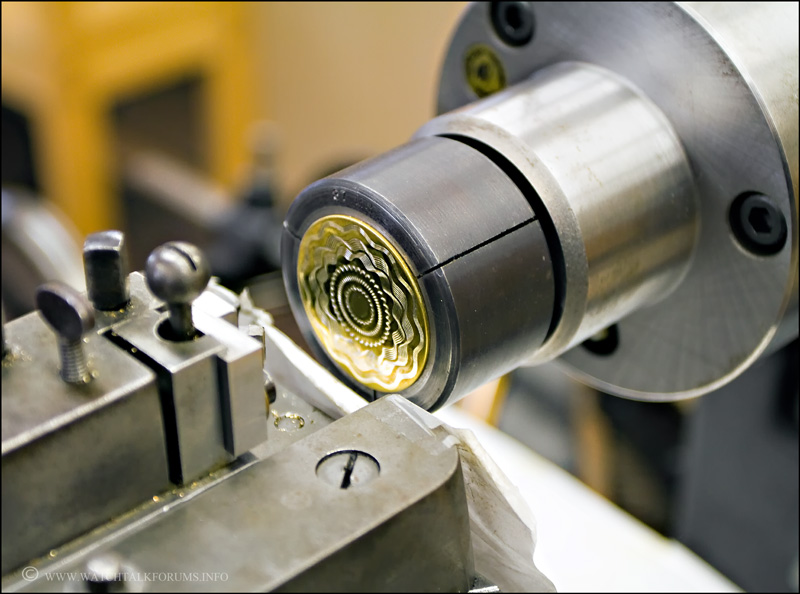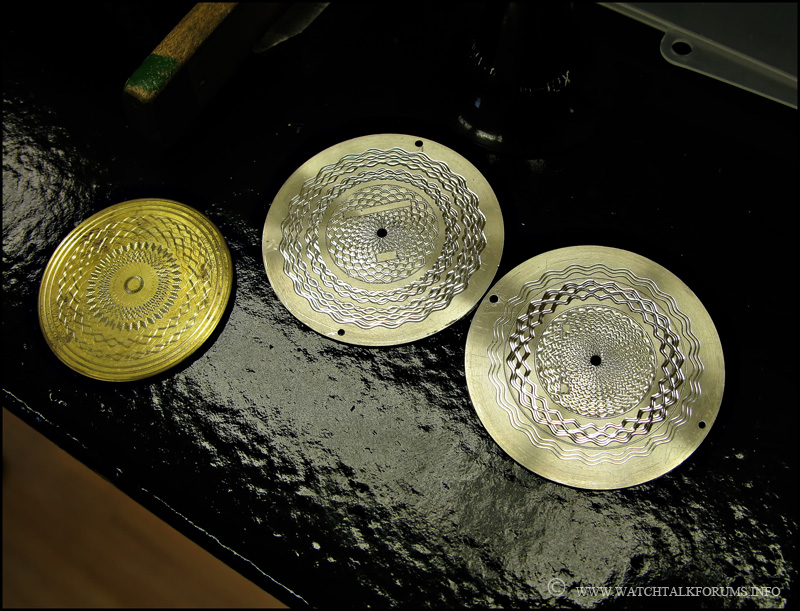 For more information on the subject of engine turning, please click here.
Here's a photo of RGM's Richard Baugh operating a "Plant" Straight Line Machine" - often used for dial decoration: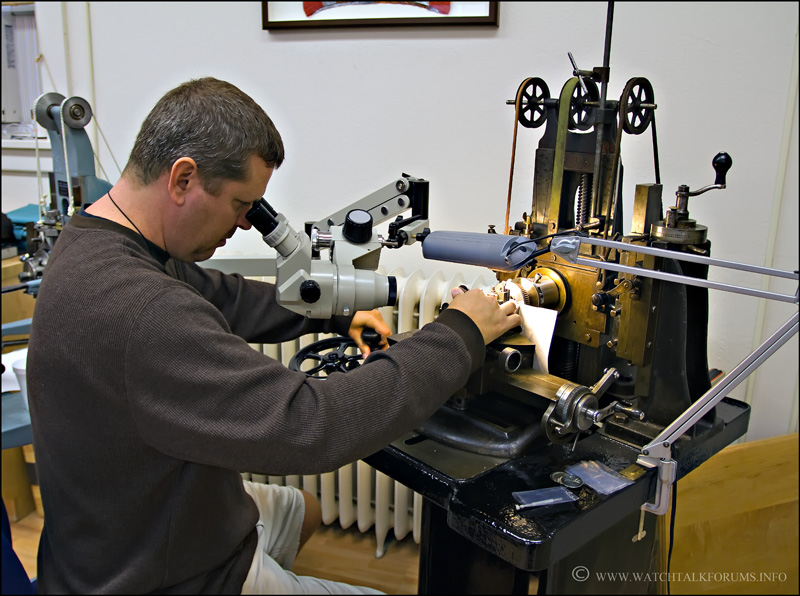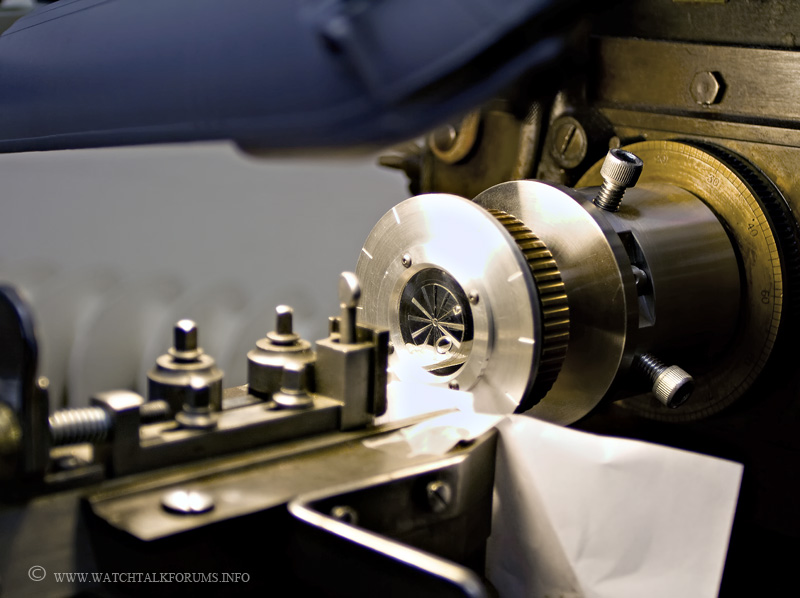 Anyone familiar with RGM products knows the company takes great pride in embellishing the movements in their watches. Here we see a small machine that RGM uses to apply
Côtes de Genève
or Geneva stripes: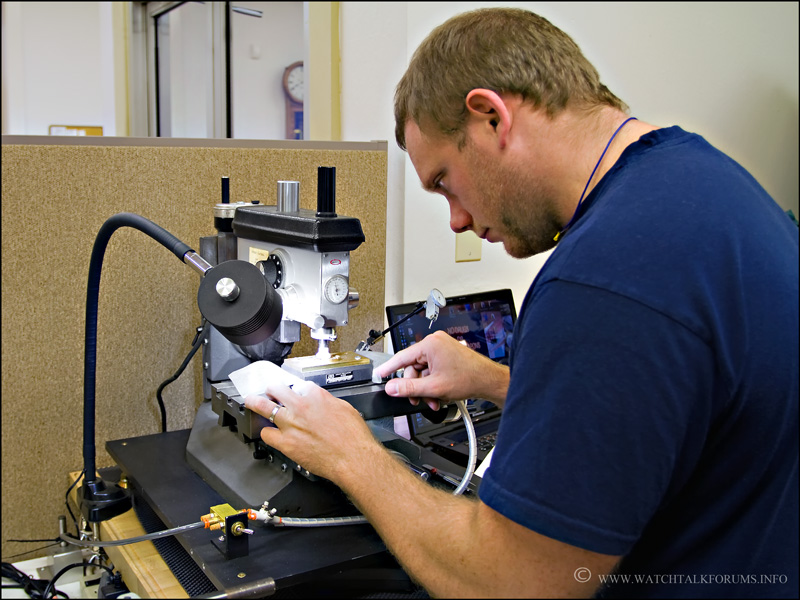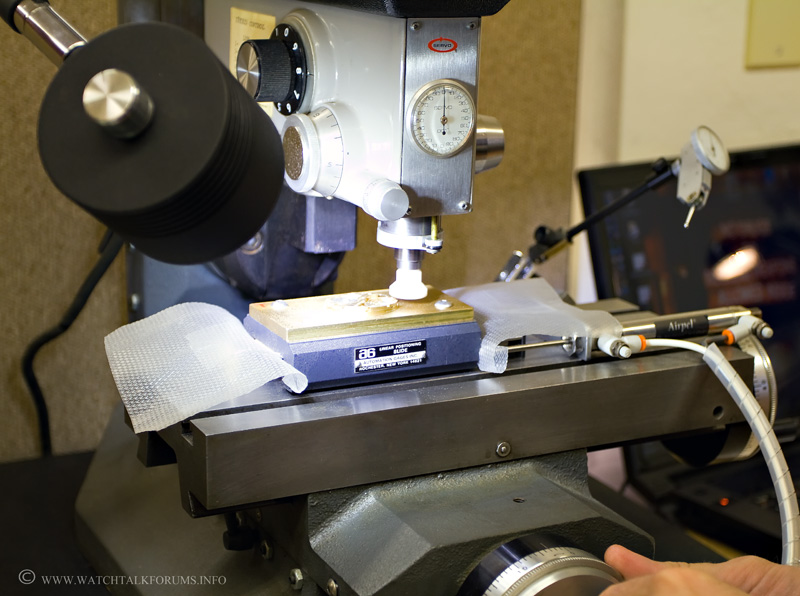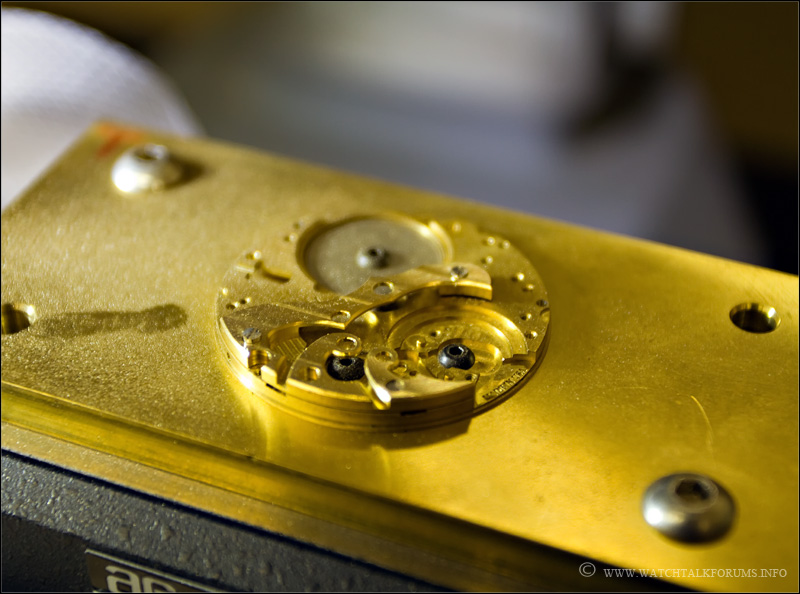 RGM is striving to pull more and more aspects of their watch production "in house" and has begun manufacturing the cases for the RGM Series 151 - a 38.5mm case: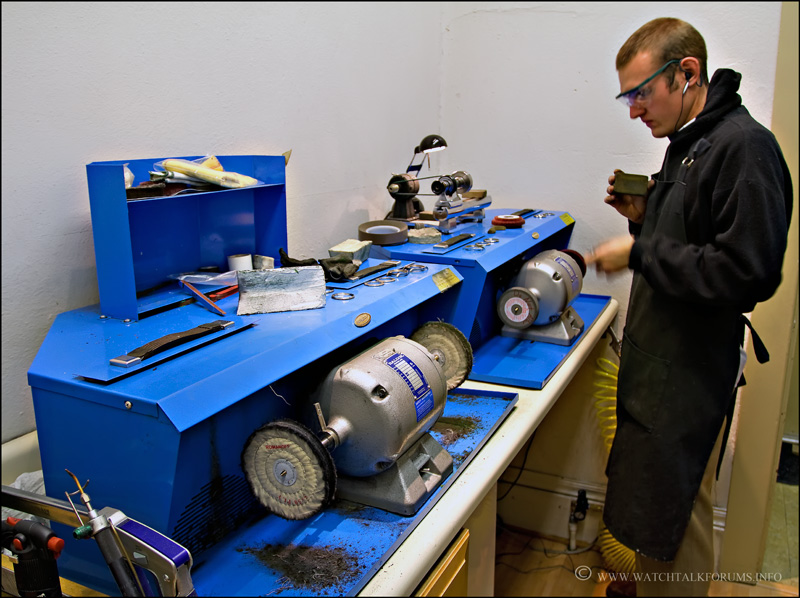 Here's a couple of cases and case backs ready to be polished: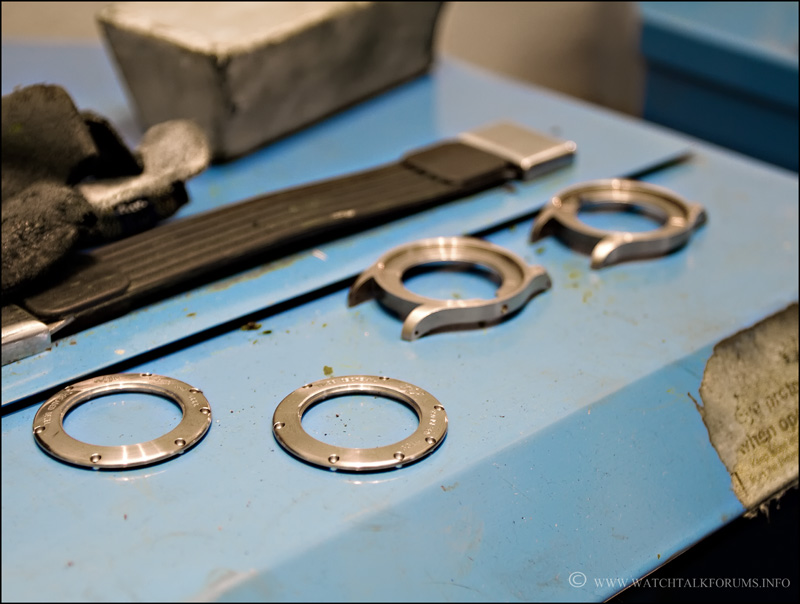 And here's some finished products: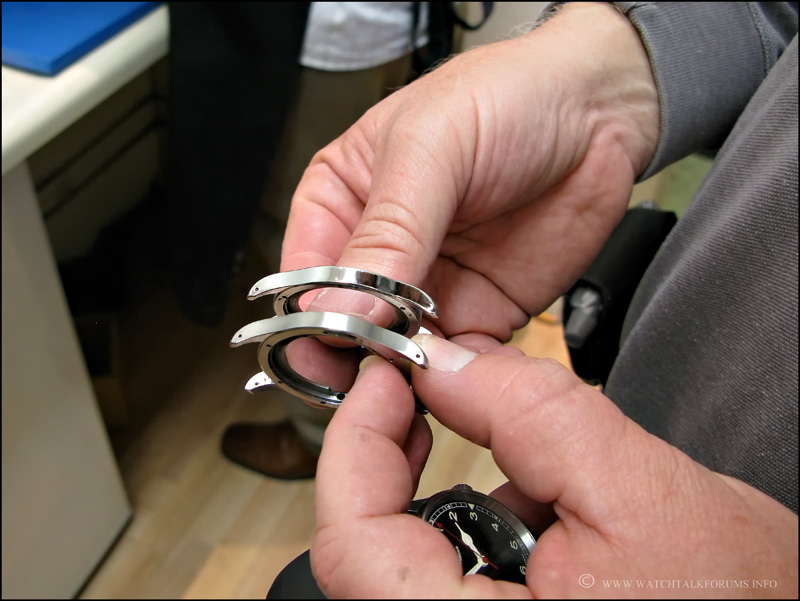 With the RGM series 151 case production successfully now done in house, RGM will soon be producing the series 801 cases in house as well.
Click here to read more about RGM's case production.
Once all components are either manufactured at RGM's facility or received from suppliers, watches are assembled. Here's some components from various RGM models ready for assembly: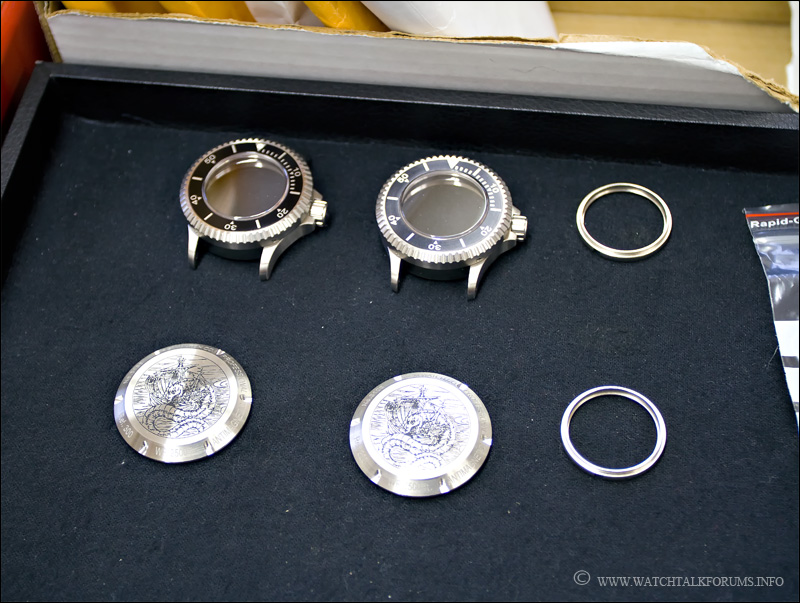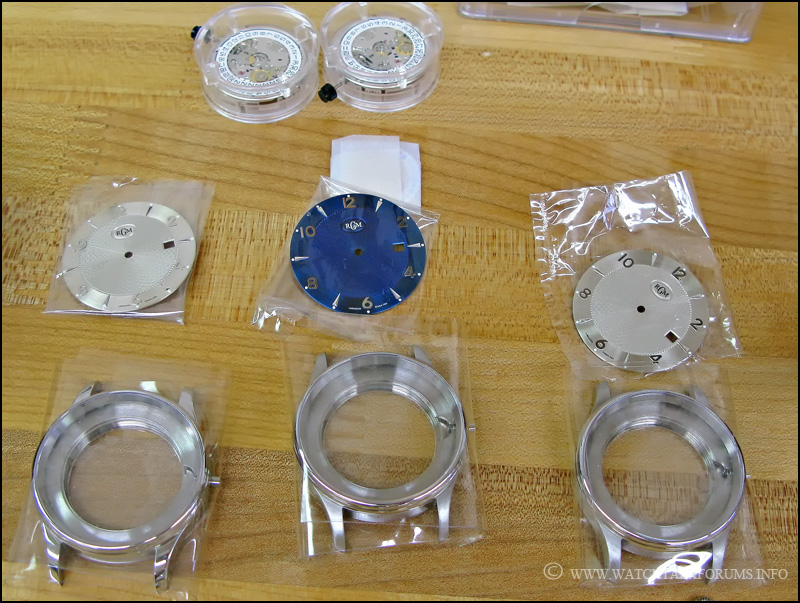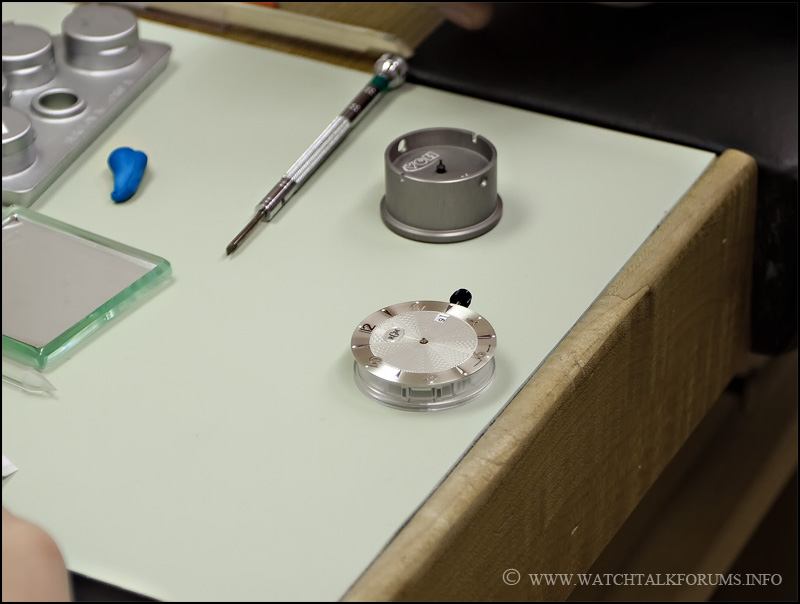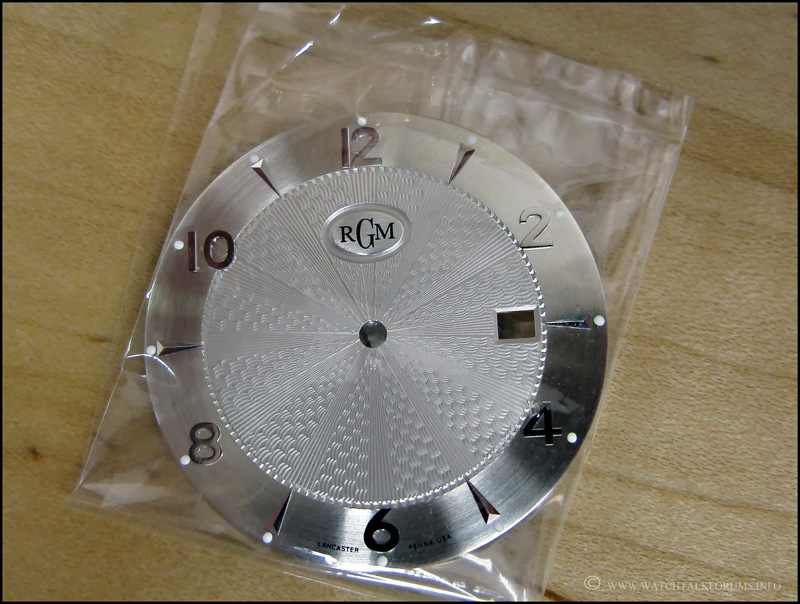 One of RGM's biggest strengths lies in their willingness and capability to do customization work for their clients, literally creating one of a kind masterpieces. Here's a photo of Roland's personal watch he was wearing during our tour - a 151 Series: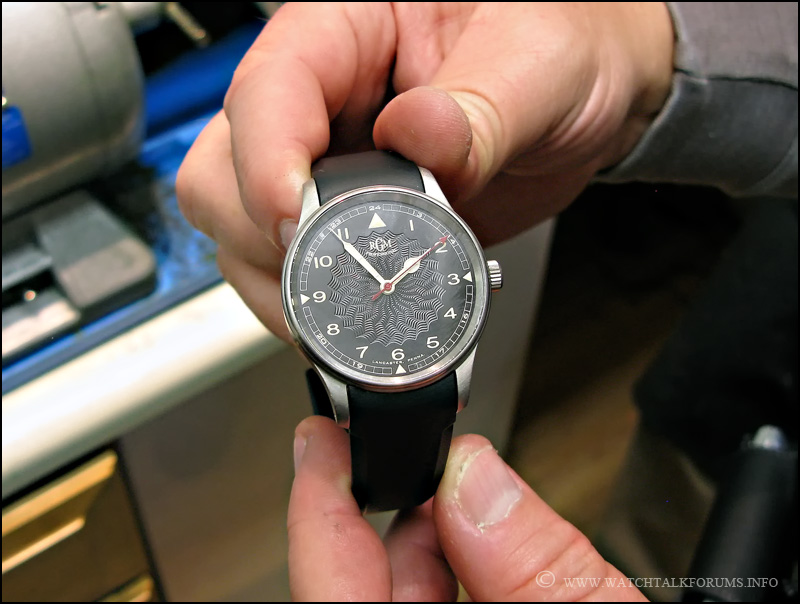 Check out the custom gold rotor on the movement: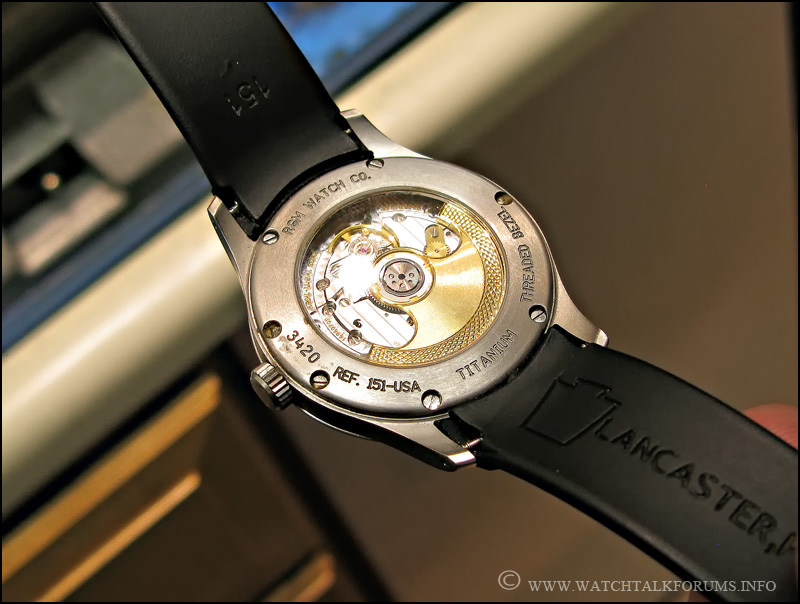 Here we see a modified Hamilton Caliber 921 that RGM uses in their
Signature series models
:
An example of the fabulous RGM caliber 801 designed and manufactured by RGM Watches - Roland Murphy's crowning achievement to date: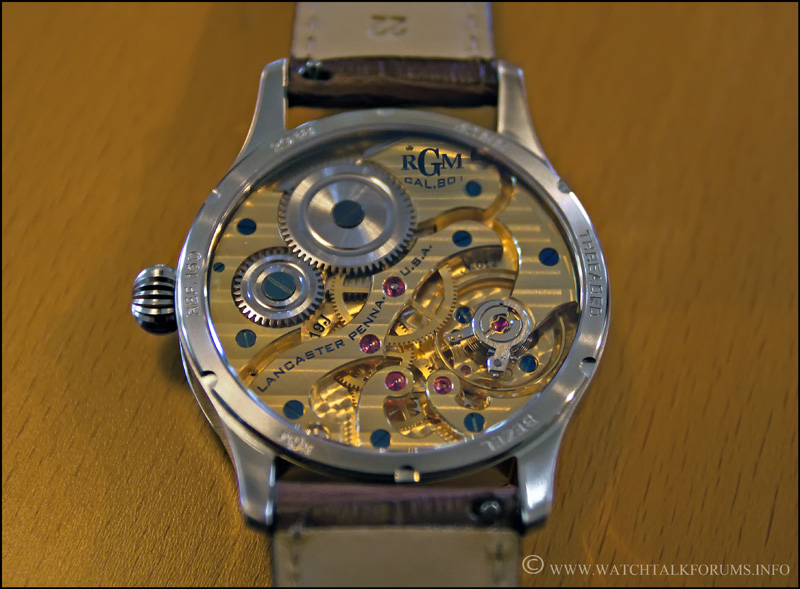 Roland gave us a sneek peak at some new in-house projects he has in the pipeline, but Dennis and I were sworn to secrecy.
In addition to manufacturing RGM Watches, RGM also provides maintenance, repair, and restoration services for mechanical watches of all varieties. They're an authorized service and repair center for some luxury watch brands which cannot be disclosed.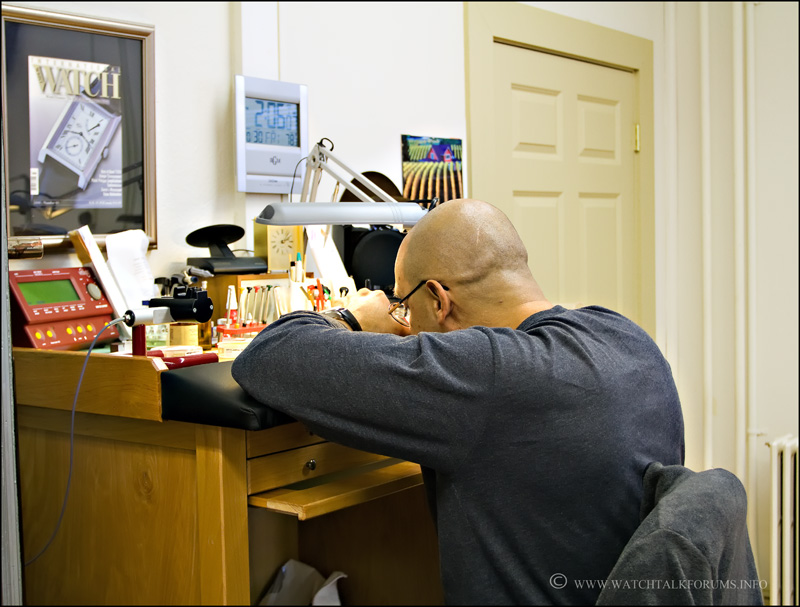 All too soon our time with Roland Murphy and RGM Watches came to come to a close as I had to catch my flight back to Dayton, and Dennis had drive back to New Jersey. On behalf of myself and everyone in the WATCH TALK FORUMS Community, I'd like to thank Roland Murphy and RGM Watches for the time spent with Dennis and I. It was absolutely fascinating, and extremely educational. For more information on RGM Watches and their products,
please visit their website at RGMWatches.com.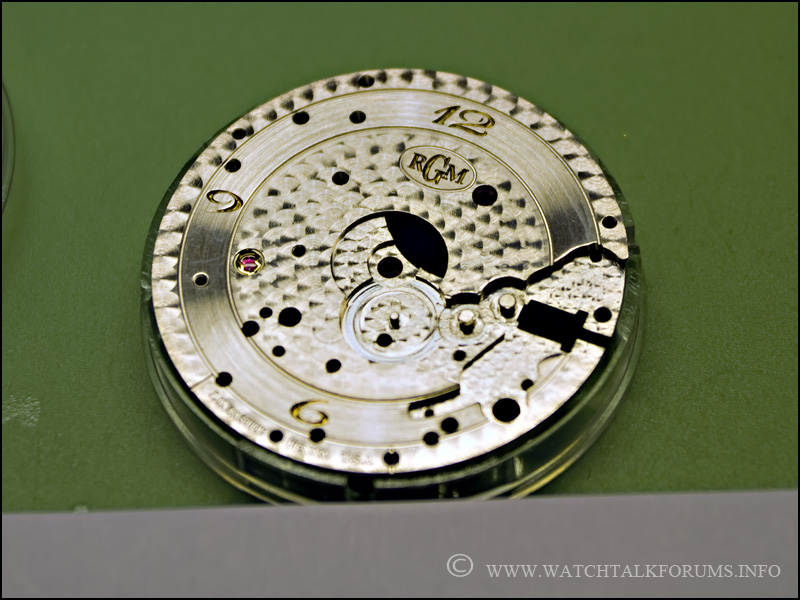 **Photos & Text Copyright 2009 WATCH TALK FORUMS. No part of this report can be reproduced outside of WATCH TALK FORUMS without the expressed permission of John B. Holbrook, II.