From Ball Watch Company's Facebook page:
"Elegant, Reliable and Functional: The new Engineer Hydrocarbon Magnate Chronograph
The latest evolution of the Engineer Hydrocarbon Magnate rises to a considerable new challenge that combines powerful and dynamic styling with its most distinguished expression. Tough and attractive by equal measure, the new Magnate Chronograph is designed and equipped to meet all the exacting demands of modern-day life.
Elegant and sportive, the Magnate Chronograph's charm is manifested in its fine details – the 40 mm case, crafted from stainless steel, shows off a brushed finish that contrast pleasingly harmonious with the highly polished bezel and edge bevels. The satin dial, too, contributes to this impression and is a model of clarity. The inner magnifying glass covering the date window at the 12 o'clock position makes date reading as easy as it should be.
The Magnate Chronograph follows the designs of early chronographs with separate start/stop, reset buttons and two sub-dials, rather than the more contemporary three. The two sub-dials are used to represent continuous seconds at the three o'clock position and a 45 minutes counter at the nine o'clock position which is used in conjunction with the main second hand for the chronograph function.
BALL Watch gathers engineers experts with know-how to achieve a single objective: to create a utilitarian watch designed for people who demand optimal reliability. The Magnate Chronograph is powered by the BALL 2050 movement (ETA base movement), a self-winding movement with a chronograph module, and date display. BALL 2050 movement has earned an official chronometer certificate from the "Contrôle Officiel Suisse des Chronomètres (COSC)". This thorough 15-day test subjects each movement to various positions and temperatures, with a certain range of performance expected. The passage of these tests is proudly confirmed by the inscription "Chronometer" on the dial of the Magnate Chronograph.
The Magnate Chronograph engraved bezel can be used as a tachymeter to calculate speed by measuring elapsed time over a predetermined distance. The Magnate Chronograph is therefore a perfect instrument for measuring speed up to 400 units per hour whether expressed in kilometers or miles.
Loyal to its easy night reading function, BALL Watch has equipped the Magnate Chronograph with the 3H Swiss technology. Fourteen BALL micro gas tubes give this timepiece an outstanding reliability, even in the absolute darkness. The Magnate Chronograph is water-resistant up to 100 meters, shock resistant and anti-magnetic. The watch is mounted on a stainless steel strap with the triple folding clasp patented by BALL Watch Company or on a optional rubber strap. The dial is declined in three colors either black, white or blue.
All this makes the new Magnate Chronograph a very balanced timepiece with cutting-edge technology, maximum precision and a vibrant sporting character."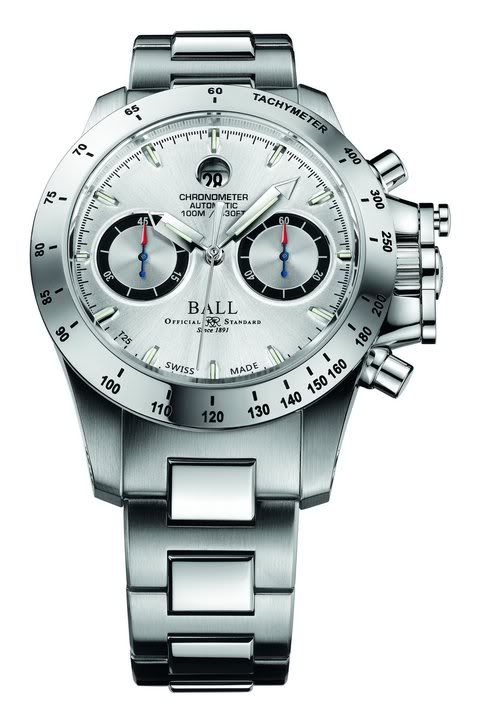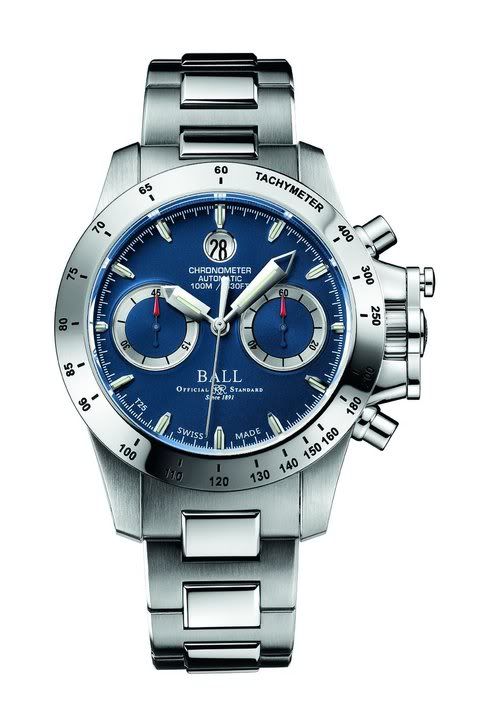 Rob