Custom Order Watches
There are a couple companies that offer watches built to your taste.
121time.com
is a WTF sponsor who offers the ability to customize a watch with a variety of options using a very easy process. From their home page, click on CREATE A MAN'S WATCH on the left side of the screen or CREATE A LADY'S WATCH on the right, depending on which you'd like to purchase.
This will bring you to a new page where you can select the type of watch by theme, style, designer, one of their collections, or make one completely from scratch. Start the process by selecting a category from those options. To build a
mechanical
watch you need to opt for "START FROM SCRATCH"; otherwise it's quartz power. For this example we'll use the "BY COLLECTION" option and pick from the Grand Central group.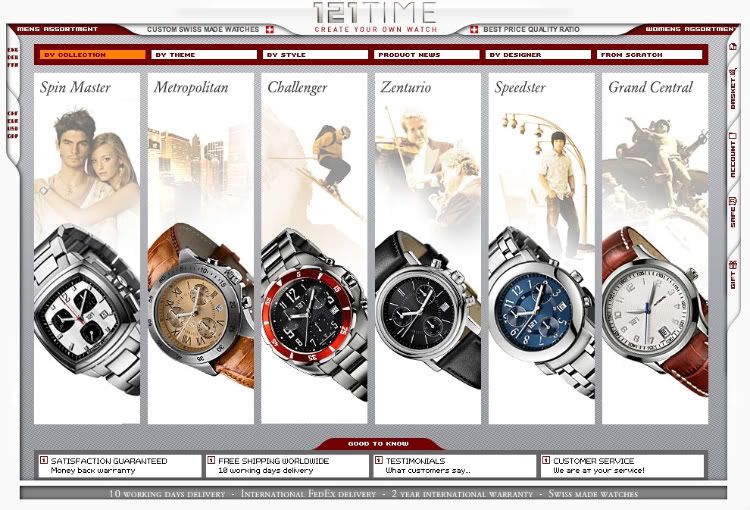 Once you click on your choice, a new screen will come up with the collection overview. Click on the watch you'd like to see and it will be enlarged.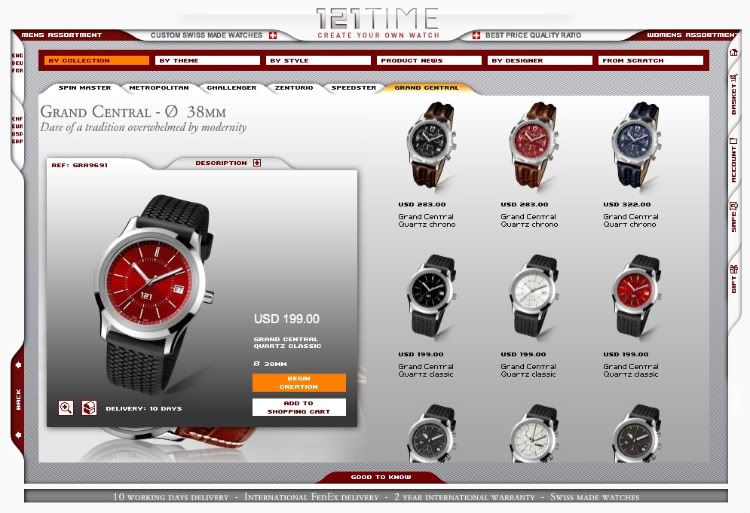 The pop-up gives you the option to buy it as shown by clicking the ADD TO SHOPPING CART box and even gives an estimated shipping time. If you'd like to modify it, click BEGIN CREATION. Here's where the choices start. In the first tab "CREATION" you have bezel, dial, and strap options to choose from.
Each change you make appears instantly.
bezel change..................................dial change.................................strap change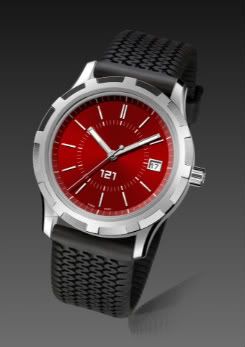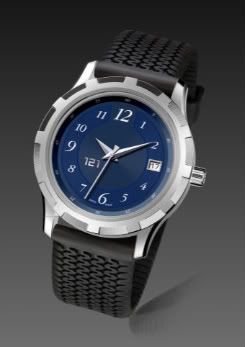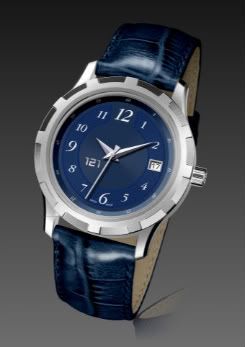 Here's what the screen looks like after the changes.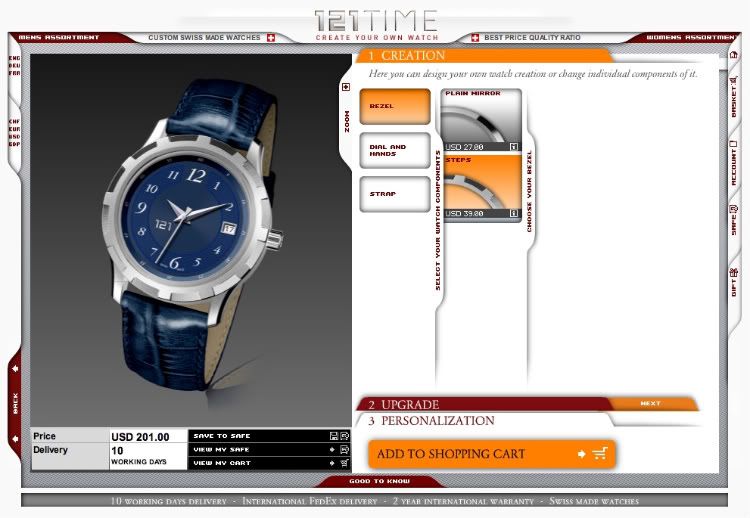 After making your selections, you can move on to the next step by selecting that tab marked UPGRADE. For this particular watch you first enter your wrist size in STRAP SIZE. In the next box down you have an option to increase the water resistance from 30 to 50 meters for a small fee. You can then opt for a sapphire crystal instead of the standard mineral glass, and finally you can choose a deployant clasp over the normal tang buckle. For this demonstration we're being chintzy and staying with all the standard items.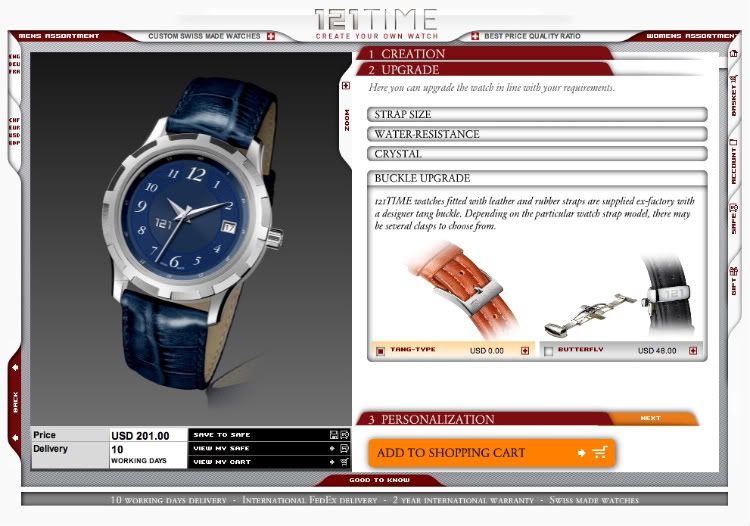 Now that you're done with the upgrades you can select the 3rd tab PERSONALIZATION. Here you have the option to have the caseback engraved with text or one of the patterns offered.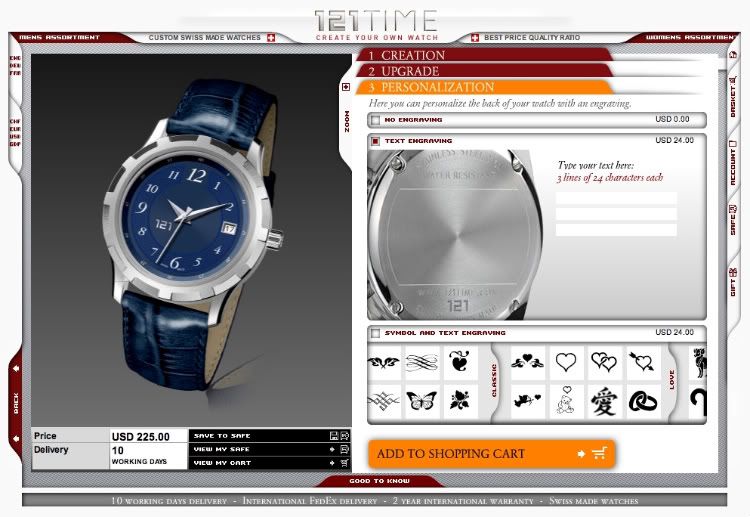 Okay, you've built your watch so click ADD TO SHOPPING CART, then PROCEED TO CHECKOUT, and follow the simple instructions - unless you want to build & buy another. To build the same watch but with an automatic movement you would "START FROM SCRATCH" and first choose the movement:
From there you would select the case (shown using the same collection names - not all are available due to size constraints), bezel, dial & hands (some may change due to a difference in configuration), and strap. The end result is an equally attractive mechanical watch: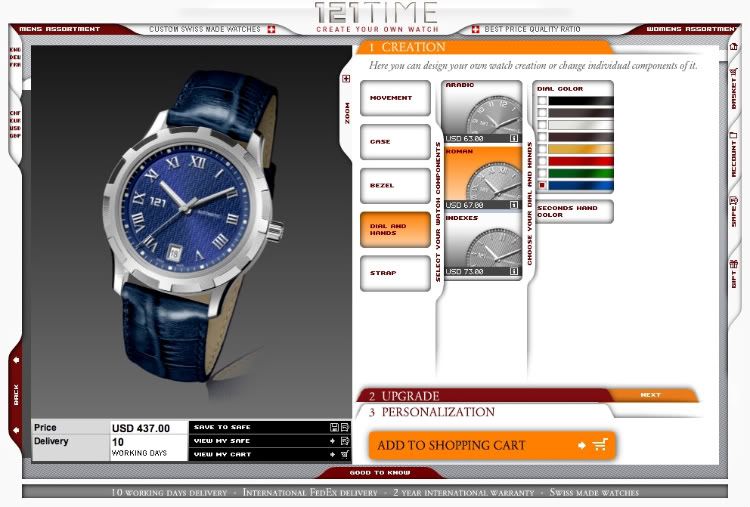 The cost does increase by over $200 in this instance which is all due to the price of an automatic versus a quartz. Here are a few other finished products from 121time: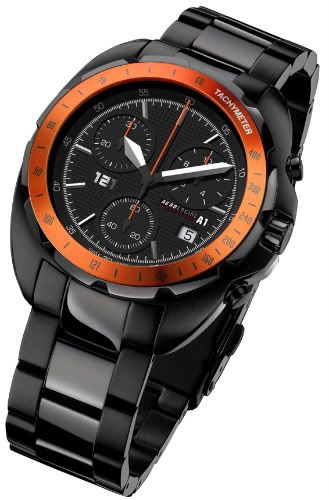 .......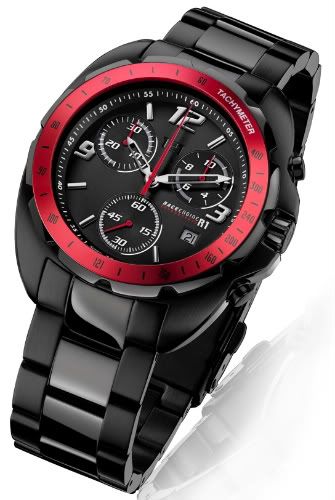 Any questions you may have are promptly answered by one of the co-founders - just e-mail them at
[email protected]
for details. They even offer customization for other brands. Click
HERE
and look under MARKET PLACE - and check back since they're always expanding the brands they work on.
.
.
.
.
.
.
.
.
Do It Yourself Watches
Did you ever want to try your hand at assembling your own watch? Buying a bunch of random parts is a sure way to get yourself into trouble, but there is a successful alternative even for the novice. On-line watch courses often have suppliers who offer watch kits to dovetail with the classes. Buying one of these kits at least insures that all the parts will fit together and some are offered with dial and hand options. Pictured below is a watch that was put together from a kit sold by one of these suppliers.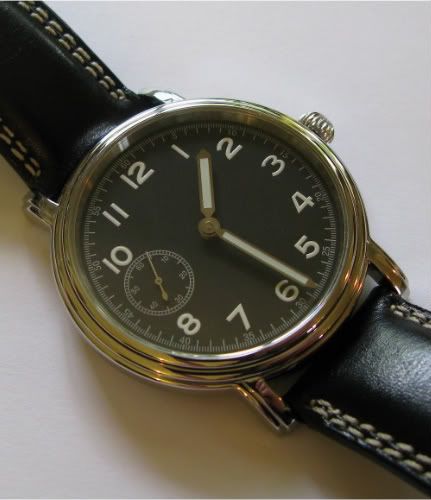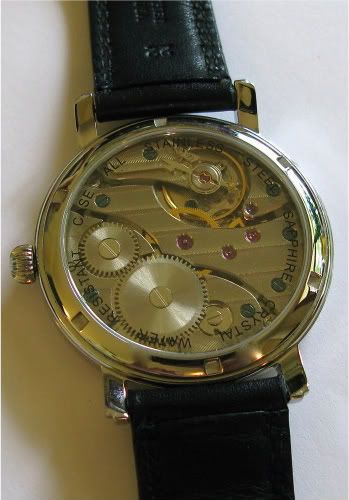 A picture of the parts, followed by a breakdown of the pieces and their costs: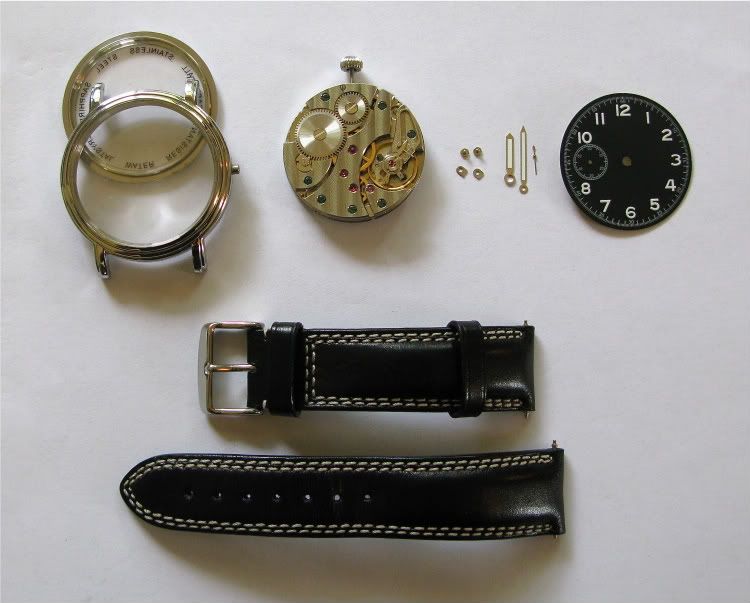 .
.
.
.
37 mm dial.................................................. ..$18.
45 mm case w/ sapphire crystal front & back........$120.
silver w/ white lume minute hand........................$4.
silver w/ white lume hour hand...........................$4.
silver small second hand....................................$2.
Seagull ST-36 manual wind movement.................$45.
.
.
.
For this watch, a Hadley Roma leather strap was chosen which can be found for about $35, but you can find straps as little as $15 or easily spend over $100 if you wanted. When you add it all up with shipping this DIY watch as shown comes to under $250. It even passed the 3 ATM water resistant test. The Seagull movement is keeping time to within a minute a week but your mileage may vary. For an extra $100 a plain ETA 6497 movement can be purchased, with options for better, more decorated grades at additional costs. There are some things to consider and you need to be honest with yourself when you answer: How handy are you? Do you have a clean & dust free environment to assemble this in? Do you know a watchmaker who can regulate it, or even save you if you make a mistake? For your first attempt, I would strongly recommend that you use one of these kits. Buying parts and hoping they'll fit together is a real shot in the dark if you don't have the experience. The dimensions of the case, movement, dial and hands are critical to the success of the project. Dials aren't universal and may not fit on all movements of the same size. If you do think you're capable of giving it a go, then have at it! We'd like to see the results.
.
.
.
.
.
.
.
.
Modified Watches
Another way to make an off-the-beaten-path watch is through modification. Seiko dive watches are a popular base to build from. You can do as little as changing a couple interchangeable parts to complete overhauls with custom made dials, bezels, and other items. These two Seiko Monsters have a few pieces swapped including the chapter rings: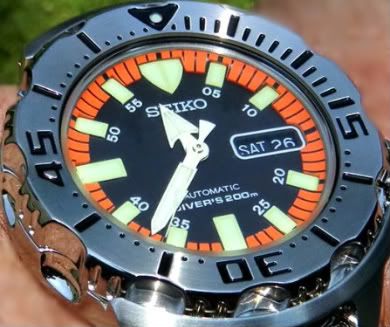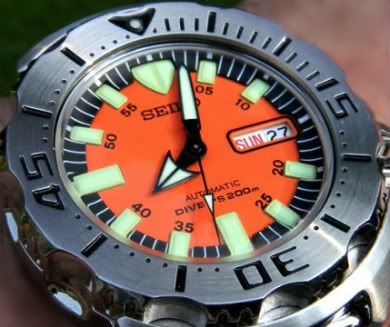 pictures by 2Speed
This Monster owner went a little further by installing different hands, painting some sections, and getting the case PVD coated: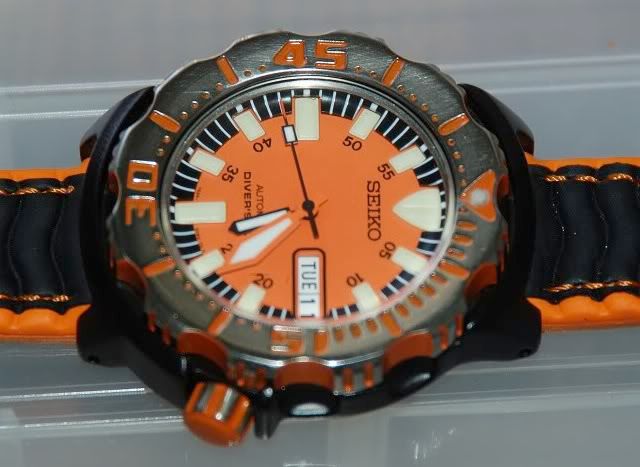 picture by samanator
There are also several specialists who assemble "Soxa" watches (
S
eikos with dials that resemble a D
oxa
), and other brands like Marathon are often chosen to modify. If you have a modded watch please post it in this thread. It's a part of this hobby that doesn't get the attention it deserves.
.
.
.