Review of the Grand Seiko Spring Drive Chronograph
By: John B. Holbrook, II
2/25/11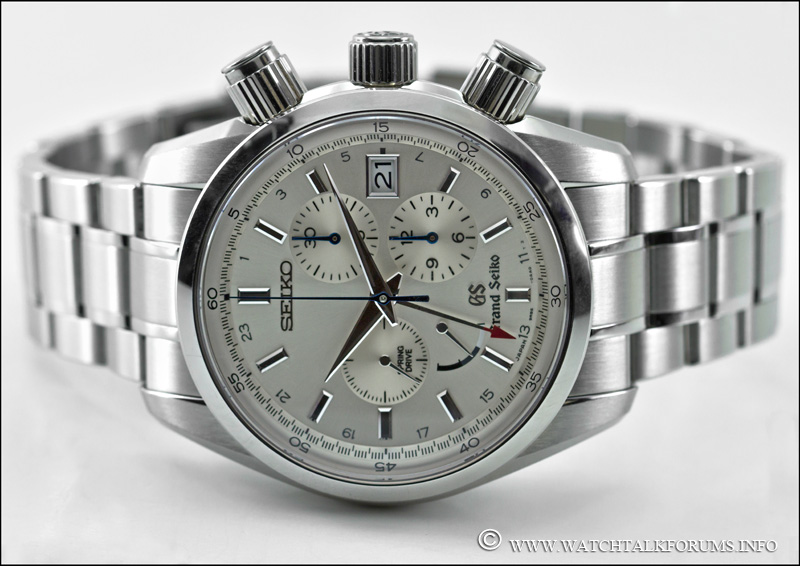 I'd like to thank WATCH TALK FORUMS Sponsor Arizona Fine Time for providing the watch used in the review. Arizona Fine Time is an authorized dealer of Grand Seiko in the US, and ordering information is provided at the end of this review.
Excitement always abounds at the Basel Watch Fair, but one of the most tantalizing announcements at the 2010 show was Seiko's long-awaiting notification that the Grand Seiko line would be marketed and sold globally. Previous to this declaration, Seiko had offered the prestigious Grand Seiko watches for sale only in Japan. Because of this fact, I've never been able to source a Grand Seiko through Seiko USA to review - they simply didn't have any, and Seiko Japan wasn't interested in sending any for review in the US market for obvious reasons. So when Arizona Fine Time (an authorized dealer of Seiko and now Grand Seiko) offered up this Grand Seiko Spring Drive Chronograph for review, I jumped at the chance.
The Grand Seiko Spring Drive Chronograph is manufactured at the Seiko-Epson factory (Seiko owns Epson) in Shiojiri Japan. I had the distinct pleasure of doing a
factory tour at this facility
in the Fall of 2008 - my first hands on exposure to Grand Seiko. I mention this to underscore the fact that I have seen with my own eyes that Seiko is indeed one of the most fully integrated watch manufacturers in existence. They truly fabricate every component of a Grand Seiko "in house" - they even make their own springs and screws. You can count on one hand ( a hand that's lost a fight with a table saw at that...) the number of manufacturers who meet Seiko's in-house standard.
Author John B. Holbrook at the Seiko-Epson factory in Shiojiri Japan
The Grand Seiko line has, in contrast to Seiko's more contemporary and
avant-guarde
down-market lines, a classic and elegant aesthetic. The Grand Seiko Spring Drive Chronograph has a silver dial encircled with case-matching baton markers, and a combination of silver colored hands and eye-pleasing heat blued hands. Without the blued hands, this dial might be too understated for my liking, but the splash of color provided by the central chronograph second hand, chronograph minute hand, and chronograph hour hand, as well as the red-tipped GMT hand make all the difference. In my mind a good dial design optimizes legibility AND visual appeal. Despite the fact that this dial adds a power reserve indicator, a chronograph complication, and GMT functionality to the standard hour, minute, second, and date complications, Seiko achieves high marks in my book with this design on this watch. The dial is protected by a scratch resistant sapphire crystal, with an anti-reflective coating on the
inside only
. I always cringe when manufacturers dual-side coat a sapphire crystal - what's the point of using a scratch resistant crystal material, then applying a coating to the topside of the crystal which can show scratches? Seiko gets it.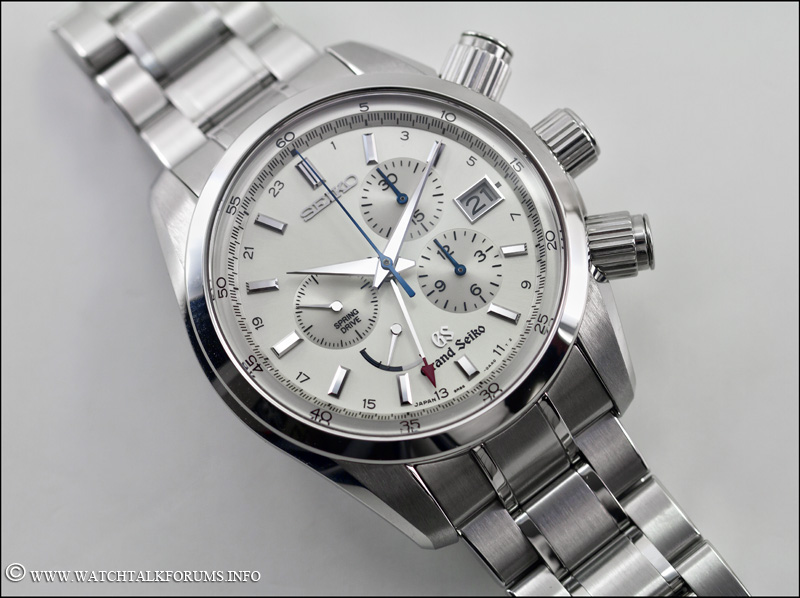 The 43.5mm stainless steel case on the Grand Seiko Spring Drive Chronograph is a blend of both polished and brushed finishes applied. The Grand Seiko signed winding crown and chronograph pushers are in the traditional 3 o'clock side of the watch case, and are of the screw down variety, contributing to the 10 bar/100 meter water resistance. The chronograph pushers in particular are over-sized, and give the watch more sport appeal.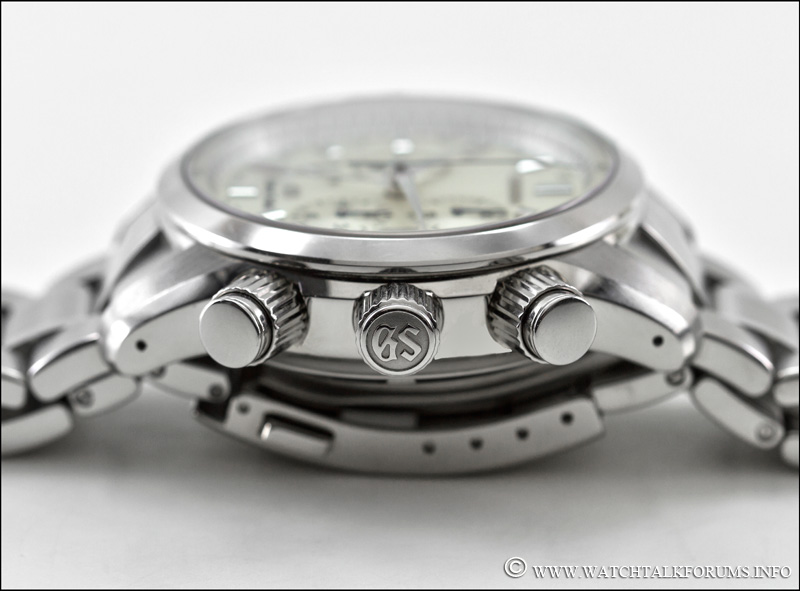 Attached to the case lugs is a case matching brushed stainless steel bracelet with polished accents of impeccable quality (solid center and end links) and a "fit and finish" beyond reproach. The adjustable links used screw heads on either side of the link pin, not friction pins as traditionally is used on other lines of Seiko watches. The bracelet is held together with an equally impressive stainless steel tri-fold clasp with push button release which snaps together with vault-like precision.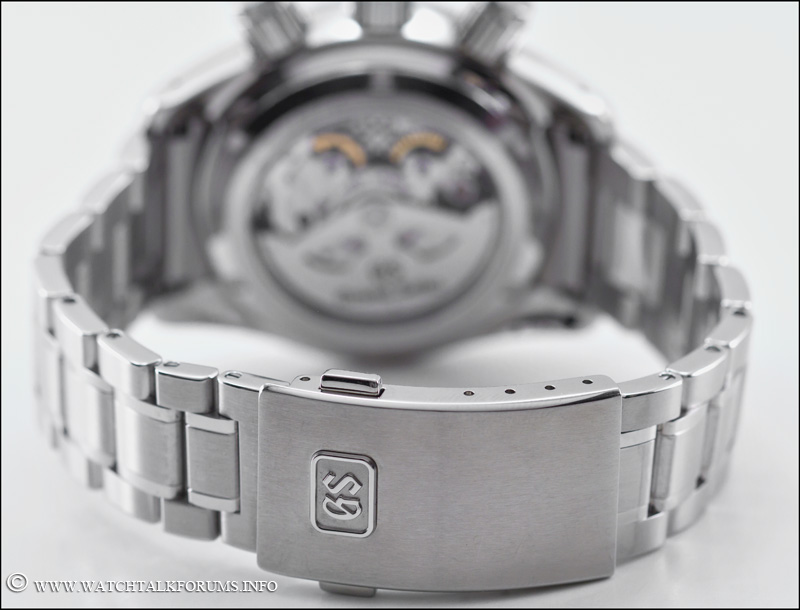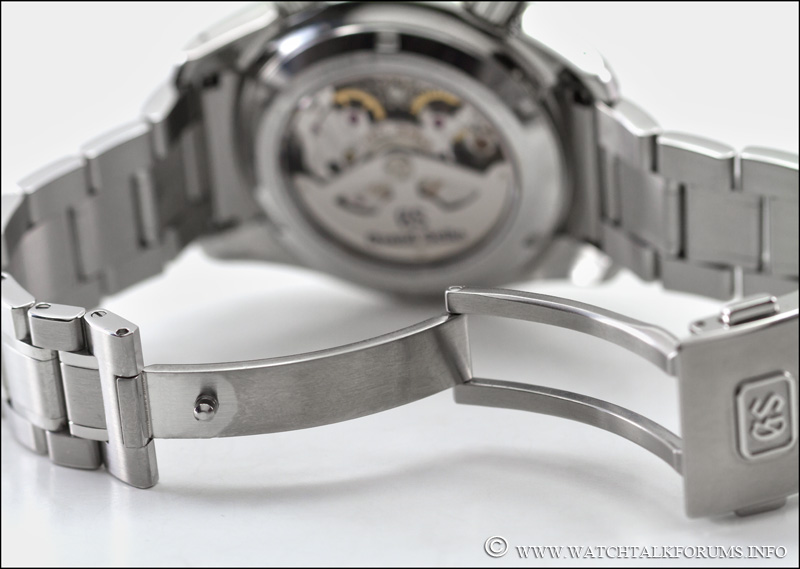 Inside the Grand Seiko Spring Drive Chronograph we find the Seiko's 50 jewel caliber 9R86 - a movement based on their Spring Drive technology. If you're not familiar with with Seiko's Spring Drive, let me say first say that it is indeed a true mechanical watch — no battery is required. Electronic circuitry is however utilized to regulate the accuracy of the watch. Much like any other traditional self-winding mechanical watch, the Caliber 9R86 uses a weighted rotor that spins in either direction, motivated by wrist movement, to wind a spring, which in turn provides power for the movement. To provide both mechanical power to drive the gears in the movement, as well as electrical power for the electronic circuitry in the watch, Seiko developed an entirely new alloy called Spron 510 to use in the construction of the mainspring in Spring Drive. Spron 510 makes the mainspring stronger, more flexible, and more resistant to corrosion — all contributing to the 72 hr. power reserve the caliber 9R86 maintains when fully wound (compared to around 40 hours of power reserve offered by most single barrel mechanical watches). However, unlike most modern auto winding mechanisms there are only three moving parts which Seiko calls "The Magic Lever" winding system. The magic lever system uses fewer moving parts which grants greater winding efficiency, and reduces wear on the overall movement. Seiko reports an incredibly accuracy of +/- 1 second per day on the caliber 9R86. I've had the opportunity to review several Seiko Spring Drive models, but none which exhibited the level of finishing and decoration found here on the Grand Seiko Spring Drive Chronograph: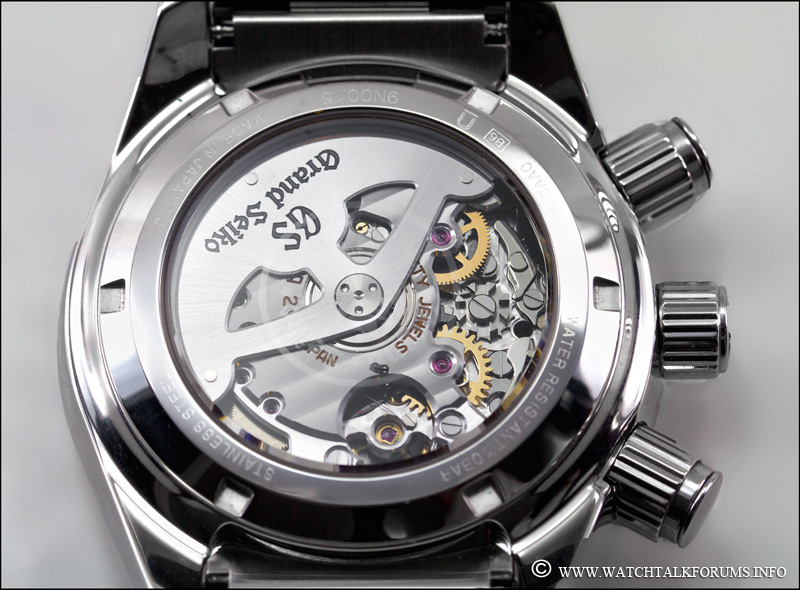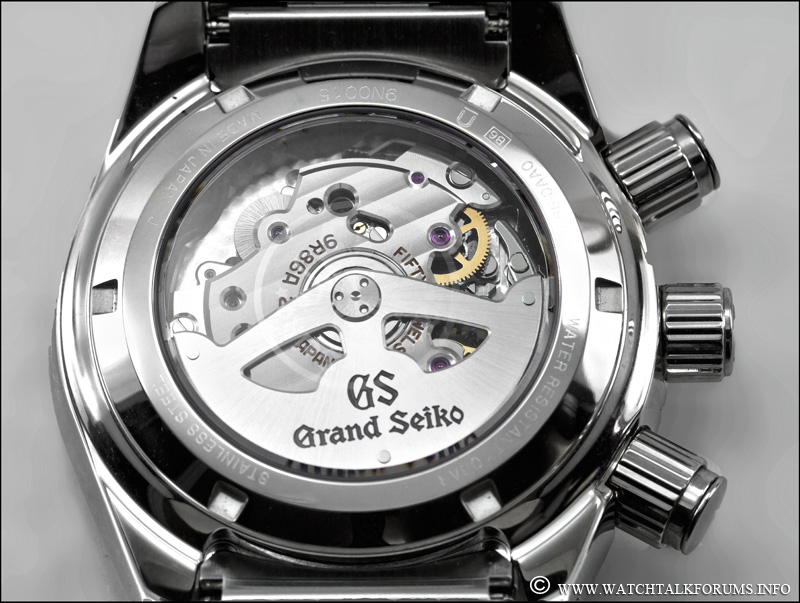 I'm thrilled to see the Grand Seiko available for sale here in the US. For the average consumer who is used to seeing the typically priced sub-$1000.00 Seiko at their local mall jewelry store, seeing a retail price on the Grand Seiko Spring Drive Chronograph (reference #SBGC001) of $9,700.00 is going to come with some skepticism. But if you have the opportunity to examine the watch, you'll recognize a product which matches and exceeds nearly any Swiss made timepiece at a similar price point, and many well above.
Once again, I'd like to thank
Arizona Fine Time
for providing the
watch used in this review
. Arizona Fine Time is a Forum Sponsor of WATCH TALK FORUMS and a Grand Seiko authorized dealer.
**Photos & Text Copyright 2011
WATCH TALK FORUMS
. No part of this report can be reproduced outside of
WATCH TALK FORUMS
without the expressed permission of
John B. Holbrook, II.